Renogy is a highly popular solar panel manufacturer. Most of the Renogy solar panels are Monocrystalline solar panels with good efficiency. In case, you need a 400-watt solar panel, the Renogy 400-watt 12V solar starter kit can be the best option. The high efficiency panel outputs 2000Wh electricity per day. Therefore, it can charge a 200Ah battery in 6 hours in a clear sunlight day.
The Renogy 400W solar panel comes with wanderer (30A PWM charge controller) that is very helpful to extend your solar system up to 400W.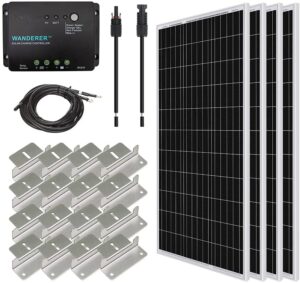 Renogy 12V solar panel is highly protective because it has negative grounding controller. This protection capability is to protect your battery from overloading, over-charging, short circuit and other similar problems. Such solar panels are good for vehicles. The solar kit comes with an 8ft 10AWG tray cable to connect your charge controller and battery.
Main Features & Capabilities
Sleek design
High efficiency solar cells
Lightweight
Wanderer Li 30A PWM charge controller to protect the battery
Bluetooth capability to control via your smartphone
The solar kit includes 4 sets of mounting Z brackets, 1 x 20 feet 10AWG cable, 1 x 8 feet 10AWG tray cable, 3 pairs of MC4Y connectors for parallel requirement
14.3lb weight
12VDC nominal voltage
Main features of Renogy 100W solar panel have been mentioned above. You can see that it has high efficiency solar cells, wanderer Li 30A PWM charge controller, Bluetooth function and installation accessories.
Pros
Renogy solar panels are better than others on the market as mentioned by many users.
These solar panels have long life of 25 years
People are able to get electricity even in difficult cloud conditions.
Well-built high quality solar panel
Sleek design
Many users say that these solar panels reduced electricity bill up to 50%.
Cons
Some users complained that the controller stopped working after six months
A customer says that you have to buy extra accessories to install it so it is not a complete solar kit.
Please read the list of pros and cons. They will help you understand the product very well. I see most of the users are happy with the solar panel kit. They say that the panel is built very well. It comes with many installation accessories that you can use to install the panel easily.
Conclusion
In short, the Renogy 400W solar panel kit is a lightweight product in a sleek design. You can install it on the rooftop, RVs and use it for many other purposes. People say that these solar panels are good for reducing electricity bill. The price of this Renogy solar panel looks good. Most importantly, Renogy is a highly popular manufacturer for making many solar related products.