The 100-watt Rockpals solar panel is compatible with many power stations such as Jackery Explorer, Baldr, Flashfish, Anker, Goal Zero and many others. It also works with a wide range of USB devices. For the good connectivity, the Rockpals Sp003 solar panel comes included with different size of connectors such as 8mm DC connector for Jackery and Anker, 5.5 x 2.1mm for Rockpals 250W to 500W connectors and many others. Rockpals SP003 has 5V USB ports to charge smartphones, tablets, GPS devices and other USB enabled devices.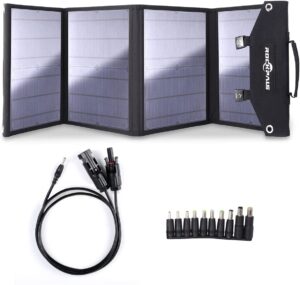 Good Efficiency – from the RockPals foldable solar panel, you can expect good conversion efficiency because the solar panel is composed of high-efficiency solar cells. These solar cells have up to 23% conversion efficiency.
USB Device Connectivity – the Rockpals solar panel features built-in IC chip, which is good for detecting USB devices at a fast speed. You can use these USB ports to charge your USB devices without the fear of any electrical faults such as over-charging, short circuits and overloading. Each USB port has 2.4A charging capacity. The charging capacity is automatically adjusted based on the level of sunlight availability.
Highlights of Rockpals Sp003
Foldable and portable – the folded dimensions are 20.5 x 14.2 x 2.6 inches
Water-resistant and durable – made of Oxford cloth that can withstands all weather conditions.
2.4A USB charging ports
Compatible with various power generators such as Jackery, Anker, Goal Zero, Flashfish and others
100-watt, 18V capacity
Rockpals brand
Some of the main capabilities have been mentioned above. If you are planning to buy the Rockpals 100W solar panel, please read them carefully. I can see that this solar panel is compatible with many power stations available on the market. It features USB ports to charge all those USB-based devices at a fast charging speed.
Pros
Many say that it delivers good performance on even cloudy days.
For many users, the Rockpals 100W solar panel is an excellent buy.
Foldable solar panel
People like the size of this solar panel, when folded it becomes very small.
For many users, the 100W capacity is enough.
It is lightweight and perfect for outdoor activities.
The Rockpals solar panel comes with many connectors and output sockets to work with most of the devices.
These solar panels are well made. People are buying multiple units to reduce their electricity bill.
Cons
A customer on Amazon complained that it failed to deliver full wattage.
The pros & cons of Rockpals 100-watt solar panel is mentioned above. From the list of pros and cons, I can see that the solar panel is good from many aspects. It has various advanced features, as you will be able to connect many devices so I can say that it has good device compatibility features.
Conclusion
Rockpals SP003 foldable solar panel is good from many sides such as device compatibility, high power output, portability and good price. Therefore, this product is highly recommended to buy. You can see that it has various USB ports to charge those USB enabled devices. Moreover, it has good energy conversion efficiency of up to 23%, which is a good ability in this solar panel.