In Newpowa Solar Panel Review, you will learn about the 100W unit which is available in many varieties such as 1pc, 2pcs, Z brackets 100W, Z brackets 200W. You can choose a solar panel as per your needs. To me, these Newpoa solar panels look affordable. These products are highly rated on Amazon.com website and other websites.
The Newpoa 100W monocrystalline solar panel comes in the latest design. In this new design, it has higher cells efficiency compared to others. The portable unit measures 44.49 x 19.88 x 1.1 inches. It has high wind capacity of 2400PA and snow loads of 5400PA. The users get maximum 100W power from this unit.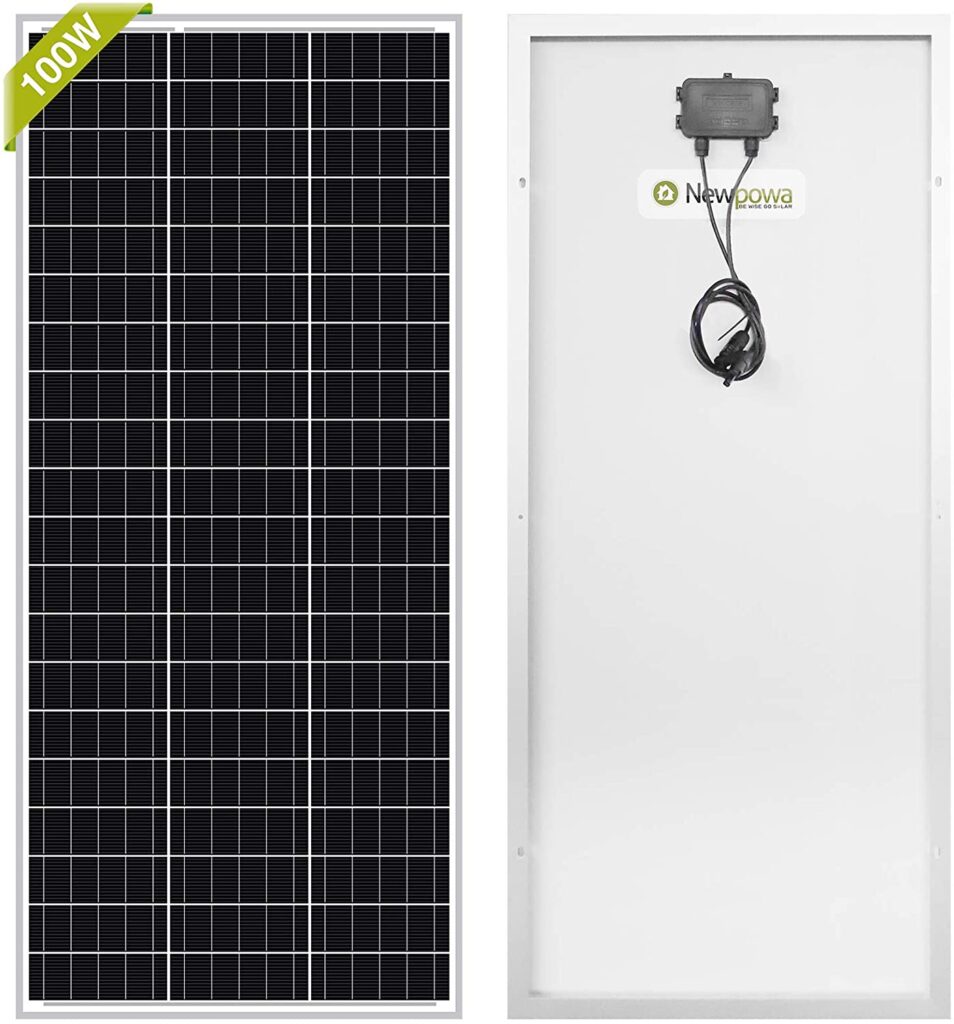 For the easy installation of this NewPowa solar panel, the diodes are pre-installed in the junction box. It comes included with 3ft MC4 cables.  I admit that the attached cables are shorter than others are. I wish it would have longer cables for more flexibility. For the installation, you will not face many difficulties because the panels have four mounting holes. It has 2.5ft MC4 connection so the panel can easily be connected to other items. This solar panel can be installed on a flat surface, on a pole or on a wall so you have many ways for the installations. Such high-grade and affordable products are perfect for campers, marine, SUV, rooftops, farms traffic signs, disaster relief and many other occasions.
Features of 100-Watt Newpowa Solar Panel
For high efficiency, it has high-performance monocrystalline solar cells.
It can be installed on surface, pole and wall.
Four mount holes for easy installations
Perfect for travelers, rooftop, remote farms and others
44.49 x 20.08 x 1.18 inches dimensions
14.55 lbs weight
100W max power output
6.56A short circuit current
Pre-installed bypass diodes inside junction box
Main features and capabilities are mentioned above. Please read them carefully because these are the main capabilities of the Newpowa solar panel. These capabilities show how good or how bad the product is. I see that this is a monocrystalline solar panel that is very easy to install for various applications.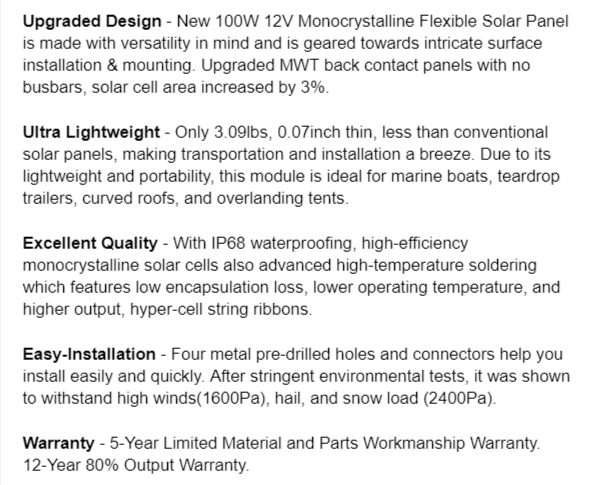 Pros
Users are happy with the performance. Many customers have bought multiple units to save on the electricity bill.
Many say that they were able to get 100W full power output from this panel in a clear day.
It shipped to the customers in good packaging.
According to the users, the these are high quality products.
Affordable price
Many mounting ways
Cons
Some customers are not happy with this product and they want to go with Renogy.
As per Newpowa Solar Panel Review, pros and cons, the product looks impressive from many points like price, quality, installation and more.
Newpowa Solar Panel Review Conclusion
In short, the Newpowa 100W monocrystalline solar panel looks good from various aspects such as weight, design, power output, ease of installation and affordable price. In case, you are looking to buy an affordable solar panel, Newpowa Solar Panel Review may be beneficial for you.