In case, you want to buy a small solar panel with a 20W capacity, please read Topsolar Monocrystalline Solar Panel Review. The Topsolar 20W solar panel kit can be the best solar product for you. It is based on Monocrystalline solar cells and it comes with 10A solar charge controller, extension cable, battery clips, O-ring terminal and many other accessories.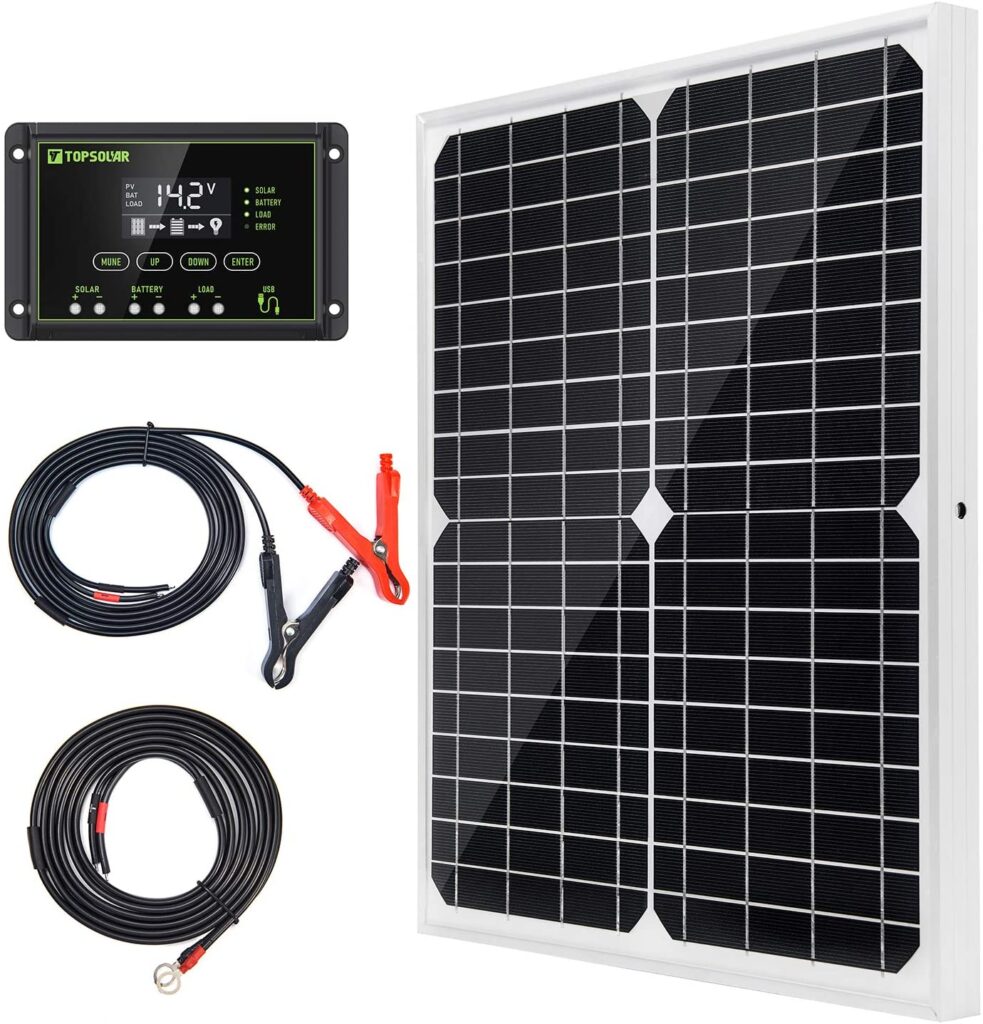 Suitable for Outdoor Uses
The Topsolar 20-watt solar panel is perfect for off-grid 12V batteries and many DC devices. Therefore, you can easily charge the batteries in cars, RVs, boats and it can be a great source for backup power and remote power needs.
Additionally, it is very small so the lightweight product to carry anywhere you go. The Topsolar 20W 12V solar panel is perfect for camping and other outdoor activities. It is easy to install as it comes with pre-drilled holes for easy and fast mounting.
10A Solar Charge Controller
The 10A solar charge controller is a good protective tool because it prevents the battery from over-voltage, over-charge, discharge and short circuit. Therefore, your battery is highly protected with the help of this little solar charge controller. As we know that the safety is the main priority, therefore we should adopt safety precautions by taking help of such solar charge controllers.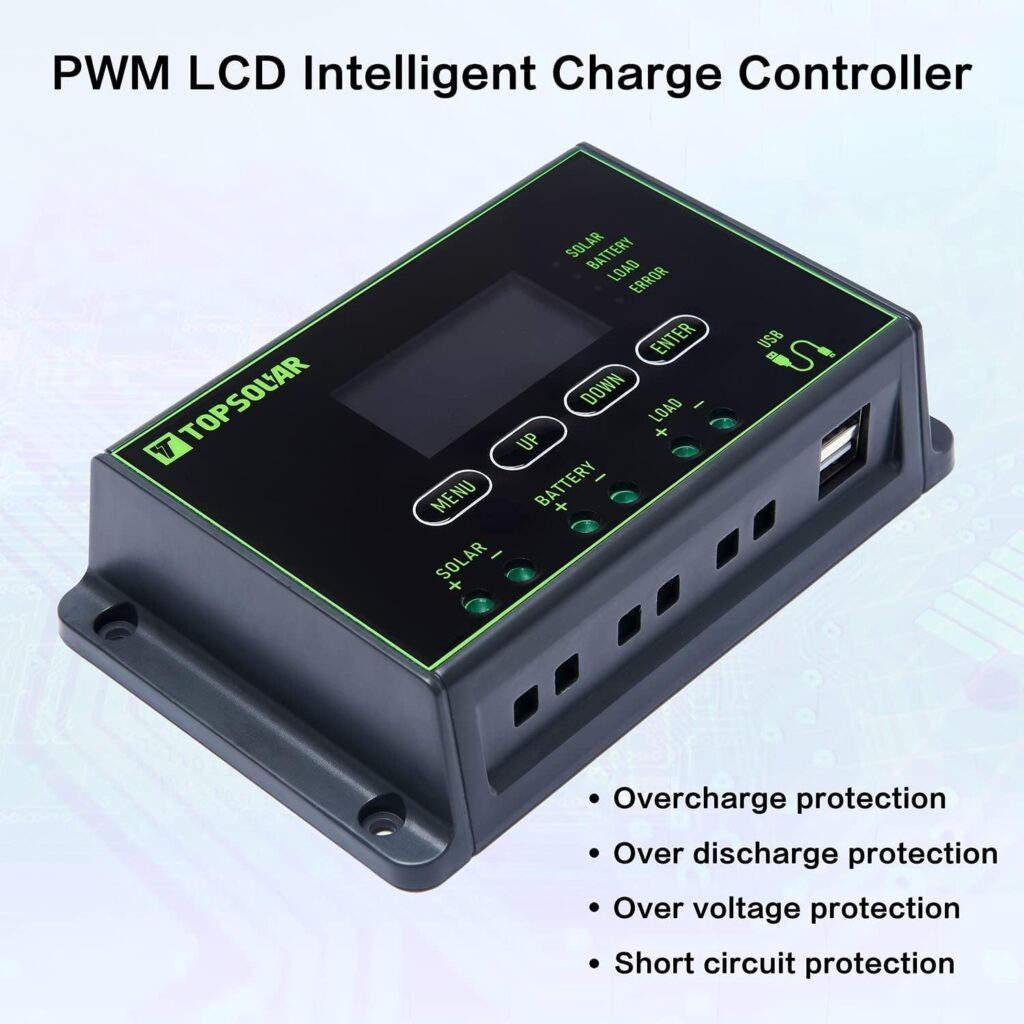 Small but Powerful Solar Panel
The small size unit delivers good performance. It is easy to use go with it outside. It is perfect for the outdoor uses because it is made of strong tempered-glass and aluminum frame. Most importantly, it comes with 25-year transferable output warranty and 1-year material and workmanship warranty.
You can use this small size solar panel for camping and other outdoor activities. You can easily install it because it has pre-drilled holes on the back of panels for fast mounting.
Highlights of Topsolar Monocrystalline Solar Panel
Perfect for 12V batteries
People use it for RVs, motorhome, boats, roofs, sheds, garages etc.
It is perfect for charging many DC devices such as LED light, fans, cameras, phones, street light and other DC appliances.
Package includes 1 x 20W monocrystalline solar panel, 1 x 10A solar charge controller, 1 x 6.5 feet extension cable, 1 x 6.5 feet extension cable with O-ring terminal
20W max power
1000V DC maximum system voltage
18V optimum operating voltage
1.11A optimum operating current
4.8lbs weight
18.9 x 13.4 x 0.7 inches dimensions
Highly efficient because it is small in size and easy to use
Two USB output ports: 5V/2.5A
Encapsulation material is used to make it.
Versatile as it can be used for various applications
It can last for years because it has corrosion-resistant aluminum frame.
Check availability on Amazon
The highlights are an important part of Topsolar Monocrystalline Solar Panel Review. Some of the main highlights are mentioned above. You can see the small size solar panel is made of high-grade material (encapsulation material) and the versatile product can be used for most of the outdoor electricity requirements and emergency power requirements.
Pros
Easy to install as anyone can install it without a problem
For many users, the little unit keeps the battery charged.
Customers liked the solid aluminum frame
Made of high grade material
The charge controller works very well.
In clear sunny days, the panel delivers output more than the rated output.
A waterproof product
Cons
The cables are with very tight fitting.
The 20W capacity is very less.
The pros and cons are listed above. From the list of pros and cons, it seems a highly popular product. In case, you need 20W power to charge your devices, go with the Topsolar 20W solar panel that comes included with appropriate accessories.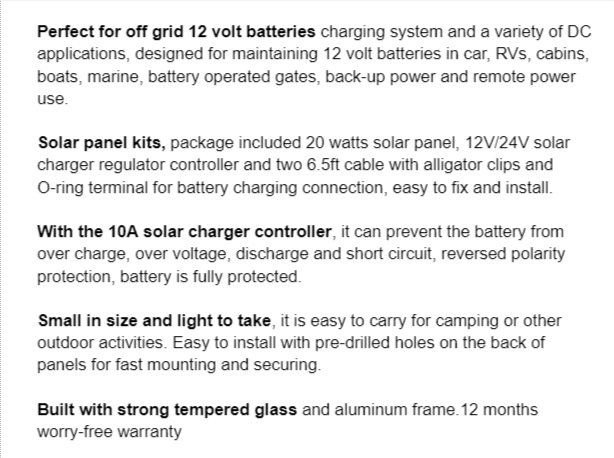 Conclusion – TopSolar Portable Solar Panel
In short, the Topsolar 20W small solar panel is good for charging phones, cameras, lights and other devices that require less than 20W power. People use it to charge and maintain a 12V battery. It is perfect for outdoor uses as it can charge batteries in cars, RVs and other vehicles. The installation is very easy and it is a highly protective product without any doubts.