Goal Zero Nomad 200, Foldable Monocrystalline 200 Watt Solar Panel is available in different wattage such as 10-watt, 20-watt, 50-watt and 200-watt. This review is about the 200-watt GoalZero Nomad solar panel. The Monocrystalline solar panel considered superior than polycrystalline solar panels.
As mentioned above, the Goal Zero solar panel is made of Monocrystalline silicon material. It measures 28.19 x 100.71 x 0.98 inches. From the dimensions, anyone can see that it is a super-thin solar panel. The weight is approx. 12.5 KG. The maximum voltage is 18 volts.
The Goal Zero Nomad 200W solar panel that is a foldable panel comes with many capabilities such as portability, USA-based technicality, complete solar panel kit and one-year manufacturer warranty.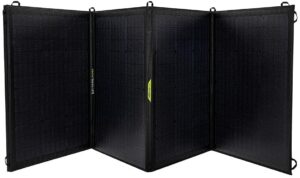 According to the product description, the solar panel is highly portable because four panels fold into a case for easy storage. It features hanging loops for the convenient movements from one place to others.
More importantly, the Goal Zero 200-watt solar panel is a complete solar panel kit. It has an integrated 6 feet APP charging cable that is compatible with many Goal Zero power stations.
The solar charger has legs to stabilize the panel while charging. Of course, the charger remains highly secure against the panel. Most importantly, you are going to buy a solar panel that is engineered in the USA. Yes, it is developed by a US-based team that has more than 50-years of experience in the solar energy field.
The customers of this Goal Zero solar panel can enjoy full one-year warranty on this product. A US-based support team is there to assist you if any issues found.
Highlights
Built-in four legs to fix the solar panel at a place
6 feet HPP charging cable
200-watt output
Monocrystalline silicon material
Available in many sizes such as 10-watt, 20-watt, 50-watt and 200-watt
12.5 kilograms item weight
28.19 x 100.71 x 0.98 inches dimensions
1-year manufacturer warranty
Based on the highlights of this product, I see it has good features. It has an integrated 6ft charging cable. According to the manufacturer, the solar panel outputs 200W power in a clear day. This product is made of Monocrystalline silicon materials. The solar panel has built-in four legs for the securing purposes.
Pros
200W output is sufficient to charge most of the devices when you are on outing.
The manufacturer gives one-year of warranty so if you find any problems, please contact the USA-based support team.
This solar panel is also available in other smalls such as 10W, 20W and 50W
The four-pane solar panel becomes 1/4 of its size when folded.
On an average, the solar panel has efficiency from 81% to 91%. In a clear sunny day, it gives full 200W output power.
The panel has USB output method too so it is perfect to charge those USB enabled devices.
It has a lifespan of 25 to 30 years
Foldable design makes it portable and keeps it protected. When folded, it is easy to install.
Cons
The solar panel is a little heavier than expected.
Price is a little higher than others are.
Please see the pros and cons because these pros and cons will give you an overview about this product. I am able to see that it has high efficiency because customers are able to receive full 200W output in a sunny day. The solar panel has a long life of up to 30 years. It has USB ports to power those USB-based devices.
Conclusion
In short, the Goal Zero solar panel is good from many aspects. It is portable because it can be folded in a small size. The solar panel is compatible with many power stations. It comes with some required accessories for the installation. Many customers are happy with the purchase. However, some customers say that it is a little pricy compared to other solar panels on the market. Likewise, it is a little heavier than other solar panels on the market.