Renogy is a trusted name for a wide range of green energy products. It has too many varieties of solar products so it gives an option to its consumers to choose a product according to their needs. In case, you plan to buy a 100W panel, you can check Renogy 12V high-efficiency solar panel. The Monocrystalline solar panel is built to work with both off-grid and on-grid system. It is perfect for RV, boat and many other off-grid applications.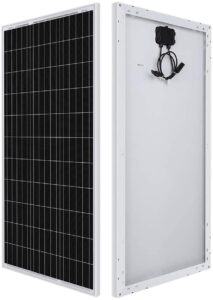 Efficiency – from the Renogy 100W solar panel, you can expect good performance. To protect from overheating, it has bypass diodes. This capability is very good for the accidental shading because it bypasses the underperforming cells.
Dependability – you can depend on this Renogy product because it gives you approx. 500 Wh electricity every day. However, it also depends on the sunlight availability. The 100W Renogy solar panel is highly popular for the reliable power output.
Durable & Easy to Install Renogy Monocrystalline Solar Panel
Easy to Install – for the installation, you will not face any problems because the 100W electricity generator has mounting holes at the backside. Therefore, it is perfect for many off-grid applications. You can install it on your recreational vehicles, yachts, rooftops and other places as per  your requirements.
Durability – the 12V monocrystalline unit is built to last for years. It has corrosion-resistant aluminum frame that is very good for external use. Therefore, the solar panel will not get damaged after decades of use. Moreover, it is designed in a way so that it can highly withstand dust and other similar substances.
Advanced technology – the high quality monocrystalline solar unit is made of silicon cells with encapsulated coating. It has multiple layers laminations for the best performance and durability.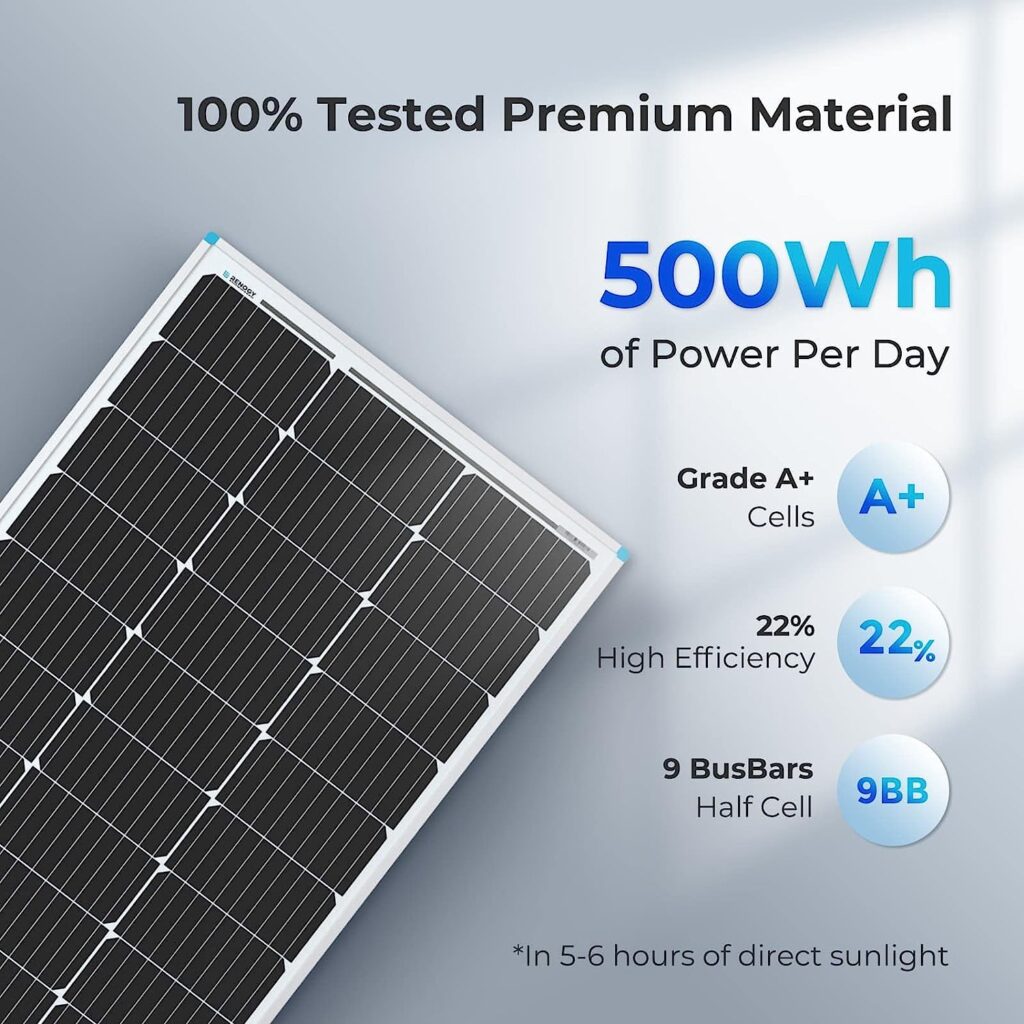 It is shorter than that of others in the market but it delivers good performance. Those people who want smaller footprint, this 100W Renogy solar panel is very suitable for them. If you drive an RV and enjoy camping, this 12V product is the best electricity generator for you. It features male and female connectors that can be used for expansion and connection as per your requirements. Well, this is the right time to buy this solar panel for your off-grid system.
Highlights of Renogy 100W Solar Panel
600V DC max system voltage
18.6V optimum operating voltage
22.3V open-circuit voltage
5.38A optimum operating current
5.86A short-circuit current
40°F to 176°F operating temperature
42.4 x 20.0 x 1.38 inches dimensions
14.3 lbs weight
14 AWG output cables
15A maximum series fuse
The Renogy 100w solar panel has good capabilities and it can be used for multiple applications because it is a lightweight product. You can see it weighs just 14.3 lbs, and it comes with many accessories including 14 AWG output cables, 15A fuse. It supports operational temperature between 40°F to 176°F.
Pros
Good build quality
Perfect for sailboat, RVs and off-grid systems
Renogy panels are shipped in good conditions compared to others.
Many users say that the Renogy panels are smaller, studier and lighter compared to other solar panels in the market.
Cons
It lacks an instructional manual, however the user can get it from the Renogy.com website.
Many say that it fails to produce 100W power as mentioned in the product description.
Conclusion – 12V Renogy 100-Watt Solar Panel
In short, the Renogy 100W solar panel looks an average-performance unit. I scanned the reviews posted on Amazon.com and other ports, most of the reviewers are in favor of this product. However, some customers say that the panel does not output full output wattage as claimed in the product description. Many customers say that it is lighter and studier than that of others available on the market. Most importantly, Renogy is a popular brand name for such products. It has years of experience in manufacturing such products.