If you plan to buy a Monocrystalline solar panel, you can read EF ECOFLOW Solar Panel Review. The foldable solar panel & charger has many good features and capabilities that may not be available in ordinary solar panels. It features USB-type C port that is good for charging small devices.
The EF EcoFlow 110W solar panel comes included with different connectors. It has MC4 to XT60 connection capability that delivers maximum 80V for Delta portable generator. The 110W solar panel features USB-C port for River 600 series portable generators. Therefore, for versatile connections, this EcoFlow solar panel is very good.
Like other solar panels on the market, the EcoFlow solar panel is portable and foldable. It has kickstand, which can be used for angle adjustment from 0° to 180°. The foldable solar panel can be folded in a small size for the easy storage and transportation. The folding solar panel features a rubber handle for easy carrying from one place to others. Such highly protective and convenient solar panels are perfect for outdoor activities like camping, climbing, hiking and picnic.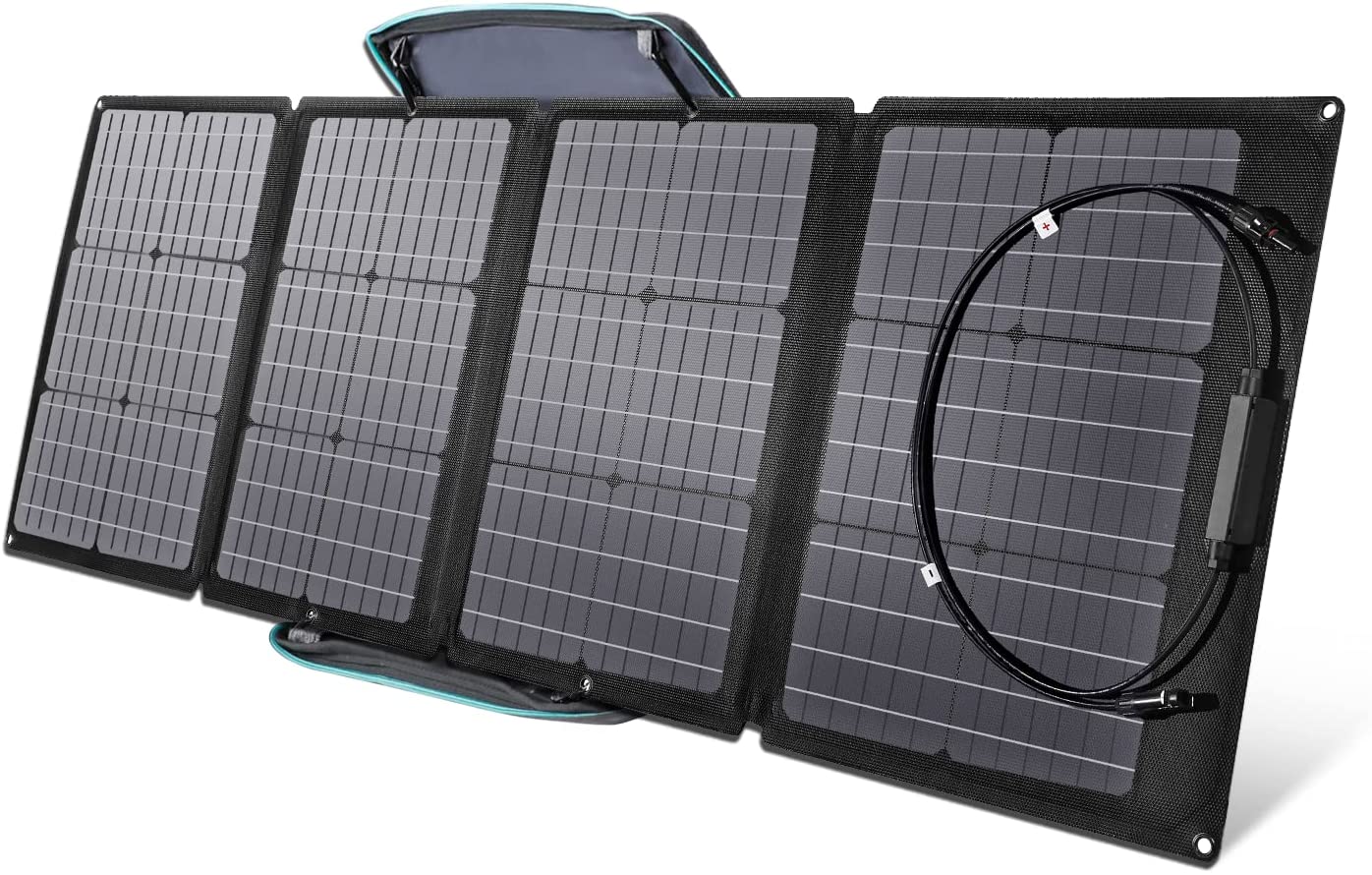 You are going to buy a solar panel that is waterproof and long lasting. Such solar panels are perfect for all weather conditions. The waterproof solar panel does not have any effect from rainwater and other sort of liquid.
Most importantly, the solar panel comes at a competitive price with 24-month customer service guarantee. A dedicated team of customer service executives is available to assist you 24 x 7.
Highlights of Portable & Foldable Solar Panel
13.2 lb weight
110-watt rated power (+/- 5W)
21.7V open circuit voltage
6.3A short circuit current
MC4 connector
16.5 x 20.2 x 1.0 inches dimension when folded
62.5 x 20.2 x 1.0 inches dimension when unfolded
Monocrystalline Silicon solar cells
-4°F to 185°F operational temperature
EcoFlow manufacturer
You get 1 x ECOFLOW 110-watt solar panel, 1 x waterproof bag and 1 x user guide.
Some of the main features and capabilities have been mentioned in the above list. Please read the list carefully. These capabilities will help understand the product very well.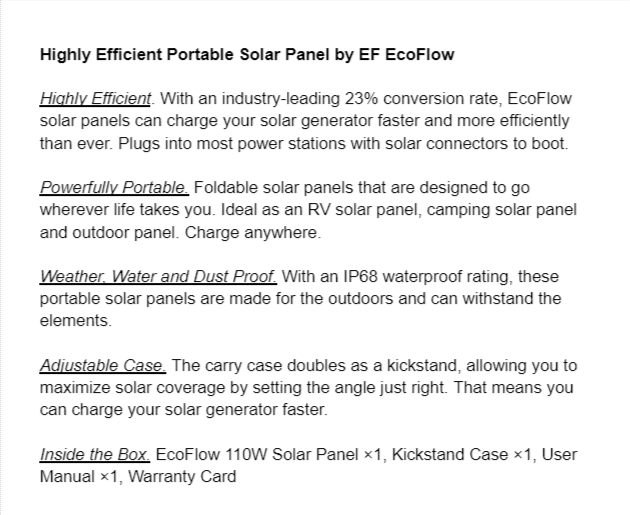 Pros
Excellent build quality
Comes with a carry bag
Highly portable
Very thin and lightweight
High efficiency
People are able to get 85-90W out of 110W, which is good.
Cons
Many people did not like the carry case as stand because it gets dirty.
The pros and cons are a part of EF ECOFLOW Solar Panel Review. From the list of pros, I am able to see that solar panel has excellent build quality that is what a user needs. More importantly, it is a foldable solar panel in a thin design, which is liked by many customers.
Conclusion – EF EcoFlow Solar Panel
At the end, I will highly recommend buying the EcoFlow 110W solar panel because it comes with many benefits. It comes with a carrying case that can be used for storage and stand. The solar panel is made of Monocrystalline solar cells that hare very helpful to make it efficient. Users are able to receive up to 90W out of 110W power.