WEIZE 200-watt solar panel is a pack of two 100W units. These are Monocrystalline PV module solar panels, which are perfect for many purposes. You can place it on the rooftop of your home. People buy it for camping, boat, vehicles and many other off-grid applications.
The WEIZE solar panel is very affordable that is why the sale counts is higher than others on the market. In case, you want to buy it, Amazon.com is the best friend. It assists its customers in a good manner and it is very reliable too.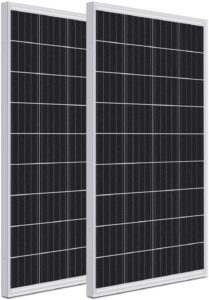 The WEIZE 200-watt solar panel comes in a portable size that measures 39.6 inches, 26.3 inches and 1.4 inches. The weight is just 15.8 pounds so it is a lightweight product, which is perfect for travelers. According to the manufacturer, the Weize solar panel is based on monocrystalline solar cells that are very good for high efficiency. I see Monocrystalline solar cells are more efficient than Polycrystalline cells. It has a long service life so you do not have to worry of the durability.
According to the manufacturer, this product is weather-proof and highly resistant to corrosion because it has anodized aluminum frames, tempered glass and sealed junction box. Most importantly, you are going to buy a versatile unit. It produces 300-600 Wh energy in a day. It is very good to charge a 12-volt battery. Therefore, the Weize 200W Monocrystalline solar panel is perfect for travelers, campers, RVs, emergency power needs and small power generation requirements.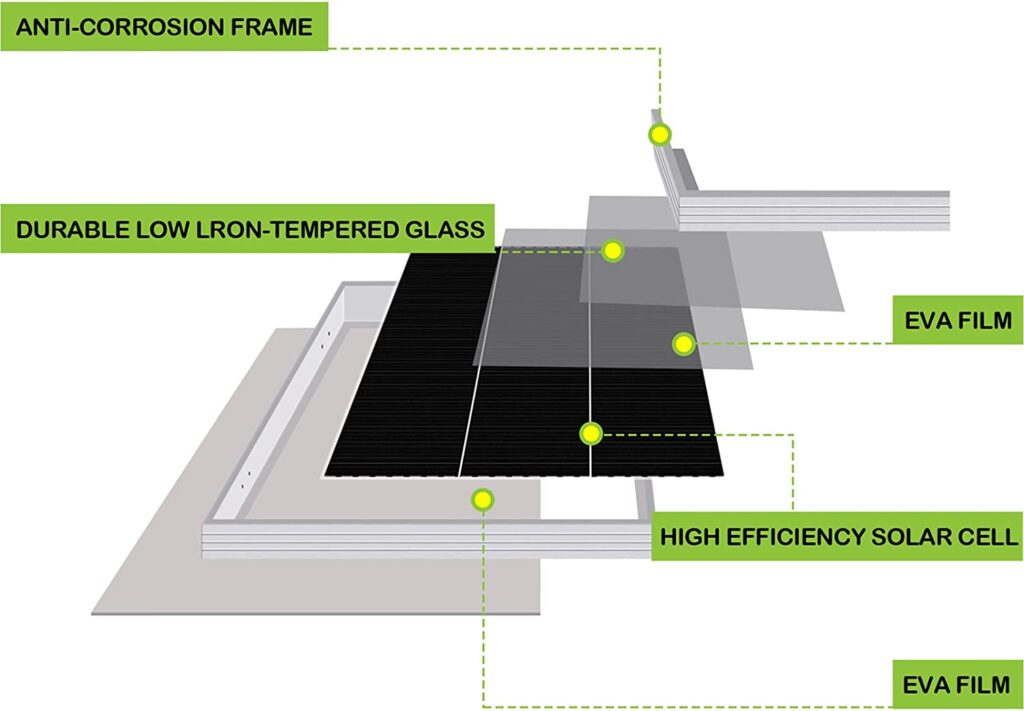 Easy to Install Weize Solar Panels are Baked by Responsive Customer Service
You can easily install this Weize solar panel because everything is done keeping easy installation in mind. It has pre-drilled holes so you do not have to drill holes. It is compatible with common ground mounts, Z brackets, side pole mounts and tilt mounts. Please note that mounting accessories do not come with this solar panel so you may have to buy them separately.
The high-grade Weize solar panel comes with responsive customer service, which is directly provided by the solar panel manufacturer. Therefore, customer satisfaction is the main responsibility of this solar manufacturer. In case, you encounter any problems, a dedicated customer service team is available to assist you.
Highlights – Weize 200W Solar Panels
200-watt solar panels (two solar panels: each with 100W capacity)
15.8 lbs weight
Dimensions: 36.4 x 26.8 x 1.3 inches
5.7A short-circuit current
1000V DC maximum system voltage
Charge controller and voltage regulator to keep the connected battery in a good status
Connection cables
Mounting brackets for the installations
Durable tempered glass, aluminum frame and advanced multi-layered sheet material
21% high module conversion efficiency
IP65 rated waterproof junction box
MC4 cable in 32 inches length
The above points are main capabilities of Weize 200W solar panel. Please note that this is not one panel of 200W capacity, rather they are two solar panels of 100W capacity each. It comes included with charge controller and voltage regulator to supply appropriate current to the connected battery. It comes with all the accessories for the installation and operation.
Pros
Good build quality
Good customer service team
For many customers, it is good value for the money.
These solar panels are a great means of reducing electricity bill.
Customers are ordering these panels repeatedly because these panels deliver good performance.
Cons
A little heavier than expected
Main advantages and disadvantages are listed in the above pros and cons section. Please scan the list of these pros and cons because these pros and cons will help you understand the product very well. I see Weize has a good customer service team so in case you find any problems, please contact the customer service team for the immediate resolution.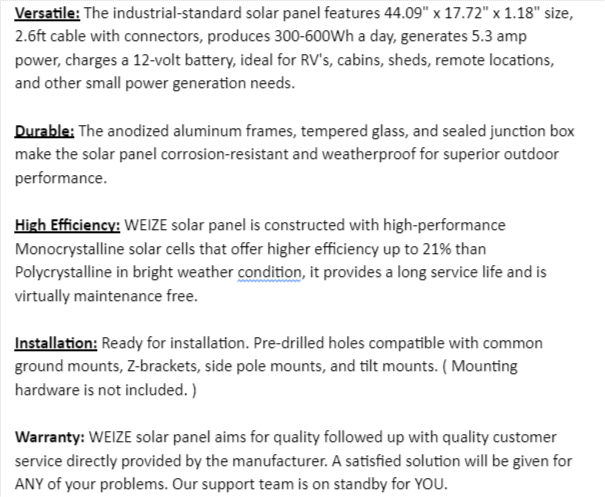 Conclusion – Weize 200 Watt Solar Panel Review
At the end, many good things you can find in this solar panel. It is easy to install and it supplies clean electricity to the connected batteries because it comes with charge controller and voltage regulator. The price of this product looks very impressive to me.