A wide range of solar panels is available on the market. In case, you want to buy a portable solar panel, you can read Topsolar Foldable Solar Panel Review. The popular brand has various good solar panels that sell at good price on Amazon.com website. You can check upgraded 120-watt solar panel from Topsolar.  This solar panel features dual USB ports to charge those USB devices such as mobile phones, cameras, lights and many others. The Topsolar panel is available in different sizes to choose from. Therefore, you can buy either 60W, 100W or 120W solar panels as per your requirements.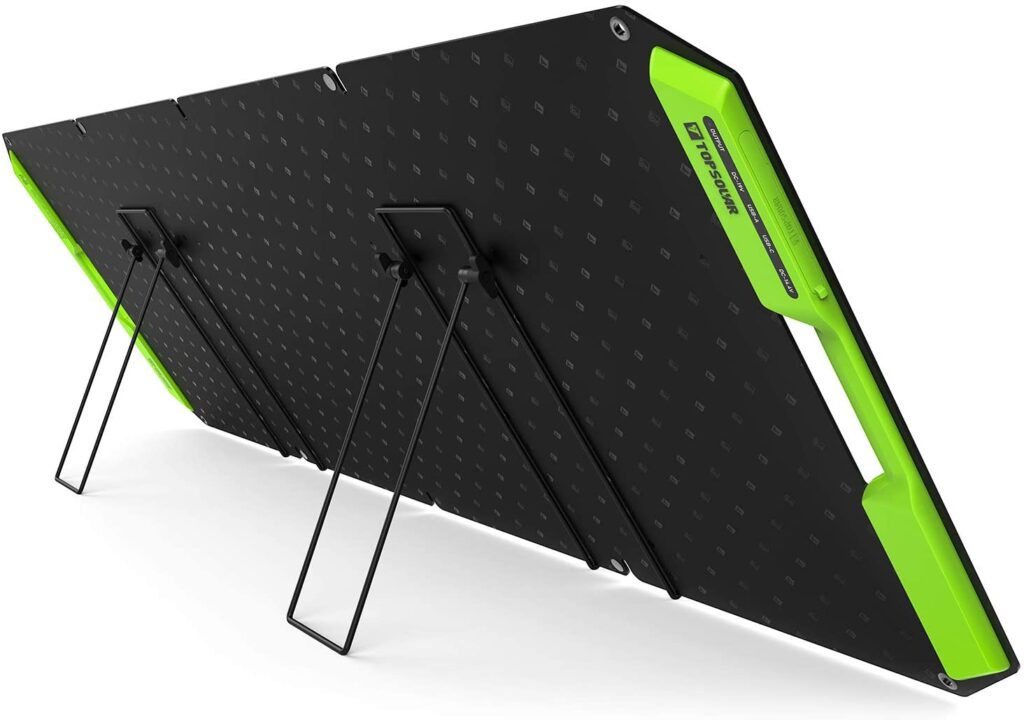 Fast Charging Dual USB Ports
The 120W Topsolar panel has two USB ports in different capacities such as 5V and 12V to handle various types of USB devices. It also features a USB-c port that supports PD3.0 (24W max). Therefore, the portable solar panel is perfect for charging a wide range of devices such as smartphones, tablets, iPad, iPhone, cameras, Samsung Galaxy. Such charging tools are perfect for outdoor activities where you do not have a permanent electricity source. You can also use this solar panel for the emergency power requirements.
Most importantly, the Topsolar 120W solar panel has built-in smart IC chip, which has a good device recognition capability. As soon as it detects the connected device, it will start charging the device at a fast speed. Also, the well-built solar panel is highly protective because it protects the connected devices from over-charging, over-loading and several other electrical faults.
Compatible with Various Power Stations and 12V Batteries
As mentioned above, this solar panel features a 19V DC port, which is perfect for charging various power stations available on the market. Therefore, you will not get an issue for charging popular power stations from Jackery, Suaoki, Webetop, Paxcess, Rockpals and many others.
Additionally, the Topsolar solar panel features a 14.4V DC port with a charging control box. Using this DC port, you will be able to connect this solar panel with a 12V battery. Of course, the 12V battery may be in your car, RVs, boat etc. As soon as, you connect this solar panel with the 12V battery, it will start charging the battery based on the sunlight availability.
Good Conversion Efficiency
From this solar panel, you will receive good conversion efficiency because it is based on highly efficient monocrystalline solar cells. These monocrystalline solar cells deliver good conversion efficiency even though being smaller than the traditional solar cells. These solar cells deliver good output by minimizing the mismatch losses. Even in low-light conditions, these solar cells score higher than the similarly rated polycrystalline solar panels on the market.
Foldable and Portable
In case, you are looking to buy a portable solar panel in a portable design, the Topsolar 120W solar panel can be the best option. When it is folded, it becomes 17.05 x 21.06 x 1.4 inches in size. Therefore, you can easily pack it into a small bag and go with it anywhere you want to go. More importantly, the portable solar panel is highly adjustable. You can adjust it to get maximized output power.
Good Product Quality with 12-Month Warranty
People want a reliable product. Therefore, this solar panel performs reliably because it has impressive quality with after-sales service. The Topsolar 120-watt solar panel is based on an advanced lamination technology and it is made of ETFE coating material that make it more durable than others. Most importantly, the waterproof unit is perfect to survive in most weather conditions. Being a qualitative product, it comes with a 12-month warranty for the peace of mind.
Main Features of Topsolar 120W Panel
Compatible with many power stations such as Suaoki, Goal Zero Yeti, Enkeeo, Webetop, Rockpals, Paxcess, Jackery and many others.
Perfect for 12V batteries, charging mobile phones, cameras etc
Many different sizes connectors
Protective against short circuit, surge, over power
FCC, ROHS, CE certified
Completely laminated using an advanced lamination technology
Higher light transmittance
Comes with brackets for easy adjustment to catch maximum sunlight
Portable & Foldable
Dual USB ports
Alligator clip cable for the battery connection
MC4 extension cable
Aviation plug
10-in-1 connectors for laptops and generators
Important features and specifications are mentioned above. These features are a vital part of Topsolar Foldable Solar Panel Review. If you want to buy this solar panel, the list of features and specifications will help you understand the product very well. The Topsolar 120W portable solar panel comes with many useful accessories that are very helpful for easy connection and installation. The solar panel is highly portable against various electrical faults such as short circuits, over-current and surge.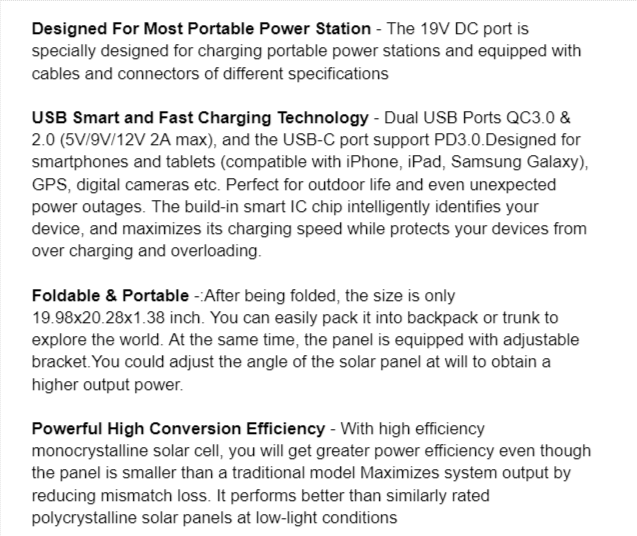 Pros
A well-made product
It delivers rated power in full sunlight.
Many customers say "Good Value for the Money"
Comes with many accessories for varied connections
Portable
Easy to setup and easy to use
Rugged design to last for years
Cons
The DC output cable is a bit short.
Poor quality some of the accessory cables
The Junction box is not waterproof.
Very tight carry case
The main pros and cons are listed above, which are an important part of Topsolar Foldable Solar Panel Review. These pros and cons will be helpful if you are going to buy this product. From the list of pros and cons, I can see that it is a durable and long lasting 120-watt solar panel. It is portable so you can easily go with it anywhere you want to go and use it for the emergency power requirements. However, the Topsolar panel 120W portable panel comes with few disadvantages such as poor quality cables, very tight carry case and the junction box is not waterproof.
Conclusion – Topsolar Foldable Solar Panel Review
In short, the upgraded Topsolar 120W foldable solar panel kit comes with all the required accessories. This solar panel is compatible with many power stations. It features dual USB ports, USB-c port and comes with an alligator clip for the 12V battery connection. According to reviews of many users on Amazon, it performs better than others available on the market. For the full output, you have to adjust the solar panel in full sunlight. However, some of the main drawbacks are listed above. Therefore, if you are a future buyer of this product, please read the cons too. In my views, these drawbacks are not too important because most of them are related to the accessories.