Rich Solar is a popular solar product brand. If you already know about Rich Solar, you would know about the quality of these products. Now, you can check Rich Solar 100W 12V solar panel that has polycrystalline solar cells for high efficiency. This product is now available in 1-piece and 2-piece package. You can buy one as per your needs.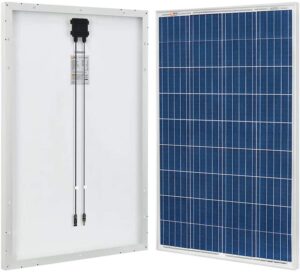 Capacity – the Rich Solar 100W panel is a highly capable product because it produces 5.4A power in a day. You can use the 100W solar panel to charge 12V battery. For the battery connection, the solar panel has a high-efficiency cable. The solar panel is made in a good size that measures 39.6 x 26.4 x 1.4 inches. The solar panel can be connected in series or parallel as per your requirements.
Strength – Rich Solar 100W solar panel is a long-lasting product. It is made of high tempered glass with anodized aluminum frame. Therefore, the robust product can be placed outside to survive any weather conditions.
Effortless Setup – for the installation, one does not have to make too much effort. In fact, the manufacturer says that it is fast and easy to install because the panel's frame has pre-drilled holes, which are perfect for ground mounts, Z-brackets, side pole and tilt mounting.
Good Amount of Electricity Generation – you can expect good electricity generation from the RICH solar panel. It delivers good performance even in a cloudy day. The manufacturer says that it has gotten a certification to work in adverse weather conditions. As a bonus, the Rich Solar panel comes with five years of material and workmanship warranty and it has 25-year limited power output warranty.
Highlights of RICH SOLAR 100 Watt Panel
100watt capacity
12-volt
Polycrystalline solar cells
Perfect for an off-grid solar energy system
Lightweight approx. 17.5 lbs
The Polycrystalline solar cells are protected by a thin layer of tempered glass.
22.6V open-circuit voltage
5.4A optimum operating current
Dimensions: 39.6 x 26.4 x 1.4 inches
High efficiency (Bypass diodes to maintain power stability in shady days)
Multiple applications for RVs, beach trips, travelers, emergency power requirements and more
Withstand high winds and snow loads
Waterproof and dustproof
Rich Solar brand
The highlights of the Rich Solar 100W panel are displayed above. From the list of these highlights, one can understand the product very easily. I am able to see that the 100W solar panel is highly efficient, waterproof, dustproof and perfect for various applications.
Pros
A low-price solar panel
Good amount of energy generation capability as mentioned by many customers on Amazon.
The free-stand capability is good for the movement.
Solar panel angle can be adjusted based on seasons.
Longer connection cables
Generates energy more than the money spent to buy it
Customers are able to receive full 100W power in full sunny day.
Cons
Low-quality shipping boxes
Construction needs to be improved a little more as suggested by some customers.
The pros and cons of the RICH Solar panel tell that it has good energy generation capability. It is an affordable solar panel too. The solar panel can be adjusted as per the demand of the weather that means it gives you good adjustment flexibility.
Conclusion
At the end, I will say that the Rich Solar 100W panel is an affordable energy generation tool because it is highly efficient and flexible for the installations and movements. In case, you are looking for a low-price solar panel, the Rich Solar panel can be the best product for you.