In case, you are looking to buy an affordable and portable solar panel, please read Keshoyal Foldable Solar Panel Review. The 60W portable solar panel features 5V USB port and 18V DC port for charging phones, tablets and other devices. The Keshoyal portable solar panel is perfect for travelers, campers who need a power generation tool when they are outside of their homes.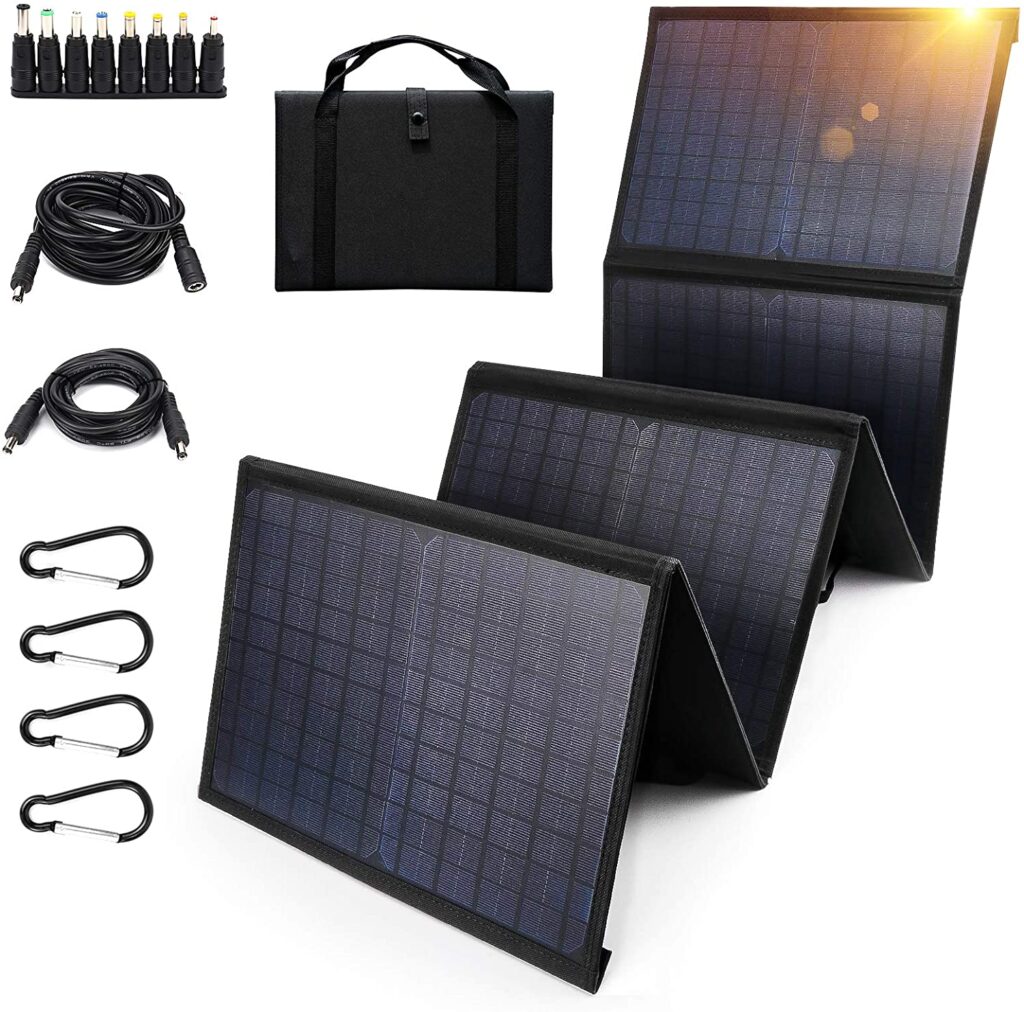 Lightweight and portable – you will not have a problem going with this solar panel anywhere you go because it is a lightweight product. It is perfect for green power solutions for outdoor enthusiasts and explorers. It is good for travelers because it is in a slim size; the thickness is just 0.2 inch. When the solar is unfolded, it measures 59.06 x 14.56 x 0.2 inches. The folding measurement is just 10.62 x 14.56 x 1.57 inches and the weight is just 4 lbs.
This product is very easy to carry. On the solar panel, you can find four clips that can be used for fixing. The fixing clips can be used for hanging anywhere you want.
Highly Durable and Waterproof – Keshoyal Foldable Solar Panel is durable and waterproof because the accessories are carefully selected. The temperature-resistant and waterproof solar panel is perfect for hiking, camping and other outdoor activities. As a side note, the junction box does not have a waterproof capability so you are advised to save it from water and keep it in a dry place.
Increased Energy Conversion Efficiency
The Keshoyal portable solar panel has several Monocrystalline solar cells that have high 23% efficiency. Of course, you will be able to receive good performance from these solar cells. They are Monocrystalline solar cells so they perform better than other polycrystalline solar panels available in the market.
Most importantly, these high efficiency solar cells are capable to deliver good energy conversion even in a low-light condition. Therefore, if you have a day full of insufficient light, you will be able to receive good amount of energy from these solar cells.
What You Get – with the purchase of Keshoyal Foldable Solar Panel, you will get all the related accessories so that you will not face a problem for the installations and operations.
It comes with 1 x 3mm DC male to female extension cable, 1 x 5m DC male-to-male cable, 1 x 8 DC adapter, 4 clips and 1 user manual. With all these accessories and components, you can easily install it and enjoy charging your mobile phones in a remote location.
Highlights – Keshoyal Foldable Solar Panel – 60W
The waterproof and corrosion-resistant product is very useful for camping and other outdoor operations.
60W output capacity
Foldable design
23.5% energy conversion efficiency
Comes with several cables, clips and user manual
5V DC and 18V DC ports
Monocrystalline solar cells
Responsive customer service team
You can see many highlights of this solar panel. These highlights are listed above. It has good 23.5% energy conversion efficiency. It comes with many connection cables. The waterproof product is good for outdoor activities.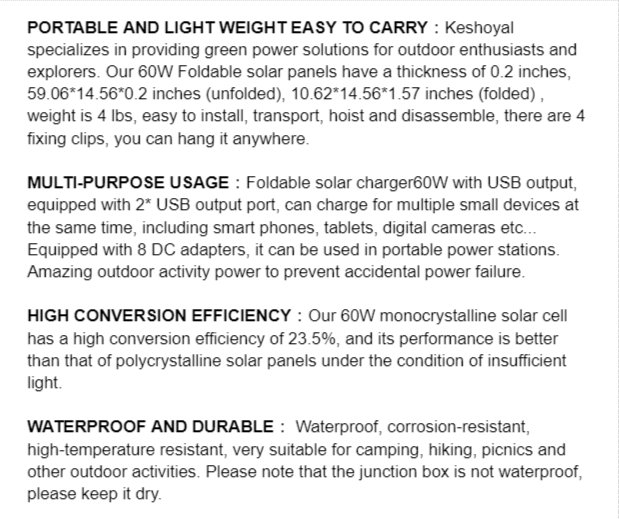 Pros
Customers are able to get full output in a sunny day.
The solar panel works great with everything mentioned by a customer.
It features a USB port for charging 5V DC devices.
The solar panel can fit in a regular size backpack.
Foldable and portable
Comes with too many connectors
A good quality solar panel with good efficiency
Well-made product
Cons
The junction box is not waterproof.
Some of the main pros and cons have been mentioned above. You can see, Keshoyal Foldable Solar Panel is very efficient, portable and comes with many connection cables.
Conclusion – 60W Portable Solar Panel
If you need an affordable small solar panel, go for Keshoyal Foldable Solar Panel. It is portable and foldable that can easily be packed in a regular-size backpack. The solar panel comes with too many connection cables and clips for the easy operation and installations. This product is made in China but it is a high quality product in a low price.