Previously, I wrote on a 100W solar panel, now please check this 210W solar panel by Newpowa. The Newpowa is a popular name for many good solar panels and other similar products. The Monocrystalline 12V solar panel is good for sailboats, RVs and green house off grid system.
Before I write about its features and capabilities, please let me tell you that this Newpowa solar panel comes with 25 years transferable power output warranty. I saw this information in the product description at Amazon.com website.
The installation process is very easy because the diodes are already installed in the junction box with 3ft MC4 cables. So, you do not have to worry of the installations.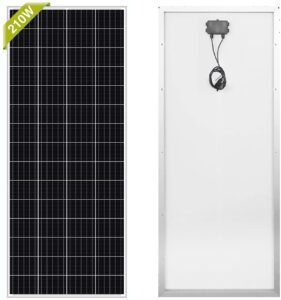 According to the manufacturer, the Newpowa solar panel delivers good power. As stated above, it delivers 210W power that can be used to fulfill your needs.
Dimensions: in inches, the solar panel measures 64.57 by 26.57 by 1.38. The appropriate panel size will not be affected from high winds and snow loads.
The Newpowa solar panel 210W comes in its latest design that has higher cells efficiency and conversion capacity.
Highlights
Anodized frame for the overall protection
Multi-layered sheet laminations for the longer life
It has various mounting options to install on wall, pole or flat surface.
The 210W solar panel is good for campers, RVs, boats, rooftop and other locations.
Pre-installed bypass diodes to get rid of shading
27.56 lbs weight
64.57 x 26.57 x 1.38 inches dimensions
210W maximum power output
16.77V MPP Vmp
12.48A current mpp
13.09A short circuit current
19.83V voltage open circuit Voc
Please read the above mentioned points very well because they tell overall capabilities and specifications for this product.
Pros
For many users, the 210W solar panel is very good for their limited roof space.
This is a good solar panel for RV applications because the panel has special arrangement for the shading.
You receive the product delivery in a good condition and good packaging as mentioned by many users.
Many users say that they were able to get good output even in cloudy weather.
Cons
The plastic wire cover is not very good because it is not sealed correctly.
Conclusion
In short, the Newpowa 210W solar panel is very good as mentioned by many customers in their reviews. The good thing is that this solar panel delivers good performance even in shady cloudy weather. The price of this product looks appropriate.