For a budget buy, Energizer is a famous name. It not only makes low-price inverters, but also outperforms its competitors on the inverter market. In fact, Energizer is an industry leader that makes numerous inverters in different sizes, capabilities, designs and prices. For reliable performance, you can check Energizer 1500 watts power inverter.
To give you verities, the same Energizer inverter is available in many sizes. Thus, you can get Energizer inverters in different sizes such as 100W, 150W, 200W, 500W, 1100W, 1500W, 2000W, 3000W and 4000W. However, this review focuses on the 1500W model. Because, I concentrate only on Energizer 1500W power inverter, so I will be able to describe it in details.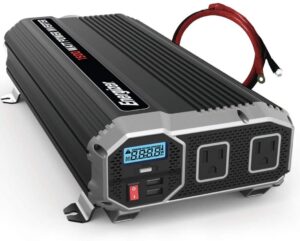 Output capacity – this is a modified sine wave inverter. It delivers 1500W continuous and 3000W peak power. Well, main job of any power inverter is converting DC power into AC power. Similarly, this Energizer inverter converts the battery DC power into useable 110V AC current.
Helpful in emergency – according to Energizer, this 1500W unit is perfect for storm, hurricane and outage. Since, it features dual USB ports and dual 110V AC outlets, so the 110V inverter is perfect for emergency uses, mobile uses and portable uses.
Device compatibility – the Energizer 1500 Watts Power Inverter is easy to setup with a 12V battery. After the battery connectivity, the unit will start converting the 12V DC to 110V AC. Then, you can use the AC power to run several devices such as TVs, small kitchen appliances, table fans, industrial tools and home appliances.
Energizer 1500 Watts Power Inverter Delivers Reliability
Since, the inverter comes from Energizer, so quality and performance ensured. Energizer is a well-known brand that has been on the market for a long time. You can find countless inverter varieties from Energizer at reasonable prices.
Actually, the Energizer 1500W power inverter is not only a performance house, but also a protective unit. Therefore, it is protective to overload, voltage irregularity, heating problems, short circuits etc. Additionally, all the inverter errors are shown on the LCD display. The LCD screen also shows status of input voltage, output voltage and battery level.
Uses – you can use the Energizer inverter for camping, fieldwork, DIYs, power shortage, tailgating and emergency.
Warranty – Energizer says that their products are with rich quality. That is why the company offers 2 years warranty on this 1500W inverter for the assurance.
Certification – this Energizer inverter is approved by MET under UL std 458 and CSA. Which means the inverter is completely safe and delivers high performance.
Customers' Reviews on Energizer Inverter
One – an Amazon customer said that he is using this inverter as an emergency power backup. Currently, he is living on a place where power goes out frequently, so this inverter did the great job to keep their appliance charged. Further, he says that after several hours of use, the inverter doesn't have heating issues.
Two – this customer is using the 2000W Energizer inverter. He complained that the inverter shuts off after few minutes even with just 300W load. He says that it shuts off without any warnings.
Three – a customer on Amazon wrote in his review that he loves this Energizer inverter. He said that he used the inverter for powering an air conditioner. He says that the inverter solves most of the electricity problems.
Four – according to this user, everything worked expected. He said that inverter showed 13.3 DC voltage and 117 AC voltage with a 300W load. The user didn't get any noise related issues.
Five – this customer complained that only the USB ports worked. The 110V AC outlets didn't worked. He contacted Energizer and he was told that he could get a replacement at a store. The problem he faced that there was no store within 100 miles from his house.
Six – according to this Amazon customer, he used 300W model, which fails to run on 1500W load. Further, he says that his other inverter handles 1500W load without any issues.
FAQs Centered on Energizer Inverters
Q: does the inverter consume power on the idle mode?
A: yes, it draws 0.3-amp power at 12V DC.
Q: can the Energizer 3000W inverter run a full size refrigerator?
A: yes, if you have purchased ENK3000 then you will be able to power a full-size refrigerator.
Q: do I need a charge controller if I connect the inverter with a solar and battery?
A: yes, you need a charge controller to avoid overcharging.
Q: does Energizer 1500W power inverter produce pure sine wave output?
A: no, this is a modified sine wave inverter.
Q: does the inverter recharge automatically?
A: an inverter is just a current conversion device. It doesn't have a built-in battery. You need to connect the inverter with a battery then you will be able to receive 110V AC current to charge your preferred devices.
Pros
Comes from a trusted manufacturer
Stylish design
Perfect for emergency, power outage etc.
Affordable price
Protective to common electrical issues
Two years warranty
LCD screen to show status
Approved by MET under UL and CSA
Easy to install
Cons
The inverter received complaints regarding automatic shut-off
The customer support is handled by PowerBright
Some customer complained that the AC 110V outlets don't work.
According to the list of pros and cons, the inverter comes with two years of warranty for the peace of mind. In case, you get any problems, please claim the warranty. I see that warranty related things are handled by PowerBright. This Energizer inverter is encouraged to buy because it is approved by MET under UL. However, according to some customers, the Energizer inverter also comes with some disadvantages because some customers on Amazon were not happy with the performance.
Concluding Thoughts on Energizer 1500 Watts Power Inverter
To conclude, I would say that the Energizer 1500 watts power inverter has both happy and unhappy customers. However, I have to tell the fact that it has countless happy customers and few unhappy customers. Keeping all the positives and negatives in mind, I would recommend buying this inverter.
In fact, there are many reasons behind the recommendations. First, the inverter has received too many positive reviews on Amazon and other shopping websites. Second, it is protective to all common problems that occur in a typical inverter. Third, the price is reasonable. Finally, it comes from Energizer that is famous for making good quality inverters in various sizes.