Victron Energy is a famous name for many inverters and related electronic accessories. They are heavy-duty units that also deliver the desired performance to their consumers. To be frank, these Victron Energy inverters are a little costlier than other inverters on the market but at the same time, they are high-grade products. Please keep reading Victron Energy MultiPlus Inverter Review to know more.
Victron Energy MultiPlus 3000VA 24-Volt Pure Sine Wave Inverter 70 amp Battery Charger is very popular on various selling websites including Amazon as well. Especially, MultiPlus series inverters are very popular.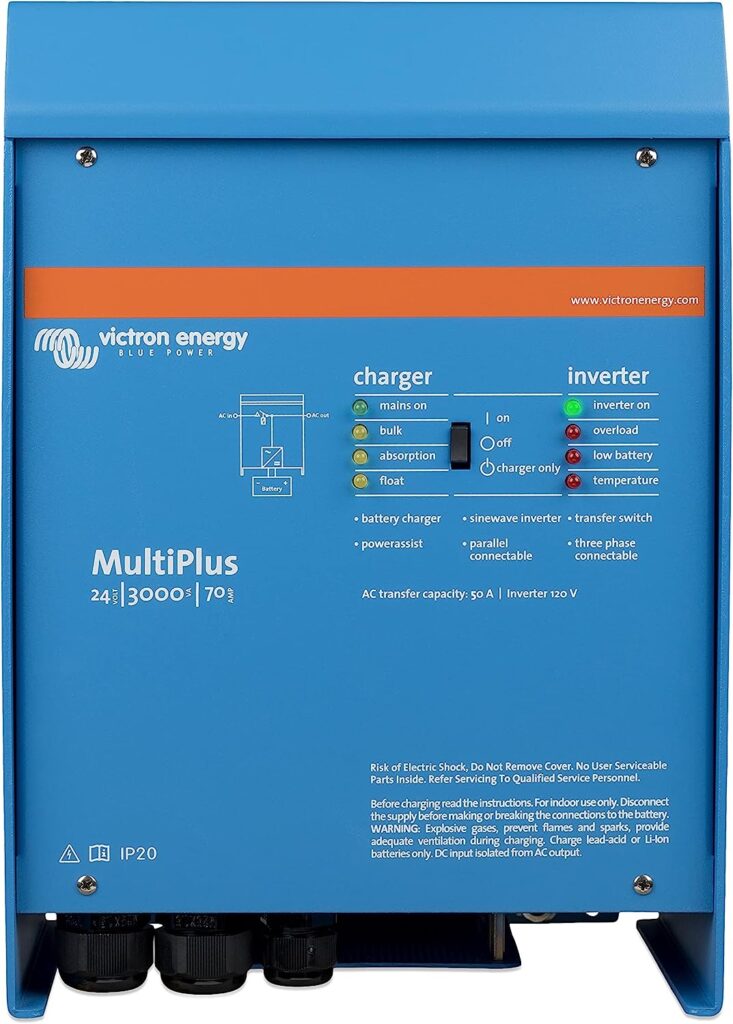 Victron Energy 24V inverter charger combo is potent and compact unit. It delivers 3000VA output. The output power you get is clean pure sine wave power. With this high quality power, any appliance will run smoothly. Mainly, the Victron MultiPlus inverter converts 24V battery current to 110V AC current. It also charges batteries. For charging batteries, it uses an adaptive technology so you will not get any issues for charging your batteries.
Advanced Features of Victron Energy MultiPlus Inverter
According to the product description, Victron Energy Inverter features PowerAssist that stops overload from generator and marine power connection. Additionally, it has auto activation capability for the inverter that means if grid power failed or generator power goes off suddenly the inverter capability will start automatically. The automatic start of the inverter is very fast, it takes less than 20 milliseconds so that other connected AC devices will remain operational.
For the higher electricity demand, you will be able to combine up to six MultiPlus units. This way, you would have unlimited power to run your AC appliances. Most importantly, the 3000VA power inverter is fine with both three-phase and split-phase connections.
Well, everything will work as expected if you install it correctly. Please note that faulty set-up will invite dangerous situations. That is why; it is advised to consult with a licensed electrician for the installation of Victron Energy MultiPlus Inverter (3000VA Power Inverter Charger).