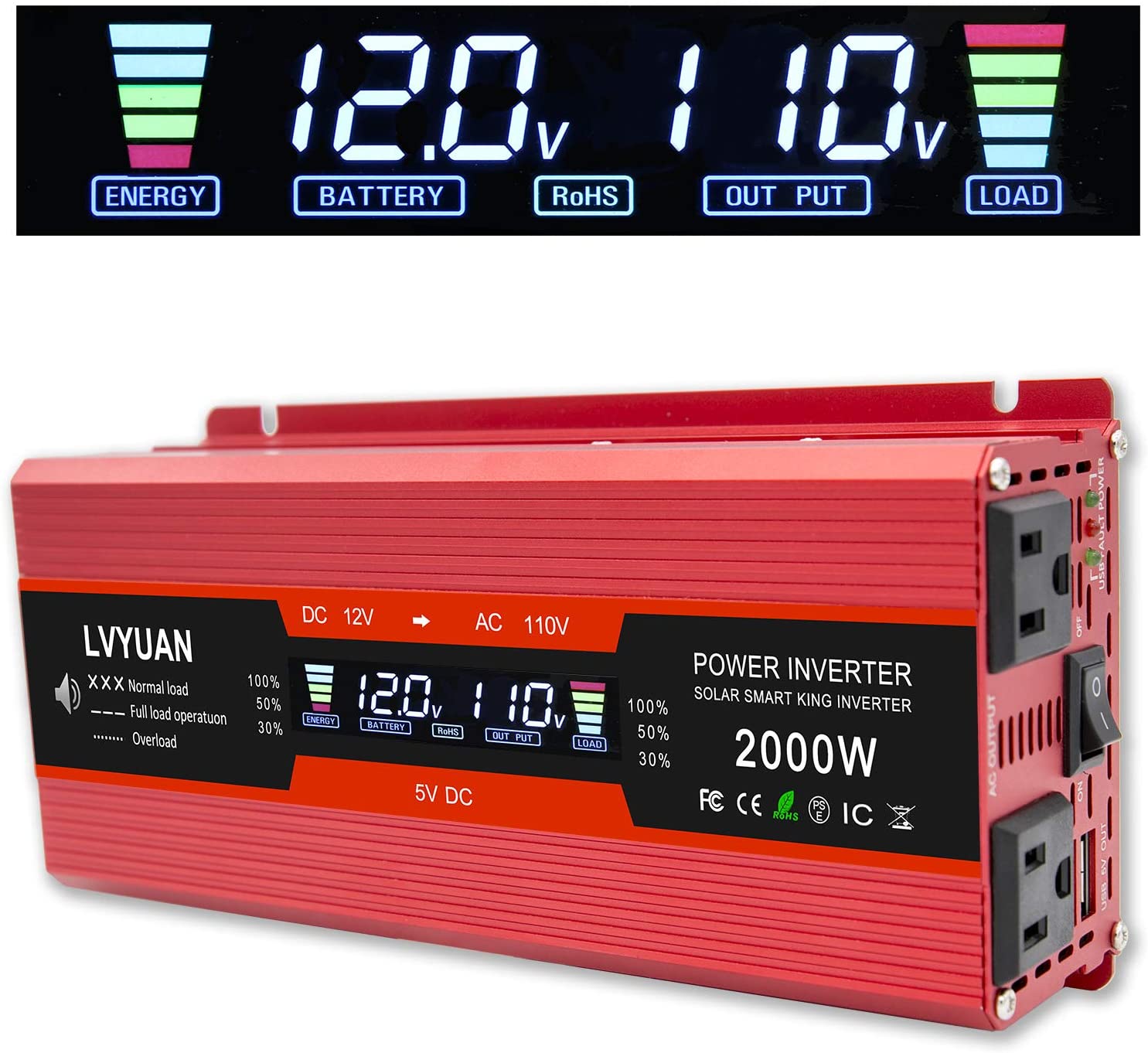 In case, you are looking to buy a low-price power inverter, Cantonape 1000W power inverter can be the best unit because it is both affordable and qualitative. The Cantonape 1000W power inverter is feature-rich unit because it has LCD display, 2 AC outlets, dual 3.1A USB ports, more than 90% efficiency, 50A built-in fuses and many other features.
The Cantonape 12V power inverter has intelligent LCD display that shows input/output voltage, battery capacity, load capacity. With all information displayed on the LCD panel, you will get familiarity of the inverter's safety, performance and take your action accordingly. With the help of the LCD display, it is very easy to know the battery status whether it is normal, full or empty.
For any power inverter, protection is the first priority. Keeping this thing in mind, the Cantonape 1000W power inverter has been designed. It has 50A built-in fuses to protect the connected devices. In fact, the manufacturer says that it offers 6 kinds of protection against overload, overheat, over-voltage, reverse polarity, under-voltage, short circuits and any other electrical problems. With the built-in fuses and safe charging design, everything will be safe, bet it the inverter, the battery or the connected appliances.
Cantonape 1000W power inverter has wide applications because it has two AC outlets and two USB ports. You will be able to use it for multiple purposes. You can charge your phones, laptops, cameras. It is good to run home appliances such as fridges, TVs, fans, microwave ovens, Christmas lights and many others. Depending on the requirement, you can use the Cantonape power inverter for camping, outdoor power requirements, emergency power needs and business trips.
Highlights
Cantonape popular brand
2.6 pounds item weight
Modified sine wave output
1000W output, 2000W peak power
11V to 15V DC input
5V USB output
Two AC outlets
10V DC low voltage alarm
9V DC low voltage shut down
15.5V over voltage shut down
8.74 x 4.4 x 2.28 inches inverter size
Protection: over-voltage, over-load, over-heat, over-charging, reverse polarity, short circuits
Package contains 1000W Cantonape inverter, a cigarette lighter plug, alligator clips and user manual
Pros
Affordable price
Works well
Solid build quality
Compact size
Easy to use
Clear LCD display
Highly recommended by many users on Amazon
Delivers rated power
Stays cool
Good value for the price
You get fast delivery of this inverter if you buy it from Amazon
Cons
Some customers complained that it failed to deliver rated power.