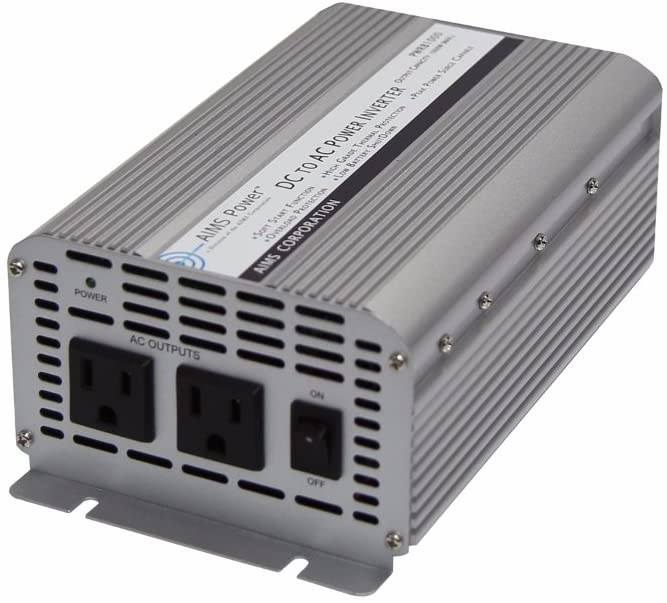 AIMS is a well-known inverter brand. In case, you want to buy an AIMS power inverter, please check AIMS Power 1250 Watt power inverter. The DC to AC power inverter is also available in 2500W. Which means, you can buy either the 1250W or the 2500W power inverter depending on your requirements.
The AIMS power inverter 1250W has all the protection features that are often found in popular inverters. Thus, the 12V power inverter by AIMS is highly protective against high-voltage, low-voltage, over-load, over-temperature, short circuit. The power inverter has integrated fuses that work to protect the connected devices from any electrical faults, power fluctuations, temperature issues and many others. The DC to AC 1250W power inverter has low and high voltage alarm that keeps you alert when the voltage is below or above certain level. The AIMS power converter 1250W features a cooling fan that is responsible to safeguard the inverter from over-heating.
Well, AIMS says that their power inverter is perfect for small tools and appliance up to 10 Amps. It does not have frills related issues because it delivers reliable power that you can use to power your devices and appliances. You can use the 1250W AIMS power inverter to run several home appliances and other devices. I recommend buying this DC to AC power inverter because it comes from AIMS. You should know that AIMS has more than 20 years' experience in the inverter business. It provides tech supports, legitimate product warranty and other type of customer supports.
The trusted AIMS power inverter is perfect for various applications. You can install it in your cars, trucks, RVs, homes and use it for backup power. It delivers quiet operation so you will not get annoyed from the inverter sound.
The AIMS 1250 watts modified sine wave power inverter delivers reliable electricity. Therefore, it is perfect for powering small appliances like fridges, DIY tools, laptops, computers and various entertainment devices. The 12V 1250W power inverter has a straightforward design that does not complicate the things. It features two AC receptacles, cooling fan that runs continuously when the inverter is in the operation mode.
Features & Specifications
1250W rated output / 2500W peak power
12V DC to 110V AC power inverter
Internal cooling fan and fuses
Perfect for small power tools, appliances and emergency power backup
Straightforward design
Dual AC outlets
Protective against over-voltage, over-heat, over-load and short circuits
Reliable power output
Compact and lightweight design
Perfect for trucks, RVs, cars and other vehicles
AIMS is a trusted brand with more than 20 years' experience.
Available in multiple sizes
High/low voltage alarm
Pros
High efficiency
For many customers, it worked as expected.
Appropriate price
A lightweight and portable unit
Good performance
AIMS has more than 20 years' experience.
A well-built unit that is easy to install.
Cons
Some customer reported that inverter has temperature issues.
Does not come with battery cables said by some customers