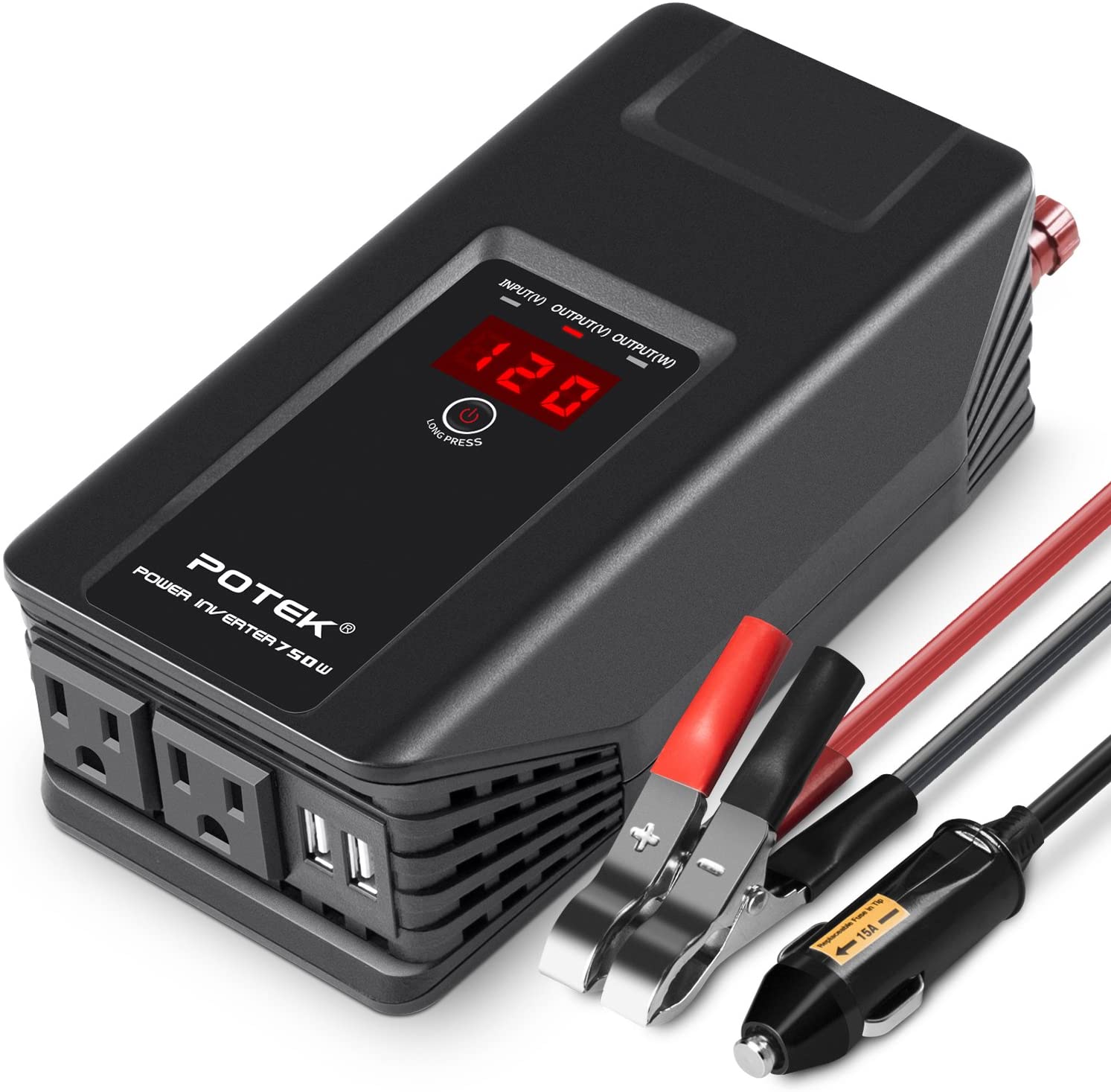 Undoubtedly, Potek is one of the top inverter brands. It makes solid and portable power inverters in various sizes, watts and voltages. Currently, this 12V Potek inverter is available in two sizes such as 500W and 750W.
This review is about the 750-watt Potek power inverter. The inverter does a good job of converting DC power to AC power. That means it converts 12V DC to 110V AC power. You get 750W continuous power and 1500W peak power. With 750W output power, you will be able to operate several home appliances and personal devices because it also comes with USB ports. Using the USB ports, you can charge your daily used gadgets like kindle, cell phones, lights, digital camera and so on.
Also, the Potek 750-watt inverter is very protective against many electrical faults such as over-voltage, over-current, under-voltage, short circuit. The LCD display can also be counted as a safety component because it shows input and output voltages and other safety related information.
The Potek 12V power inverter features an intelligent cooling fan that runs silently. The main role of this smart cooling fan is to manage temperature in the inverter.
It comes with both a cigarette lighter plug and batter clips for the input connection. It has 39-inch cigarette lighter plug that has sufficient length for the flexibility. You can even place this inverter at the backseat in your car and use it very flexibly. Please make sure that if connected via the cigarette lighter plug, you will not be able to get more than 150W power. To get more than 150W power, you have to connect with the battery using the alligator clips that are included with the package.
Specifications: two AC outlets, 750W rated power, 1500W peak power, DC 5V/2A USB output, DC 12V (DC10-15V) input voltage, AC 100V-120V output voltage, modified sine wave output, 7.7 x 4.7 x 2.5 inches dimensions.
Tips: first, connect the inverter with the battery than give it the load. You need to first start the inverter. Then you need to start the connected devices. The Potek 750W inverter is perfect for most of the inductive, capacitive and resistive loads. In case, the car is OFF, please switch off the inverter also. If you have to perform wiring, please disconnect the positive battery terminal. Also, please install this inverter in a cool place and do not expose to sunlight. Please make sure that the load does not exceed its rated 750W power. Read more…