Aeliussine is a Chinese brand. All the Aeliussine inverters are made in China. However, Aeliussine makes high-quality power inverters and accessories. In case, you want to buy a good-price power inverter for your home and vehicles, please check Aeliussine 2000W Power Inverter as well.
The Aeliussine inverter delivers 2000-watt continuous and 4000-watt peak power. You can use this 2000W power inverter to power on home appliances, computers, mobile phones etc. For the flexible connections, it features a USB port and a normal household AC socket. Using these connection methods, you can easily connect this inverter with your appliances.
According to the manufacturer, it delivers sine wave current, which is good for those devices, which are very power sensitive. That means, the inverter will not damage your costly electronic devices.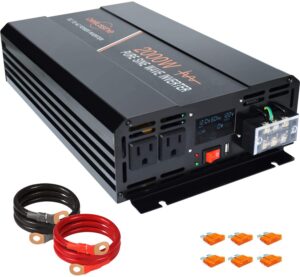 Thermal Protection
Aeliussine 2000W Power Inverter features two built-in fans to maintain the inverter temperature. Any inverter may get warm if it is given substantial load. Therefore, the cooling fans do the good job to provide sufficient cooling to the entire system. Additionally, the inverter interior is designed very well to keep the machine cool, primarily when it is on heavy load.
With the dual fans and vented housing, the inverter is capable to get rid of any sort of over-heating, over-current, over-load and current fluctuations problems. However, the fan is a little noisy as per many users' reviews on Amazon.
FAQs
Q: is it a good inverter to operate an air conditioner for hours?
A: yes, Aeliussine 2000W Power Inverter can power on an air conditioner because it delivers 2000W pure sine wave current. If you want to run an 1800W air conditioner, you will not get any problems. However, you mainly have to depend on the connected battery or the solar system that provides the electricity.
Q: does it feature a remote On/Off switch?
A: no, it doesn't have a remote on/off switch. It just features the normal On/Off switch.
Q: where is this product manufactured?
A: Aeliussine 2000W Power Inverter is manufactured in China. However, it is not the typical Chinese product; it is a high quality inverter.
Pros
Several fuses for both DC & AC current, extra 8 replacement fuses
Good performance, no heating problems
Competitive price
It can power on heavy home appliances such as air conditioners, induction stoves etc.
Quick-response customer service
It comes included with cable (black & red), fuses and 12-month warranty.
Cons
Connection ports should be more.
According to a user, the fan is loud.
As per the pros and cons, Aeliussine 2000W Power Inverter seems an average quality product. I checked reviews on Amazon and other shopping websites, it has mixed reviews. However, most of the customers are happy. I would advise to research more about this product before you take the buying decision.
Conclusion – Aeliussine 2000W Power Inverter
In short, Aeliussine is a Chinese brand, which means you are going to buy a Chinese product. According to many users at Amazon, this is a Chinese product but it is a quality product. However, I will not give too many votes on the quality sides. I will call it an average-quality product, which is good for the money. In case, you want to buy a super-quality product, please check other inverters from popular brands such as AIMS, Bestek, Potek etc.