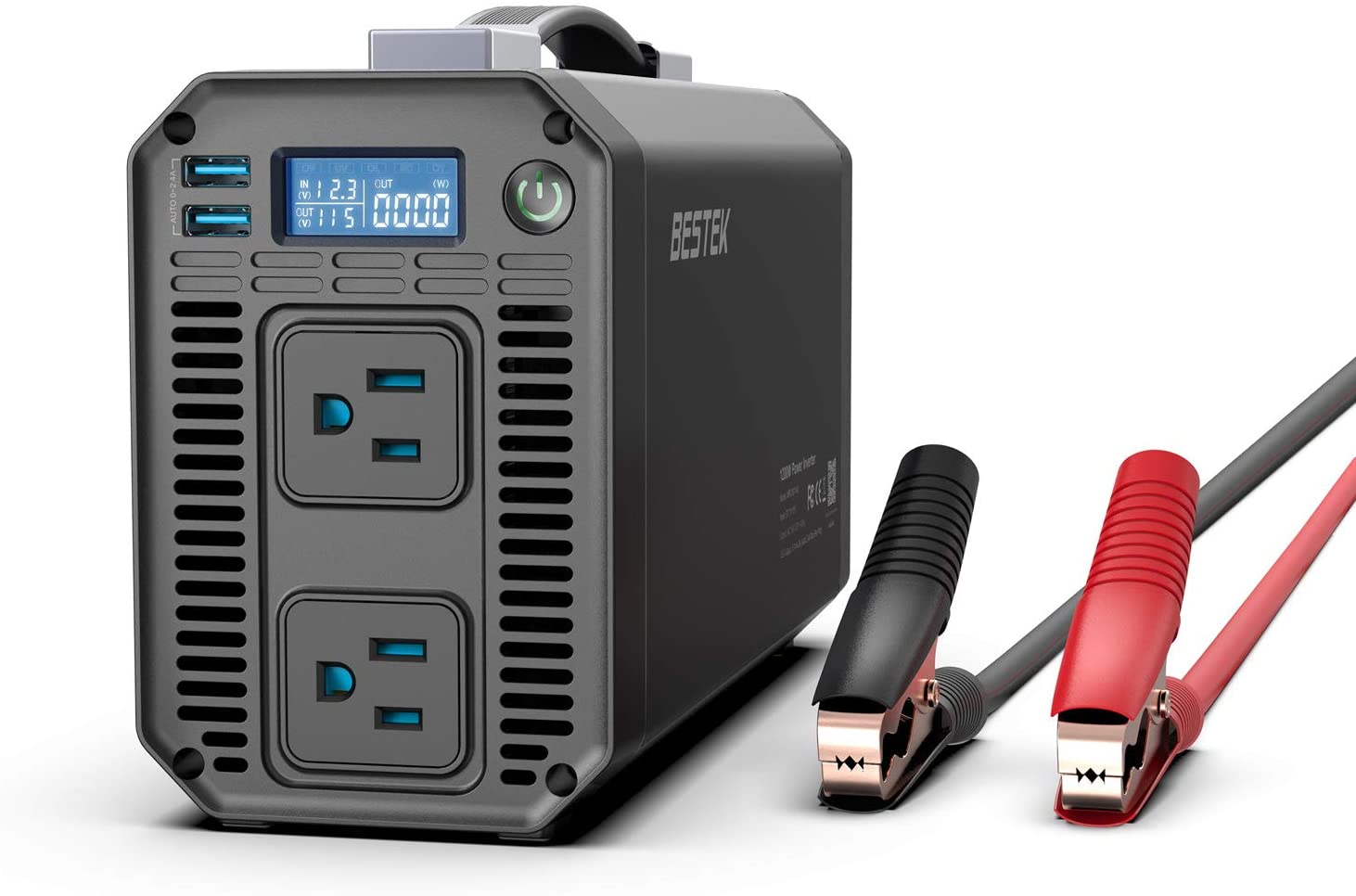 BESTEK is one of the leading brands for manufacturing high-grade inverters. If you want to purchase a good quality unit, the BESTEK 2000w power inverter can be the best unit. It does the great job of converting 12V battery power into the 110V AC power.
The Bestek 12V inverter is perfect for homes, road trips and anywhere else for the emergency power requirements. The portable power inverter by the popular Bestek manufacturer is a good friend of travelers because it keeps their important devices charged all the times. It is a portable and lightweight product so you will not face any problems for the frequent movements. In fact, Bestek says that you can put it on the palm of your hand so you can see how portable it is. At the same time, it keeps you productive, safe and entertained.
Highly Safe Modified Sine Wave Bestek 2000W Inverter
Bestek 2000 watts power inverter features dual USB ports that you can use to power all those devices that need USB connection. So, it is perfect to charge mobile phones, digital cameras and other small devices. Apart from the USB ports, it also features 110V AC outlets that can be used to power all those devices that need up to 2000-watt power.
Some important features are two AC 110-volt sockets, two USB ports (DC 5V 4.2A), an LCD display, a cooling fan, advanced protection features, 50A fuses, aluminum alloy housing and ABS plastic material. With all these features, Bestek power inverter will surely deliver the desired performance.
Internally, the inverter is safe; there is no doubt about it. However, the power inverter is also safe from the outside because it has child-resistant safety shutters. Yes, it features blue safety shutters in the AC outlets that help safeguard children, pets from the electric shock.
From the USB ports, you can expect high charging speed. These advanced USB ports can easily detect devices and charge these devices at a good charging speed.
The BESTEK 12-volt power inverter has an aluminum case that makes it highly protective. The solid inverter is always ready to tackle all kinds of environmental pressures, drops and bumps. It also helps protect the internal parts.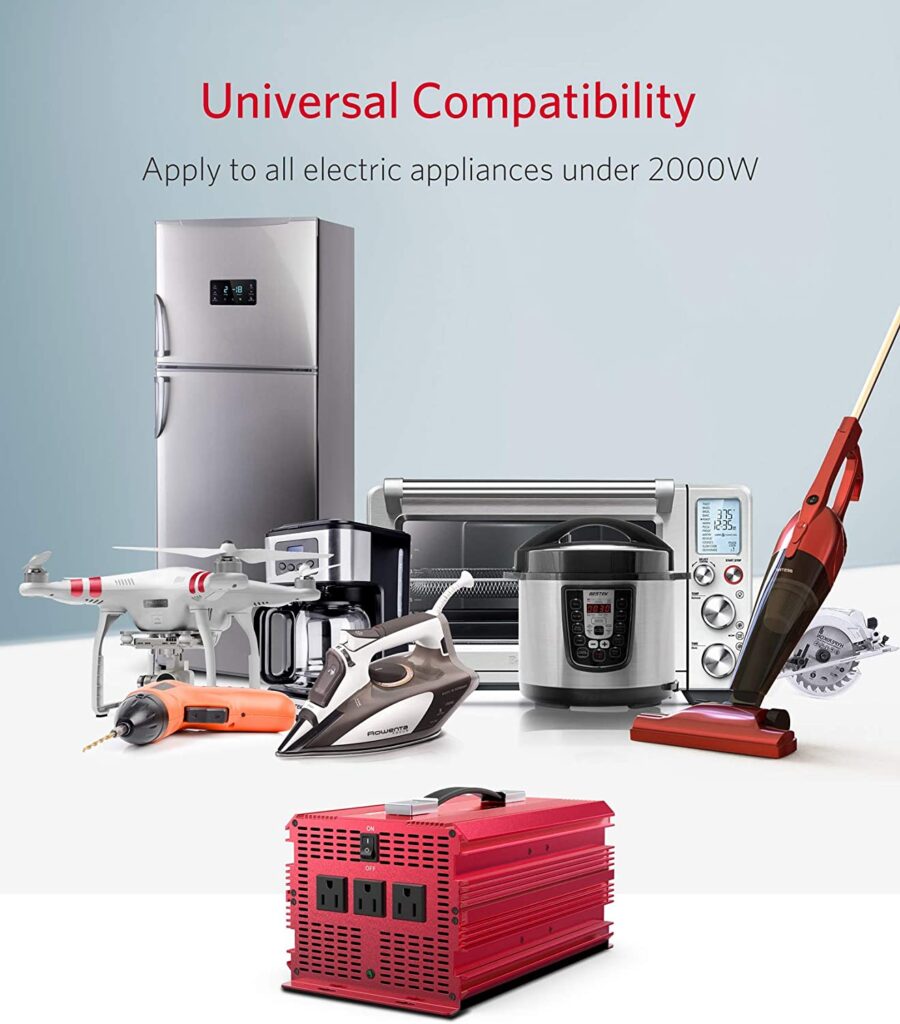 Pros & Cons of Bestek 12V to 110V Power Converter
Pros
Users power some small appliances too.
Quiet operation
Lightweight
Awesome build quality
USB ports
Good performance
Cons
The included alligator clips are not very good.
Low quality cables
Based on pros and cons, the Bestek 2000W inverter looks impressive. It is a lightweight inverter that delivers good performance. On the downside, the cables are cheaply made, so it is better to have solid cables for good performance.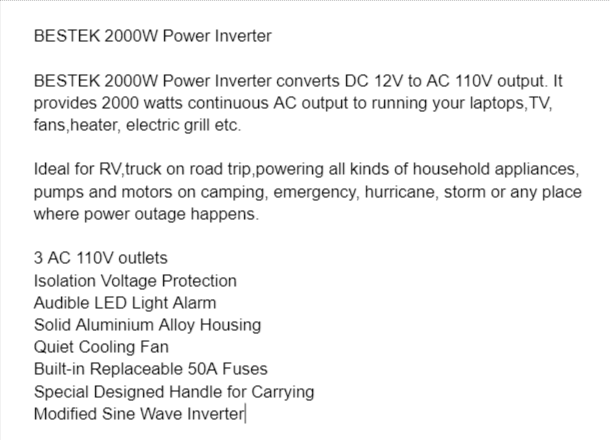 Highlights of the Power Converter
| Product name | Bestek 2000W power inverter |
| --- | --- |
| AC 110V outlets | 3 |
| Output wattage | 2000-watt |
| Serge capacity | 46000-watt |
| Output waveform | Modified sine wave |
| Certification | ETL listed |
| Input voltage | 12V DC |
| Output voltage | 110V AC |
| Color | Red |
| Cabinet material | Aluminum |
| Comes with | 4 battery clamps, 6 replaceable fuses (50A) |
| Warranty | 12 months |
| Availability | See on Amazon.com |
The Bestek modified sine wave inverter is only for 12V DC battery connection, you will not be able to connect it with a 24 battery. Please switch the inverter off if the car is not running. Also, refrain to give load more than its rated output. The inverter has a multi-speed cooling fan that runs programmatically, usually on load or high temperature. In case, the fan is not running, you do not have to worry of it.
What will you get with this 2000W unit? Well, you get all the required accessories such as two battery clamps, four spare fuses, one user manual and friendly customer service assurance.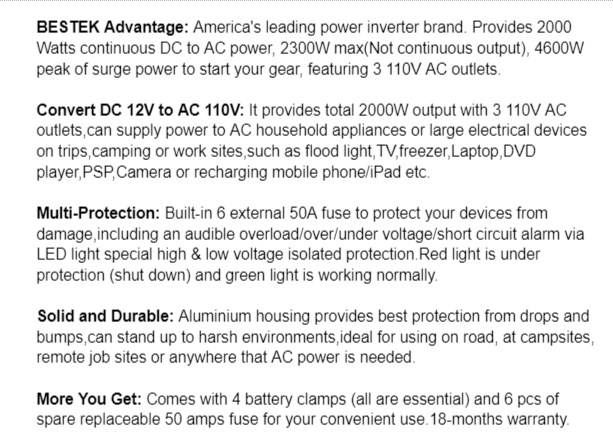 Conclusion of Bestek 2000W Power Converter
At the end of BESTEK 2000W Power Inverter Review, I will say that it is a solid unit. Please do not ignore Bestek brand because it is not a Chinese brand, it is a USA based brand instead. More importantly, Bestek is a popular brand name of a wide range of inverters. One thing to note here is that it is a modified sine wave inverter so it may not be as good as a pure sine wave inverter. Apart from this, everything looks good to me. It has a good build quality. And, many users confirmed that it delivers good performance too. I hope BESTEK 2000W Power Inverter Review was helpful to you.