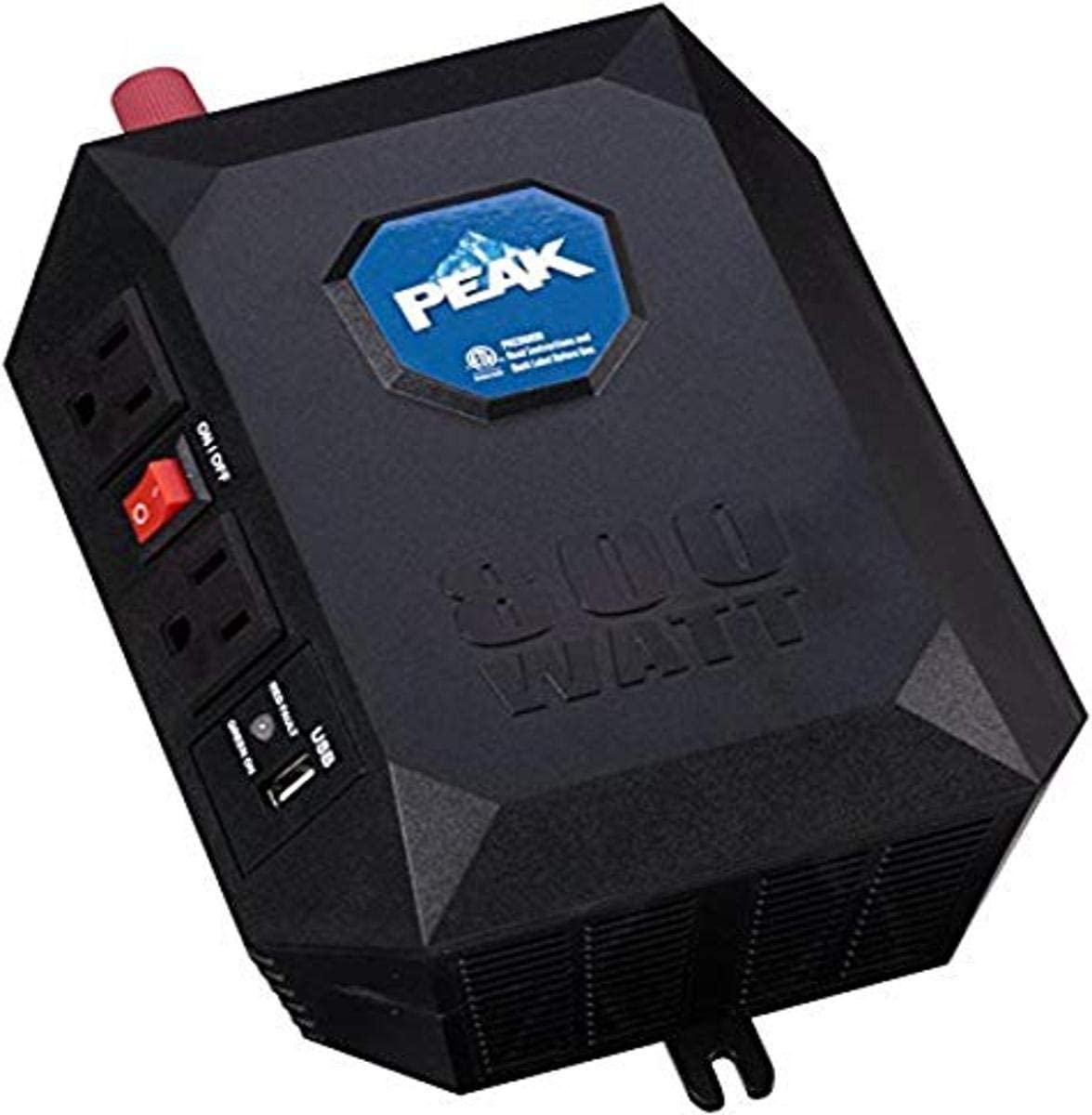 Peak makes impressive power inverters. In case, you want to convert your DC battery power to AC power, you can check Peak mobile power outlet. It has 800w capacity. You can use the 800W power to run several devices and home appliances.
For varieties, the Peak 800W mobile power outlet is available in many sizes like 100W, 150W, 400W, 1200W. You can choose a size based on your power consumption requirements.
The Peak 12V to 110V power converter is portable unit that you can carry anywhere you want. As the main work of this Peak mobile outlet is converting 12V battery power to 110V AC power so you can easily convert your car battery power to AC power. The 12V power inverter also features 2.1A USB port to charge USB-enabled devices.
The high quality power outlet has high popularity because people liked its portable size and the good performance. The car power adapter is perfect for charging devices such as cell phones, tablets, iPhones, laptops, gaming machines and other appliances because it delivers huge 800W output power.
According to the manufacturer, the Peak 800W inverter is a heavy-duty unit so you can use it in any environments taking the benefit of its heavy-duty built profile. Of course, the Peak mobile power outlets are a great way to provide reliable and stable power to your household appliances.
Additionally, for the connection and installations, you do not have to make too much effort because you can connect it directly to the vehicle's battery by using the clamp cord. Well, the portable, effortless and heavy-duty power converter is highly protective to your car battery, connected devices and the power adapter itself because it has internal fuses that work to protected against over-voltage, over-charging, over-load and other electrical issues.
According to the product description, the PEAK mobile power outlet comes included with high-quality battery cables, remote ON/OFF switch with an extended 10 feet cable. To get the maximum output from this little power adapter, it is recommended to connect it with the battery directly using the supplied clamp cord.
Most importantly, Peak 800W power converter is an ETL certified product so it is highly secure to use in any environment. It has automatic shutdown capability, safety alarms and many other protection capabilities. For an effortless installation, the PEAK power adapter comes included with mounting brackets so you will not get any issues for the installations.
Features & Specifications
800W output power
12V to 110V AC converter
AC 110V outlet and USB charging port
Remote On/Off switch with a long cable
Mounting brackets are included
Highly protective to short circuits, voltage fluctuations and other electrical faults
An ETL approved product
Perfect for vehicles such as cars, trucks, RVs etc.
A heavy-duty unit
PEAK inverter manufacturer
Pros
Delivers rated power
ETL certified
Comes included with mounting brackets
Simple to install
Cons
Some customers received defective item.
Not reliable with the cigarette lighter plug