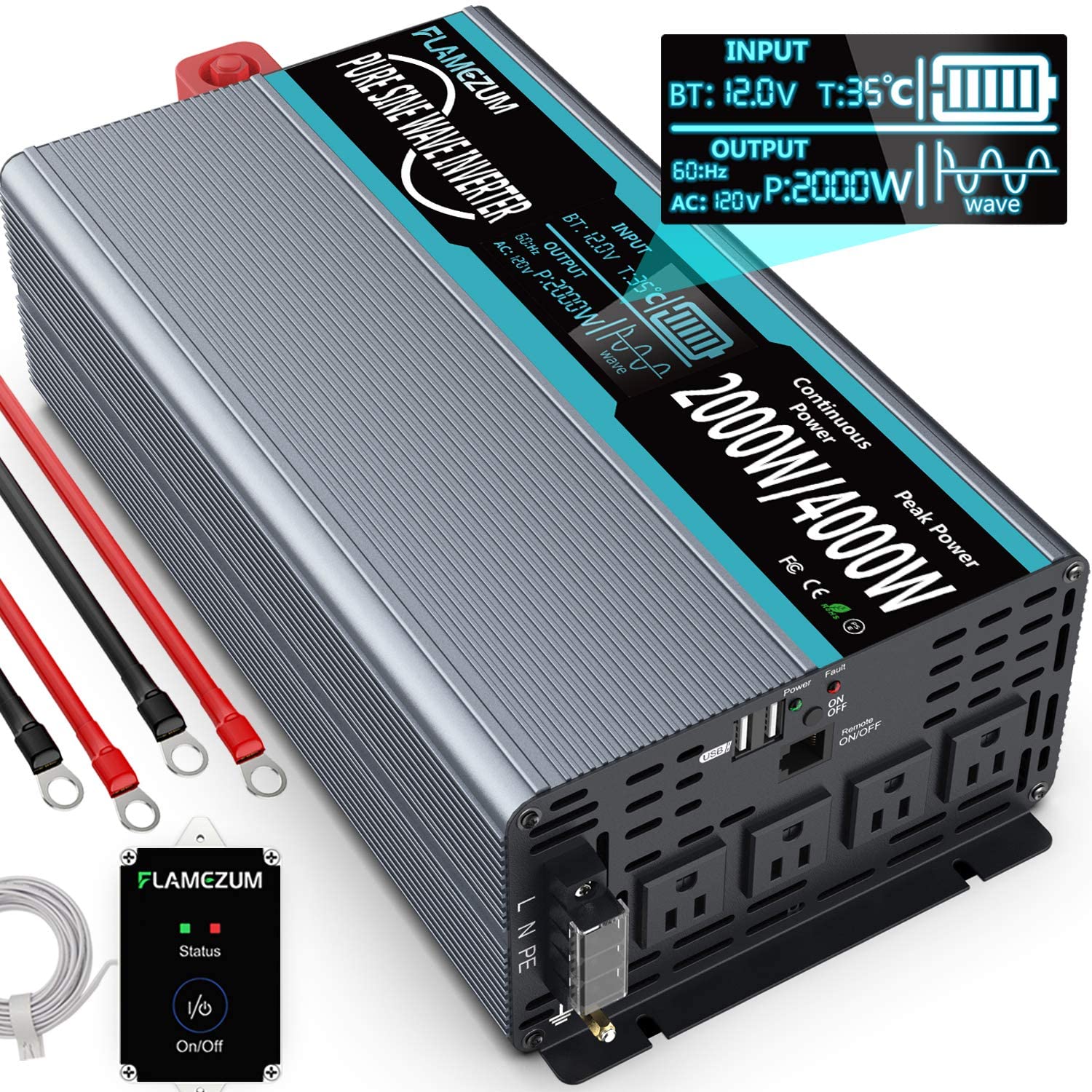 FlameZum power inverters are made by Sudokeji, which is a popular inverter brand. In case, you want to buy a 2000-watt power inverter, please know more about this FlameZum pure sine wave power inverter.
The high power inverter delivers 2000W pure sine wave current. You can use the 2000W output to charge your appliances. You should know that pure sine wave is superior to modified sine wave so a pure sine wave inverter has many applications. You will be able to run almost any device you want.
FlameZum 12V DC to 110V AC power converter features four 110V AC outlets and two USB ports. With the help of these AC outlets and USB ports, you can power any devices you want. You will be able to run CPAP, refrigerators, microwaves, laser printers. It is perfect for emergency power, RVs, solar system and outdoor power requirements.
The FlameZum 120V power inverter measures 12.6 x 7.2 x 3.94 inches and weighs 11.24 pounds. It offers 2000watt pure sine wave power for running several devices simultaneously.
The 2000W 12V FlameZum power inverter has 4000-watt peak power. Well, peak power is very important to run some heavy appliances because peak power is like startup power. Some large appliances require extra power at the startup for few seconds. Therefore, to meet this demand, power inverters have peak power. Usually, peak power is 200% of the continuous power.
You are going to buy a power inverter that is widely used. Yes, it comes with wide applications for indoor and outdoor power. Such heavy-duty 2000-watt power inverters are perfect for RVs, emergency power, boats and many other vehicles. People are using FlameZum inverters for their business trips, vacations, emergency power requirements, camping, medical equipment, industrial tools, and home appliances and running those AC 110V appliances that require up to 2000W input power. As mentioned earlier, the FlameZum 2000W power converter has four AC outlets and two USB ports. Therefore, with these connection outlets, you will be able to run several appliances at the same time, perfect for emergencies like hurricane, power outage and storm.
The FlameZum 12V power inverter features an LCD display, a remote switch with light indicators. Well, the LCD display is a good component in this power inverter that keeps you informed about the battery status, system status, load status and other safety information.
A FlameZum 2000W power inverter means a fully safe power converter because it gives you fully safety protections. The Power inverter has isolated input and output design, soft start technology to safeguard the connected devices. In the time of electrical faults, the red light will switch on and it will inform you with the help of the alarm sound so that you can know what is happening. It is a highly safe power inverter so it cuts off the electricity automatically when things are not normal. In short, you do not have to worry of the common electrical faults such as short circuits, over-voltage, over-heat, over-load and other similar electrical issues.
For the fast device detection and fast charging, the FlameZum 2000W power inverter features USB 2.4A port so it can detect the devices automatically and it will start charging at a fast speed.
Features and Specifications
2000W output power
4 x 120V/110V AC outlets
2 x USB ports (2.4A)
40A internal fuse
Battery cables included
Temperature-control cooling fan
Pure sine wave output
Isolated input and output design
Soft start technology
Widely compatible
Perfect for RVs, trucks, and homes and emergency power requirements
LCD display
Remote control
User manual
18-month warranty
Pros
Looks well built
Clear display
Pure sine wave output
Accessories included
Multiple protection capabilities
Isolated input and output design
18-month warranty
Cons
According to many customers, it failed to deliver the rated output