The Sug power inverter brand may be new to you so you may have questions related to its quality, performance and other vital factors. To answer these questions, I decided to write on this 2000W power inverter.
You know the fact that all the brands were new some days. They took time to be established on the market. So, we should think this way. We should give a chance to new brands too. Their products may be beneficial to the consumers more than the products from established brands.
Now please come to the features, capabilities and other vital factors of this Sug 12v power inverter.
First of all, please let me tell you that it is a pure sine wave power inverter that converts 12V DC power to 110V AC power. Of course, majority of power inverters are 12V power inverters, which are very helpful for running common household devices and appliances. In my view, the 2000W output power is very sufficient to run most of the common home and kitchen appliances. Users will also be able to run many power tools and their favorite electronics as well.
The good thing about this Sug power inverter is that availability in different input voltage capacities. Yes, these power inverters are available in different input voltage such as 12V, 24V and 48V. So, you can go with an inverter as per your demand. Of course, the 12V power inverters are widely used but the 24v and 48v power inverters have their own pros and cons.
The Sug power inverter review is about the 12v power inverter. Please keep reading to know its features, pros, cons and more.
Key Features & Specifications
| Product name | Sug 2000W power inverter |
| --- | --- |
| Output power | 2000W |
| Input voltage | 12V DC (10V to 15V DC) |
| Output frequency | 60 Hz |
| Output waveform | Pure sine wave (less than 3% THD) |
| Overload protection | 2200W |
| Number of outlets | 2 |
| Body color | Orange |
| Remote switch | Yes |
| Display | Yes (digital display) |
| Brand | SUGPV |
| Manufacturer part number | Smart 1000X |
| Item weight | Approx. 11 lbs. |
| Item dimensions | 14.57 x 6.69 x 4.09 inches |
| Availability | View on Amazon |
Key specs as well as some key features are written in the table above. Please read the table to understand the actual capabilities of the Sug 12V power inverter. This is a solid power converter that converts the 12V battery power into 110V AC power to run several house electronics like refrigerators, coffee machines, microwaves, televisions and all those small devices that require précised current.
Sug Pure Sinve Wave Power Inverter in a Reliable Design
You already know that a pure sine wave power inverter is good for most loads such as running home appliances, small devices, electric motors, power tools and more. This Sug 12v power inverter is designed to deliver the reliability because it has various safety features including reverse polarity safety, thermal shutdown, short circuit protection, built-in fuses and low-voltage and low/high voltage alarm.
Apart from its great design and the safety features, the Sug 2000w power inverter has 4000w peak power so it is good for those appliances that require extra power at the startup.
Additionally, it has gotten an exquisite design as it has a good-looking orange shell outer design. It has color screen that shows battery voltage, output voltage (AC) and the battery status.
Supported battery types – the Sug 2000W power inverter is good for lead acid battery but you can also use other batteries like lithium but the working voltage should be within the 10.5V to 15.5V range. As mentioned earlier, it has a great battery protection capability as it has Battery Management System, which is very helpful to protect the connected battery from discharging when the current goes below 10.5V. Except many safety features, the Sug power inverter is supported with an 18-month warranty and lifetime customer service.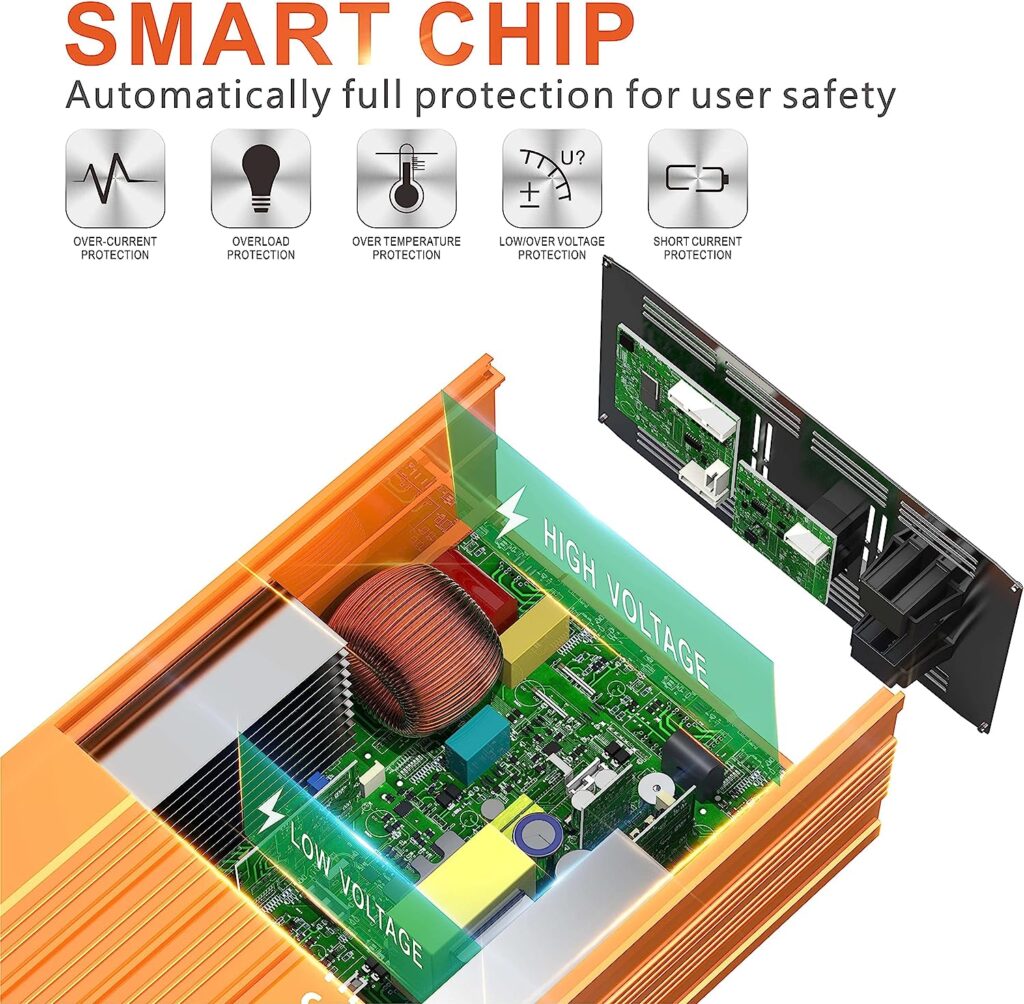 Pros
Quick and friendly customer service
Good return policy even you got a minor problem.
Easy installation
Quiet operation
Good read out on gauges
Users liked the wired remote control.
Good for running household electronics under 2000W
Pure sine wave inverter is good for most electronics.
Cons
As per a customer, it is not a well-built product.
Some customers received defective inverters but they were replaced after the customer request.
Sug 2000W power inverter has both pros and cons. It has many pros like pure sine wave, good for running home appliances under 2000w, easy installation, quiet operation, great customer service and more. On the downside, the power inverter has some cons too. Some customers complained that it is not a well-built item; some customers received defective products.
Conclusion – Sug 2000w Power Inverter Review
At the end of the Sug 2000w power inverter review, I will say that the power inverter has both happy and unhappy customers, so it is a little confusing to recommend this product. However, if you want to buy this product, please research more on this because SugPower is not very popular as an inverter brand so future buyers should be cautious a little. Of course, many customers said that it is a good power inverter for running most devices because it delivers pure sine wave current. The power inverter also has a remote control for the operation ease. I read reviews of various truck drivers who have used this inverter to run their appliances like refrigerators, coffee machines, TVs and other electronics successfully.