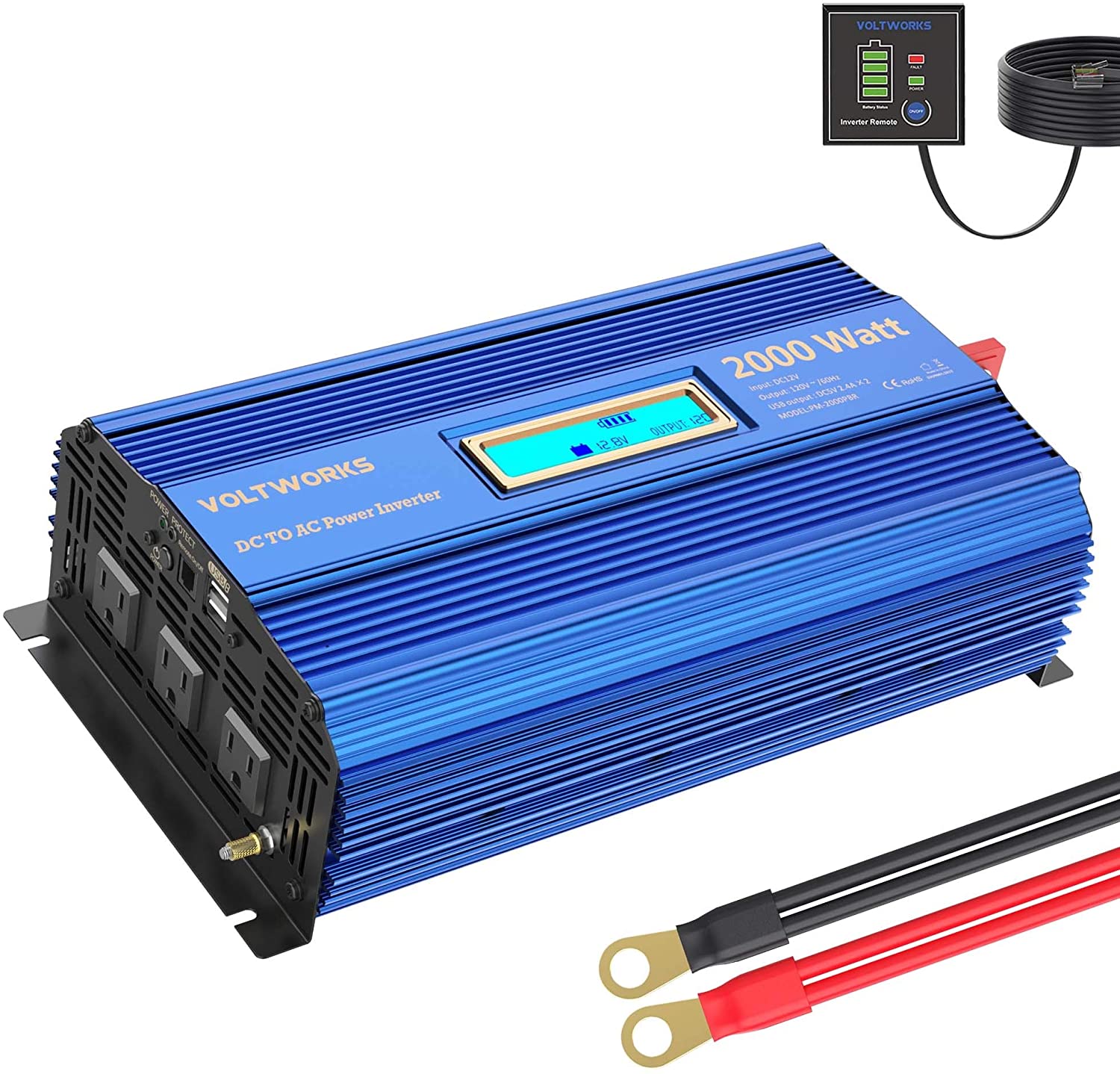 In case, you are looking to buy a uniquely designed power inverter, you can check this VoltWorks 2000W power inverter. I recommend buying this inverter because it comes from a trusted brand that always focuses on the development and production of powerful inverters. VoltWorks customer service is also very good. In case, you stuck technically or you have any questions related to this inverter's workings, a customer service team is always available to help you.
The VoltWorks 2000-watt 12V power inverter provides reliable power to the connected devices. You do not have to worry for the protection of the connected devices because they are always safe with this Voltwork inverter.
This 12V inverter features three 110V AC outlets and two USB ports. Using these connection ports, you will be able to run several devices and home appliances without any problems. The power inverter also features an LCD display that shows relevant information related to power consumptions, input power and other protection information. Additionally, it has a multi-protection exterior that is made of high-grade aluminum materials. So, the solid inverter is highly safe in any environments. Any external bumps, drops will not damage it. Most importantly, the VoltWorks power inverter can be controlled by a remote control because it comes with a 15 feet cable remote control.
You should know that all the products of VoltWorks are insured by AIG insurance company. Which is an added advantage of buying these VoltWorks inverters.
The manufacturer claims that this power inverter has multi-protection features. Which means the inverter is fully protected from short circuits, over-voltage, under-voltage, overheat and overload. The VoltWorks inverter features a reliable cooling fan, which runs silently and requires less energy. This cooling fan is very helpful to dissipate heat throughout the operation. The cooling fan is conditioned to run when it detects one-third of the rated load. Well, it is guaranteed that the efficiency of the power inverter will not be affected from the cooling fan operation; rather it increases the efficiency of the inverter. Read more…