2000W output from a budget pure sine wave inverter cannot be ignored. Yes, you get 2000-watt pure sine wave output from this GoWise Power inverter. In fact, GoWise is a quite popular brand for many appliances.
GoWise Power 2000W pure sine wave inverter is a 12V power conversion unit, which means it converts the 12V battery current into 110V AC supply that is used to run several home appliances, kitchen appliances, personal electronics, popular gadgets and other electronics under the 2000w input wattage capacities. For connecting a wide range of electronics including home and kitchen appliances, the GoWise inverter has 3 x 120-volt AC outlets and 1 x 5v USB port. Of course, you can use this USB port to run all those devices that have a USB port. Additionally, the 2000w power inverter has 4000w peak power, which can be very helpful to run all those heavy appliances that require extra startup power.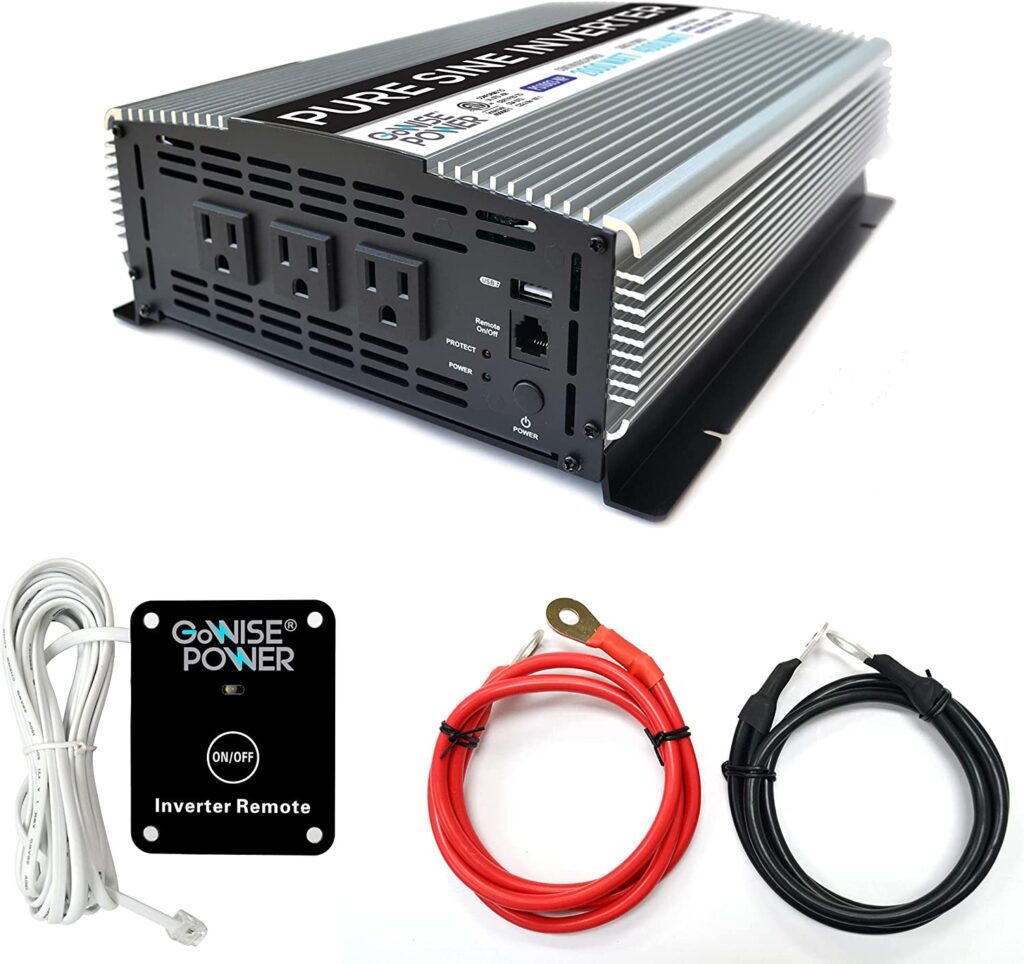 From outside, the GoWise 2000W inverter looks like a heavy-duty unit because it has a gray color shell. Of course, the solidness is not only in the look, but also in its overall internal capacity because it is a well-built unit.
Key Features & Specs of GoWise PS1003 Power Inverter
| Product name | GoWise PS1003 |
| --- | --- |
| Output wattage | 2000 watts |
| Input voltage | 12-volt |
| Output voltage | AC 110v / 120v |
| Waveform | Pure sine wave |
| Cables | Black & red cables with ring terminals |
| Remote switch | Yes |
| Output sockets | 3 x AC outlets and 1 x USB port |
| Ideal uses | Powering home appliances, using in cars, vessels and more |
| Protection systems | Thermal, overload, under-load, over-voltage, under-voltage |
| THD | Less than 3% |
| Frequency | 60 Hz. |
| Brand | GoWise Power |
| Model | PS1003 |
| Model version | 2021 |
| Color | Grey |
| Item dimensions | 17.1 x 9.3 x 4 inches |
| Item weight | 12 pounds |
| Availability | View on Amazon |
Prime specs as well as key features are written in the spec table. Please refer to the spec table of GoWise PS1003 12V inverter. In the spec table, you can find the product details like weight, dimensions, model number, brand name, output wattage, input voltage, output voltage protection features and more.
Versatility and Protectiveness of GoWise 2000W Power Inverter
GoWise Power 12V inverter is a versatile and protective unit undoubtedly. With its versatile capacity, you will not experience an issue using it for multiple purposes. You can use it in vessels, cars, roaming vehicles and for emergency power requirements. Of course, it is a highly efficient electricity converter because of the pure sine wave attribute. You will be able to run all those devices that are sensitive devices like computers, laptops, mobile phones, power tools and many others.
As per the product description, the GoWise 2000W power inverter has five safety mechanisms like over-voltage safety, under-voltage safety, overload protection and low-voltage alarm. Apart from all these safety features, the 12v power inverter can also be judged by THD (Total Harmonic Distortion). In this case, less is better. The GoWise 12v to 120v power converter has less than three percent THD and it has other protestation features like soft start, low interference technology and a cooling fan to control the temperature.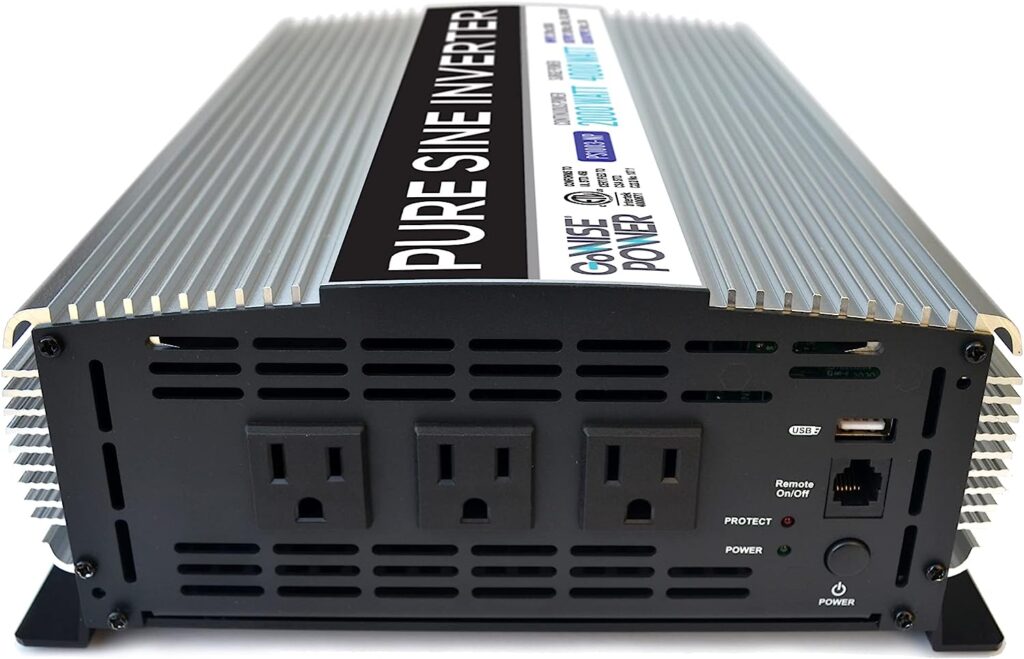 One thing to note here is that the manufacturer suggests checking the battery capacity (max amp) before purchasing this inverter. Therefore, please check your battery amperage first. In case, you have a question related to the battery amperage or the overall capacity of the battery you want to use, please contact the manufacturer before you purchase this GoWise Power inverter.
The model number is mentioned in the product title as well as the spec table; I am writing it again, which is PS1003. Please do not forget this model number because a model number is the main product information to identify a particular product. The model version is 2021, so you are going to buy the latest version of this GoWise power inverter.
Pros & Cons
The pros and cons of this GoWise 12v to 110V inverter will surely give you an overall image, which will be very helpful to decide whether the product is for  you or not.
Pros
For many people it works well.
Great to power electric appliances like microwaves, tea kettle and fans etc.
Pure sine wave
It runs almost every device in homes or RV.
Solid & well-built inverter
Users are able to connect their laptops and other electronics with no issues.
The switch works perfectly.
It is easy to install.
Heatproof housing
A dependable power converter undoubtedly
Provides clean electricity
All the AC outlets work well.
Very durable and well constructed
Very competitive price
Overall, great unit
Cons
A little noise on high load
Low quality included cables, so please buy good cables for the best performance.
It is recommended to use a heavy gauge cable.
GoWise 2000w power converter has both happy and unhappy consumers. However, the number of happy users is higher than the unhappy users. So, I assume that it is a good inverter. Those who are not happy with this GoWise power inverter may have their own mistakes; it may be that they didn't configure the unit very well, or they used appliances that required more than 2000W electricity.
As it has a 2000w output capacity, so please understand its limitations and consume less than 2000w power to use this power converter very well and safely.
On the downside, the built-in fan of this 12v inverter may give a little noise on high load, so if you want a silent operation, please reduce the load. Also, please use high-quality cables because the included cables are not very helpful as mentioned by many users.
On the upside, the GoWise power converter has a long list of pros. It is a well-made unit, which is solid enough for a long lasting performance. The 12-vikt inverter is also easy to install and operate. Many people are happy with this 2000-watt power conversion unit because they are able to run their electronics. And, please do not ignore the pure sine wave waveform; it is very helpful to provide clean electricity to all those sensitive electronics.
Conclusion – GoWise 12V Power Inverter Review
Now is the time to conclude the GoWise 2000W power inverter review. At the end, I will say that it is one of the best inverters that delivers the needed performance if it has been given an appropriate load. It is a budget power converter too. Most importantly, it comes from GoWise, which is a well-known name for a wide range of home and kitchen appliances. Also, please note that it has 3 x connection outlets; use them to connect all those appliances that have 110v or 120v AC connectors. Amazingly, the 12v inverter from GoWise Power also has a USB port (5v) to connect a wide range of small devices that require USB connections.