On this page, you will read Solid 3000W Inverter Reviews. I used many sources to write these inverter reviews. First, I checked whether the users are happy or not with these power inverters. For this, I had to go through many forums, blogs, shopping websites such as Amazon, Walmart, eBay to read reviews, comments, problems faced by users and many other things.
Many factors have been considered to find these solid inverters. To show you those 3000W inverters that last for a long time, I selected them based on brand reputation. I believe that an established and reputed manufacturer tries to make good product to maintain their credibility on the market. Apart from the brand credibility, I considered other factors such as reasonable prices, the happiness score of the previous users, protection features in these inverters, warranties and many others.
3000 Watts Inverters at a Glance
| Image | Product | Our Rating | Buy From |
| --- | --- | --- | --- |
| | PowerDrive PD3000 | 4.8 | Amazon.com |
| | POTEK 3000W Power Inverter | 4.5 | Amazon.com |
| | SL Euthtion 3000W Pure Sine Wave Power Inverter | 4.5 | Amazon.com |
| | Energizer 3000 watts Power Inverter | 4.2 | Amazon.com |
| | GoWISE Power PS1004 | 4.1 | Amazon.com |
PowerDrive PD3000 3000 Watt Power Inverter, Bluetooth(R) Wireless Technology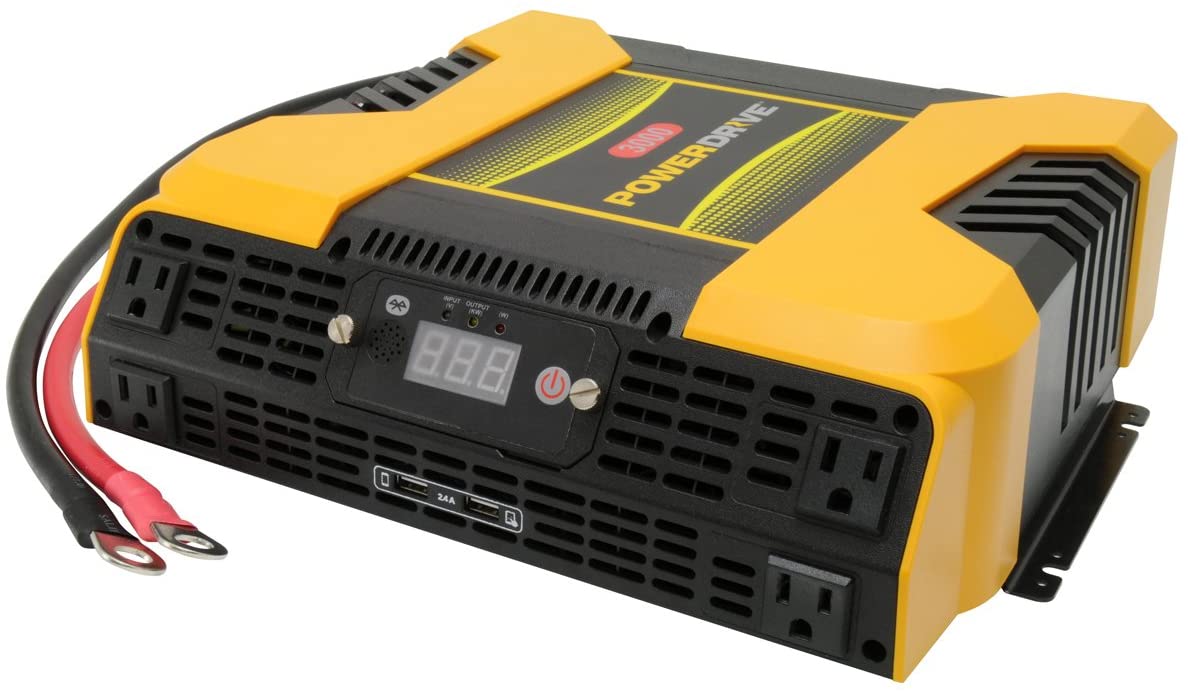 PowerDrive PD3000 is the first inverter in Solid 3000W Inverter Review. This inverter looks very impressive because it has a unique exterior that makes it a stylish and portable inverter. The price looks reasonable to me and it has advanced features.
Connect conveniently: PowerDrive PD3000 features four 3-prong sockets. You can use these sockets for a stable connection with your appliances and devices. The power converter also has two USB ports, which let you charge tablets, cell phones and other USB-based gadgets.
Remote control: this 3000W inverter can be accessed remotely because it allows a remote control. For a remote access, you can also download a free app and access the inverter settings from your cell phone.
Output, Safety & Materials
Output wattage: As you already know, it delivers 3000-Watt power, which is enough power to run your heavy appliances in homes, offices and somewhere else. The PowerDrive inverter has 6000-Watt serge capacity. The serge power is only for few seconds and it is helpful for those heavy appliances that require some extra startup power for few seconds.
Safety features: you do not have to worry of any sort of damages to the connected devices and the power inverter itself. It has all the safety capabilities to handle them. It will beep when it finds any unusual power supplies and other related issues. Also, in the worst case, the inverter will trigger shut-off to safeguard your devices.
Materials: the PowerDrive 3000W inverter has durable external parts. These exteriors are made of high-grade ABS and PVC materials. So, the unit is solid enough to withstand any bumps and other similar things. The electronic components are always safe from any damages, abrasions and others. That is it in the best features of this PowerDriver inverter. Well, you can also read solid 3000W inverter reviews on other websites to find the truth as well.
Pros
A solid inverter
PowerDrive is an established brand that has decades of experience in making wonderful power inverters.
The PowerDrive 3000W inverter is good for home appliances, power tools and other heavy power requirements.
People are buying this inverter many times. One reviewer mentioned in his reviews that he bought this inverter for eight times.
Many people are using in in their RVs with no problems.
Competitive price
Wireless and remote control capabilities
Cons
A modified sine wave inverter is not as good as a pure sine wave inverter. This is a modified sine wave inverter from PowerDrive. But, you will not get any issues to power most devices and appliances.
In short, the PowerDrive 3000-watt inverter looks impressive and performance oriented. Many users are happy with the purchase; they have been using this wireless power inverter for years. PowerDrive has been on the inverter market for decades so you should trust the manufacturer. Read more…
POTEK 3000W Power Inverter DC 12V to 110V AC Car Inverter 2 USB Port and Bluetooth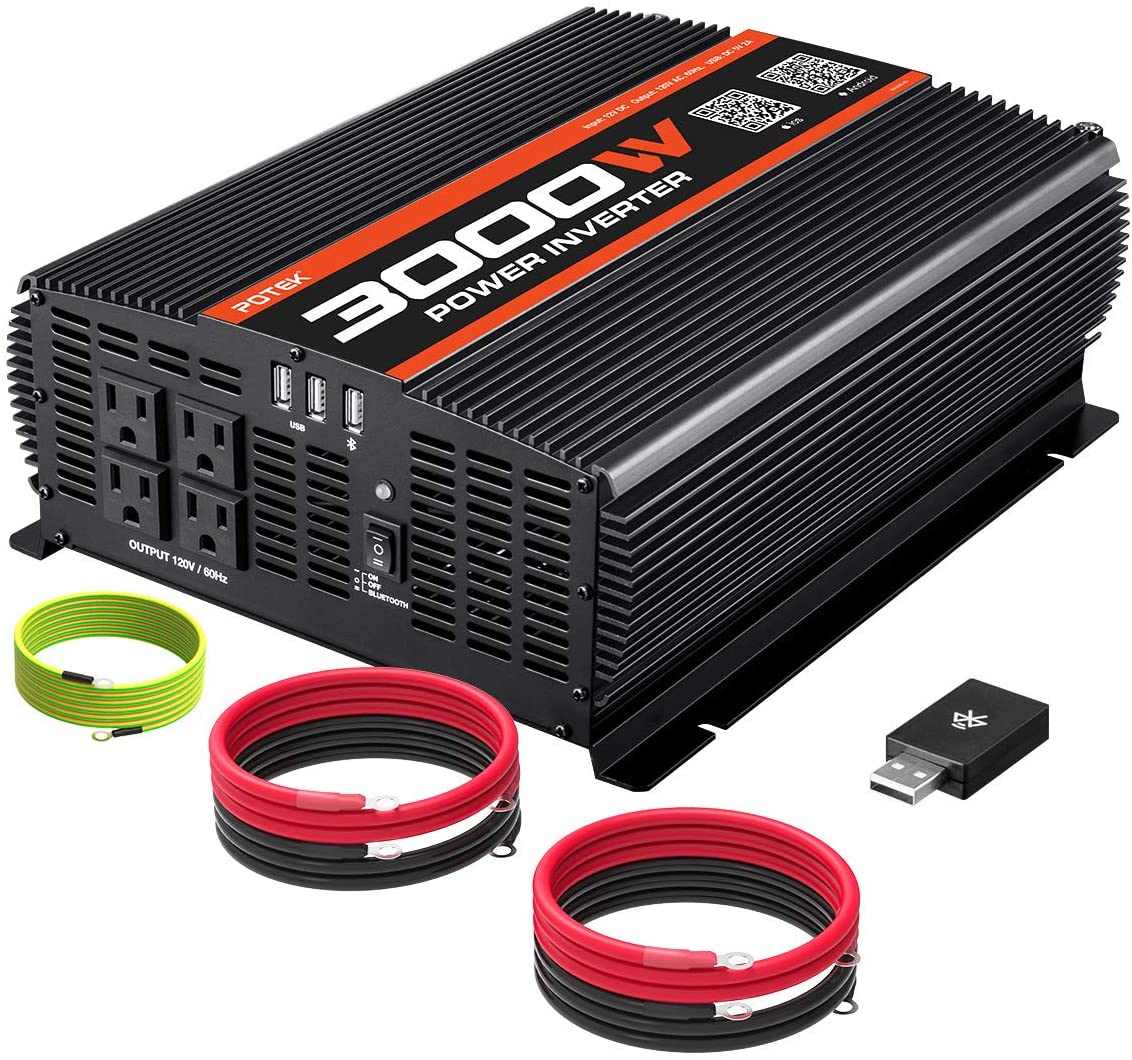 After the PowerDrive 3000 watts inverter, now please check POTEK 3000W Power Inverter. I had to include in the solid 3000W inverter reviews because it is solid and delivers 3000W output.
The DC 12V to AC 110V vehicle inverter has multiple connection features. So, you will not get any issues for a reliable connection with your preferred devices and appliances.
Output wattage: in an inverter, the output power is the main capability because you need it to power your appliances. In case, the inverter supplies less output wattage than the specification then you are a loser. Suppose, you pay for a 3000W inverter and you will only get 2000W power then you are paying more than its price.
From this POTEK inverter, you get 3000W output power, which means the inverter works as promised by the manufacturer. Also, it has 6000 watts peak power, which is used by some large appliances because an appliance may require some extra power at the startup for few seconds.
Two USB and Four AC 110V Outlets
This POTEK 3000W inverter has 4 AC outlets and 2 USB ports. Using these connection sockets, you can charge multiple devices and power multiple appliances at the same time.
Well, USB has many types such as 1A, 2A, 3A, 4A, 5A etc. Of course, the higher is the better. This inverter has 2A USB ports.
You will not get any issues from this 2A USB port to establish a secure and reliable connection but the charging speed of a 2A USB port is slower than a 5A USB port. Also, with some devices you may experience compatibility uses as well.
Multi-Protection
With this inverter, every appliance is safe. Any connected appliance, device, battery may not damage from the electrical faults occurring in the inverter because it is an inverter that has the highest level of safety features. As a result, it protects your pricy devices from over-voltage, over-temperature, short circuits and much more.
Cooling fan to control temperature: this Potek inverter features a cooling fan that runs on a specific temperature setting. In this inverter, the fan will automatically start if it detects temperature more than 104°F.
A power inverter requires sufficient cooling to work properly. This is the reason, most inverters feature cooling fans. Of course, a cooling fan in a power inverter is a protective component because it safeguards not only the inverter, but also the linked devices, appliances and the surrounding area.
Included components: you get a POTEK 3000-watt power inverter (modified sine wave), four battery cables, a Bluetooth device and a quick customer service assurance. Using all these components, the inverter operation will be easy, as you will not be requiring anything more to use the inverter.
Specifications
Four AC 110V sockets (all the four sockets will deliver 3000-watt rated power)
Two USB port (2A, DC 5V)
Regular DC voltage: 12.8V DC to 13.2V DC
Regular output voltage: 110V AC to 125V AC
Wave: modified sine wave
3.28 feet battery cables (2 x red and 2 x black)
The modified sine wave inverter has total six output sockets: 4 x AC 110V and 2 x USB port. Also, you get 3.28 feet battery cables. So, you do not have to worry about connectivity related issues. You can connect multiple devices and enjoy your life with a wide range of entertainment devices and much more.
Tips
Connection between a battery and an inverter is easy; any novice can do it. Also, connecting your devices and appliances to use the inverter's output power is also very easy because the inverter has the usual 110V sockets and USB ports.
In case, your vehicle is off, please make sure that your inverter is also off. To do wiring related things, please disconnect the inverter from the battery first.
Additionally, it is not recommended to keep your inverter in sunlight but please keep it in a cool environment.
In case, you need to power more than one device, please do it one by one to get rid of power surge and overheating.
Pros
It delivers approx. 3000W output as many reviewers mentioned in their reviews.
Good price undoubtedly
Potek customer service is very good.
People are using this 3000-watt inverter for a solar system too.
Strong exterior
You will be able to read the output wattage and battery level.
Cons
Some customers complained that the fuse blew many times.
To sum up, POTEK 3000W Inverter is an issue-free power converter. Mostly, you will not get any issues from this 12V inverter. In a rare case, if you get any problems, you can reach the highly responsive Potek customer service. I am sure your problems will get resolved quickly. Read more…
SL Euthtion 3000W Pure Sine Wave Power Inverter 12V DC to 120V Wireless Remote Control
You already knew about PowerDrive 3000W Inverter and POTEK 3000W Inverter in the solid 3000W inverter reviews. Now, please check SL Euthtion 3000W Inverter. Unlike the previous inverters, they were modified sine wave inverters but it is a pure sine wave inverter. And, it features a wireless remote control with 10 meter distance capability.
Highlights: the Euthtion 12V to 110V inverter is a superior quality power converter. You receive pure sine wave current after the DC to AC inversion. From the Euthtion inverter, you receive 3000watt regular electricity and 6000watt peak electricity.
Display & Remote Control
Liquid Crystal Display: the power converter has an LCD panel, which is considered superior to an LED panel because LCD can give you more operational information than an LED panel. Also, the light coming from the LCD display is softer than an LED display.
10-meter wireless remote control: a wireless remote control capability in a power inverter is the latest feature. It makes the job very simple. A remote control in an inverter is good to control the inverter and check the status without touching the inverter. So, it is an awesome capability that allows you to control the inverter at a 10-meter distance. Please make sure that the inverter is turned off before you use the wireless remote control.
Highly Protective
The protection capabilities: almost all inverters on the market come with safety features. This SL Euthtion 3000W inverter is also highly protective. It protects the attached devices against under/over voltage, short-circuit and reverse connection. The inverter has a built-in cooling fan to keep the inverter cool sufficiently. With this highly safe inverter, all the connected appliances as well as devices are always protected.
Technical assistance for one year: in case, you encounter any issues in your inverter, you can connect the technical support to solve your problems. However, it should be some kind of warranties that I do not see anywhere in the product description.
Pros
The SL Euthtion 3000W pure sine wave inverter is good for both heavy appliances and small devices.
Wireless remote control is for the utmost operational convenience.
You can see the output wattage.
No heating issues
Reasonable price
Good for powering a refrigerator, TVs, fans, microwaves, laser printers and so on
Cons
The user manual is not clear.
Sometimes, the remote control becomes non-responsive as per some users complaints.
In short, the 3000W power inverter from SL Euthtion is indeed a good inverter. For an operational convenience, it features a wireless remote control that can be used at a 10-meter distance. The price seems reasonable if you buy from Amazon. And, it is a good inverter to run some heavy appliances such as fridges, microwaves, fans etc. Read more…
Energizer 3000 watts Power Inverter, Modified sine Wave car Inverter, 12V to 110 Volts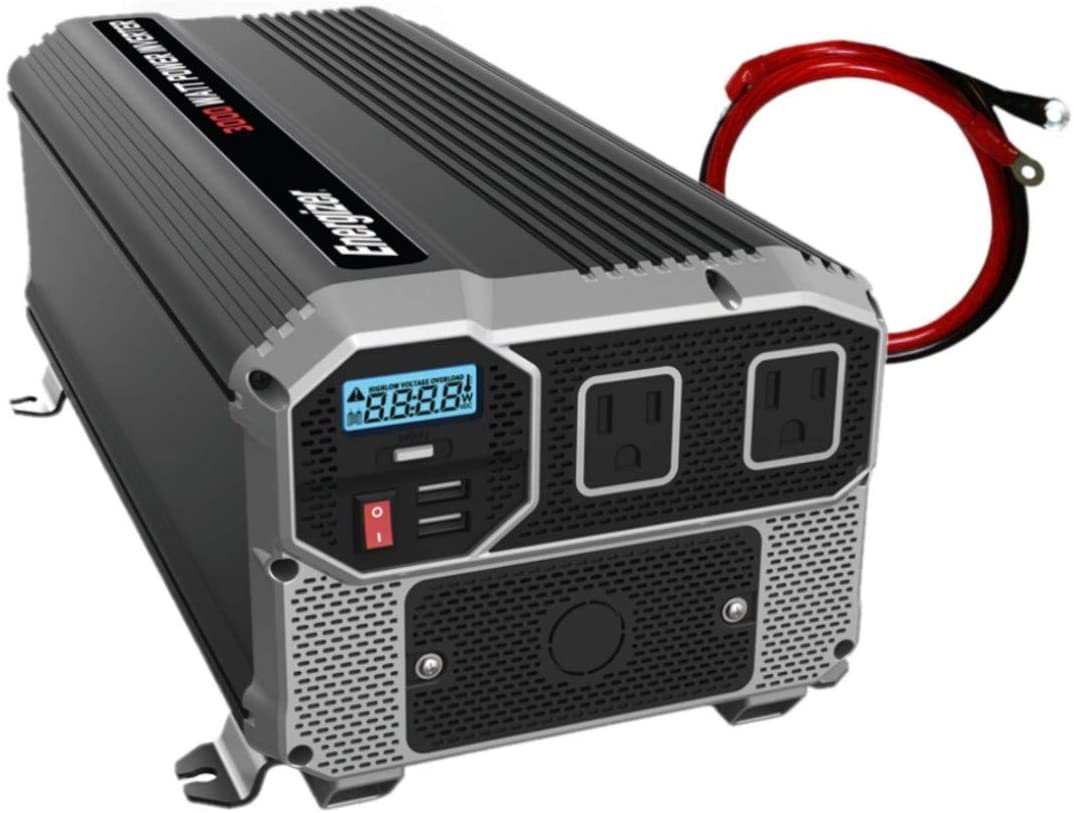 The next inverter is Energizer 3000W Inverter in the solid 3000W inverter reviews. This is a modified sine wave inverter while the previous one from SL Euthtion was a pure sine wave inverter. I do prefer to use a pure sine wave inverter because it is good for all appliances and devices including sensitive electronics.
An emergency helper: well, all inverters work in an emergency but this one is a good helper in emergencies because it is reliable. Yes, the solid, reliable 3000w inverter from Energizer has all the capabilities, accessories that can be very helpful to use it anywhere you want.
Connection ports: the inverter has two 110V outlets and two USB ports. It has standard North America outlets, so you will not get any issues for the connection. You can use the two USB ports to charge your laptops, mobile phones and other USB-enabled devices.
Performance & Protection
Output capacity: as mentioned earlier, the 3000W inverter delivers 3000W continuous power. The inverter has 6000W peak power also. The modified sine wave inverter is perfect for cars, trucks and other vehicles. You can also use it in homes, offices and emergency power.
Protection capabilities: this Energizer 12V to 110V power inverter has all the protection features that you need. It is highly protective against voltage problems, short circuits and reverse connections. Also, it features an LCD display that shows battery status, input voltage and the output wattage.
No doubts to the performance: the high capacity inverter connects to a 12V battery to power heavy appliances like microwaves, fridges, air conditioners, power tools and many others.
24-month warranty: with this inverter, a 24-month warranty is also attached. Actually, this is a high-grade inverter so the manufacturer is not hesitant to offer a 2-year warranty on this. Also, it is a certified product from METLab under UL standard 458.
Pros
Solid, protective and performance oriented inverter
It comes in a good condition.
Easy-to-understand instruction helps in easy installation.
Perfect for not only RVs, but also homes, offices and outdoor uses
Inverter design is very good.
Cons
Some people complained about its output capacity.
At the end, I will say that the Energizer 3000W inverter has both happy and unhappy users. So, I am not too confident to recommend it. I will say that please research more on it before you buy. The main problem is that many users have complained that it delivered less than 110V output, which was not helpful to run most of the appliances. Read more…
GoWISE Power PS1004 3000W Continuous 6000W Surge Peak Power Pure Sine Wave Inverter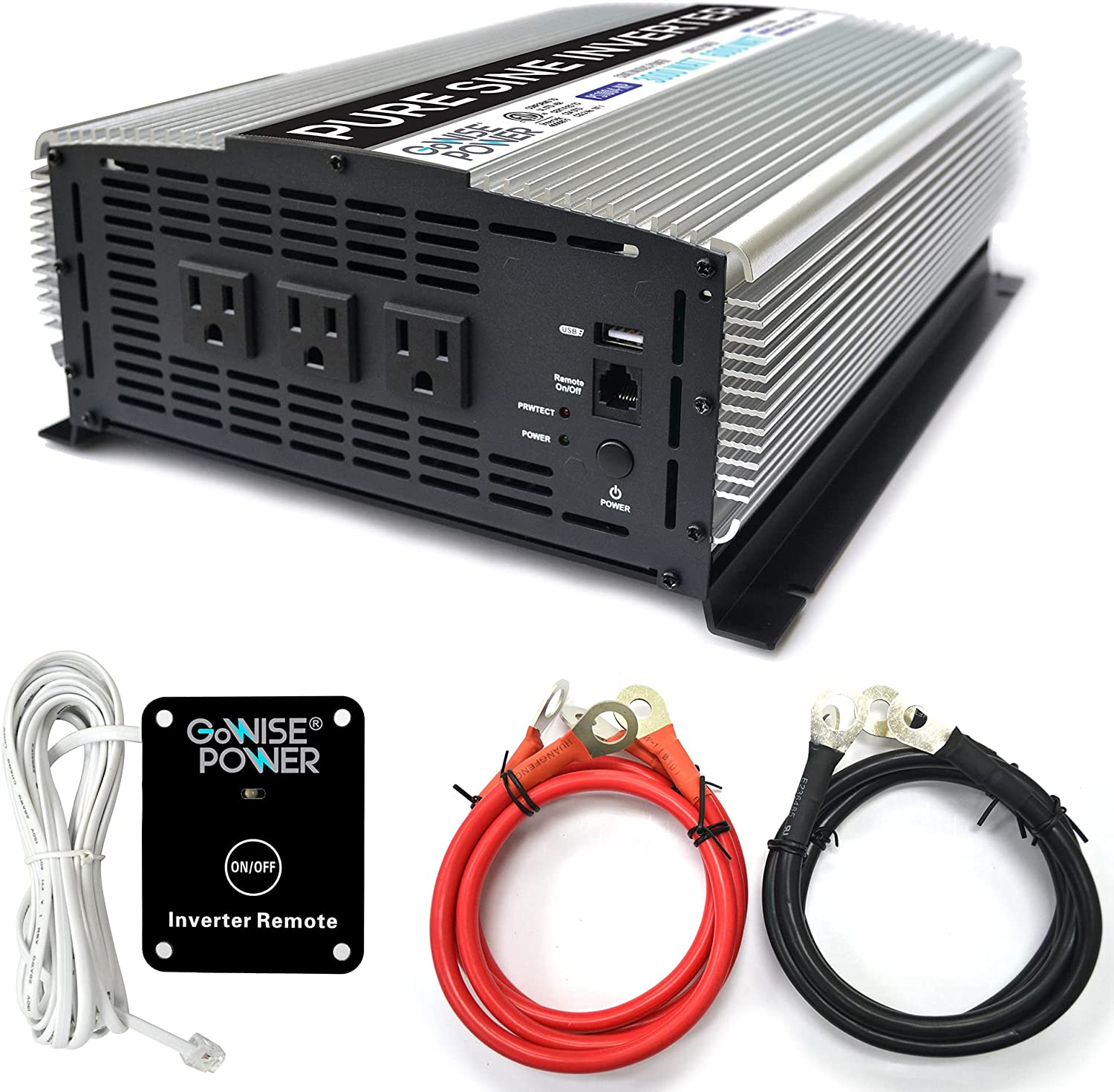 In this solid 3000W inverter reviews, you learned about PowerDrive, POTEK, SL Euthtion and Energizer 3000W inverters. Now, please read about GoWise Power PS1004. The pure sine wave inverter has 3000W continuous and 6000W peak power. It comes in its upgraded model that has 4 AC110V sockets and many other useful features.
The GoWise pure sine wave inverter has many uses. You can use it in vehicles, for power backup, emergencies and powering sensitive electronics because it is not a modified sine wave inverter. The pure sine wave inverter is from the reputed GoWise manufacturer.
Additionally, the inverter has five protection systems. These protections are overload protection, thermal protection, over voltage protection, overload protection. It also has a low voltage alarm.
Features and capabilities: 12V DC to 110V AC current conversion, black & red cables, 5 kinds of protections, 4 output sockets, remote switch and ring terminals. The 12V DC to 110V AC inverter from GoWise delivers 3000W output and 6000W serge power.
Pros
3000W output power
Remote capability
It comes with required accessories.
Easy to install
GoWise is a reputed brand.
5 kind of protection features
Cons
The remote operation is not reliable.
In short, the inverter is not very impressive. It has both positives and negatives. On Amazon, you can see many unhappy users of this GoWise inverter. In this state, I will not recommend buying this power inverter. I read people are complaining about its warranty period also.
THD: the GoWise inverter has total harmonic distortion of less than 3%. For the utmost protection, it also has a soft start capability. And, it is very good at the temperature control because it features an intelligent cooling fan. Read more…
Conclusion – Solid 3000W Inverter Reviews
In short, I tried writing the solid 3000W inverter reviews. I tried my best to find the best inverters. As a result, I found 5 solid inverters from popular brands such as PowerDrive, Potek, SL Euthtion, Energizer and GoWise.
All these inverters have their own pros and cons, which I have listed on this page. So, it is requested to read the pros and cons of each 3000W inverter that will surely be helpful.
I see some of the suggested inverters are very good, which should be purchased undoubtedly. However, with some inverters, I am not too confident so I will not recommend buying them. The last 3000W inverter from GoWise is not recommended. In case, you want to buy it, please research more on this before you buy it.
Also, as the page title is "solid 3000W inverter reviews", so I have included only those inverters, which are solid and have 3000W output power. When it comes to the serge power, each power inverter on this page has 6000W serge power, which is needed as startup power by some heavy appliances for few seconds.