In power inverters, protection is one of the several factors. So, I decided to write Highly Protective 2000W Inverter Reviews. Also, you may ask why 2000-watt inverters only? Well, I assume 2000 watts inverters are middle-size inverters, which are used by most of the people to meet varied electricity needs. A 2000W inverter is good for small homes, RVs, marine uses, emergency power backup and many others.
To show you some of the highly protective power inverters, I considered those inverters, which are from famous brands, have low price and good users' ratings on Amazon.
2000W Protective Inverters at a Glance
| Image | Product | Our Rating | Buy From |
| --- | --- | --- | --- |
| | Krieger 2000 Watts Power Inverter | 4.3 | Amazon.com |
| | Kinverch 2000W Inverter | 4.4 | Amazon.com |
| | Tripp Lite 2000W Power Inverter | 4.6 | Amazon.com |
| | Tripp Lite 2000W Power Industrial Inverter | 4.9 | Amazon.com |
| | Thor Manufacturing 2000 Watt Modified Sine Wave Power Inverter | 4.7 | Amazon.com |
 Krieger 2000 Watts Power Inverter 12V to 110V, Modified Sine Wave Car Inverter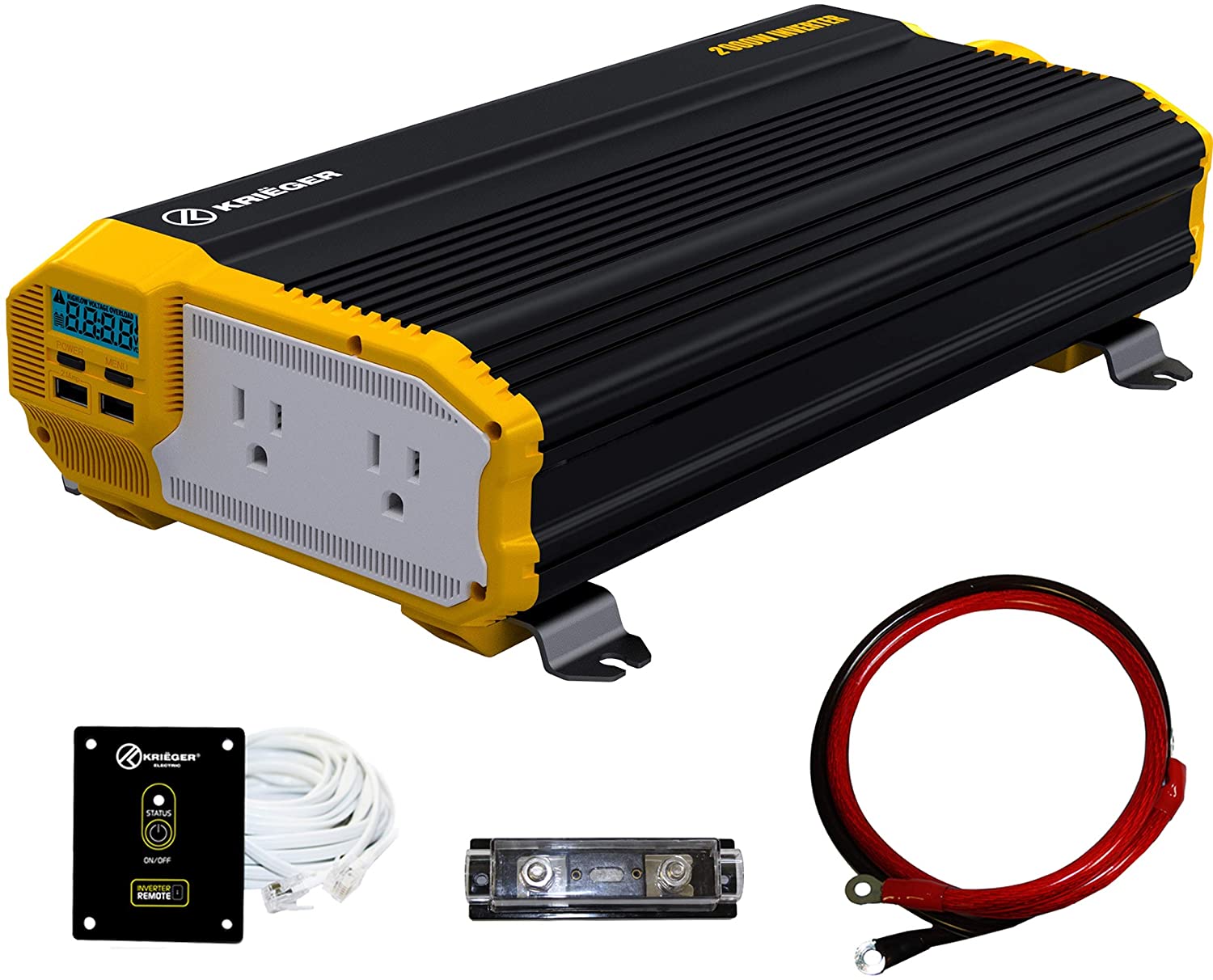 Krieger 2000 watts inverter is a part of Highly Protective 2000W Inverter Reviews. I gave it a first position because the Krieger inverter is approved from MET to UL and CSA values. Also, it is a great emergency power backup helper.
Highly protective: the power converter is indeed protective. It saves you, your devices and the inverter itself from common faults like voltage fluctuation, abnormal load, temperature issues and many others. In fact, it adds a protective layer more because the inverter has an LCD display that shows all the important information on the LCD screen.
2000-watt output: as you already know, this is a 2000-watt inverter, so you will get exactly 2000 watts to power up your appliances and devices. Well, the 2000-watt is continuous power while it has 4000 watts peak power. What is peak power? The answer is very simple. Some appliances require extra power at the start up for few seconds. So, to meet this demand, the peak power is used.
Modified sine wave: the 12V DC battery power is converted into 110V AC power. Further, there are some types of AC current such as modified sine wave, pure sine wave. Well, pure sine wave is considered superior to modified sine wave. This inverter delivers modified sine wave AC current. You can use this AC current to operate most devices and appliances but you will not be able to run some electronic sensitive devices.
Pros
2000-watt power is good to power some home appliances and devices
Low price
A good helper for emergencies
3-year warranty
Krieger is a popular brand for a wide range of inverters.
Highly protective against short circuit, over voltage, over-heating and others
Cons
Modified sine wave
The wire should be longer.
You can see the Krieger 2000 watts inverter is with 3-year warranty, which looks impressive. You will not have any doubts to its protection skills. The inverter is highly safe from any running defects, electronic faults and heat build-up. However, it is a modified sine wave inverter, which is not as good as a pure sine wave inverter. Other than this, everything looks fine.
Certification: the Krieger 2000W inverter is approved from METLAB. Which means it is highly safe to use. One should not worry of safety related things because the inverter is tested and approved from multiple authorities.
Various uses: an inverter is the best power solution. The 2000 watts inverter has many uses. You can use it for emergency power backup, so it is perfect for homes, RVs and outdoor power needs.
3-year warranty: the DC 12 to AC 110V inverter by Krieger carries a 3-year warranty. This warranty is on parts and labor. In case, you get any problems from your power inverter, you have three years to claim your warranty. Read more…
Kinverch 2000W Inverter DC 12V to AC 110V Car Inverter, USB Port and Bluetooth APP Remote Control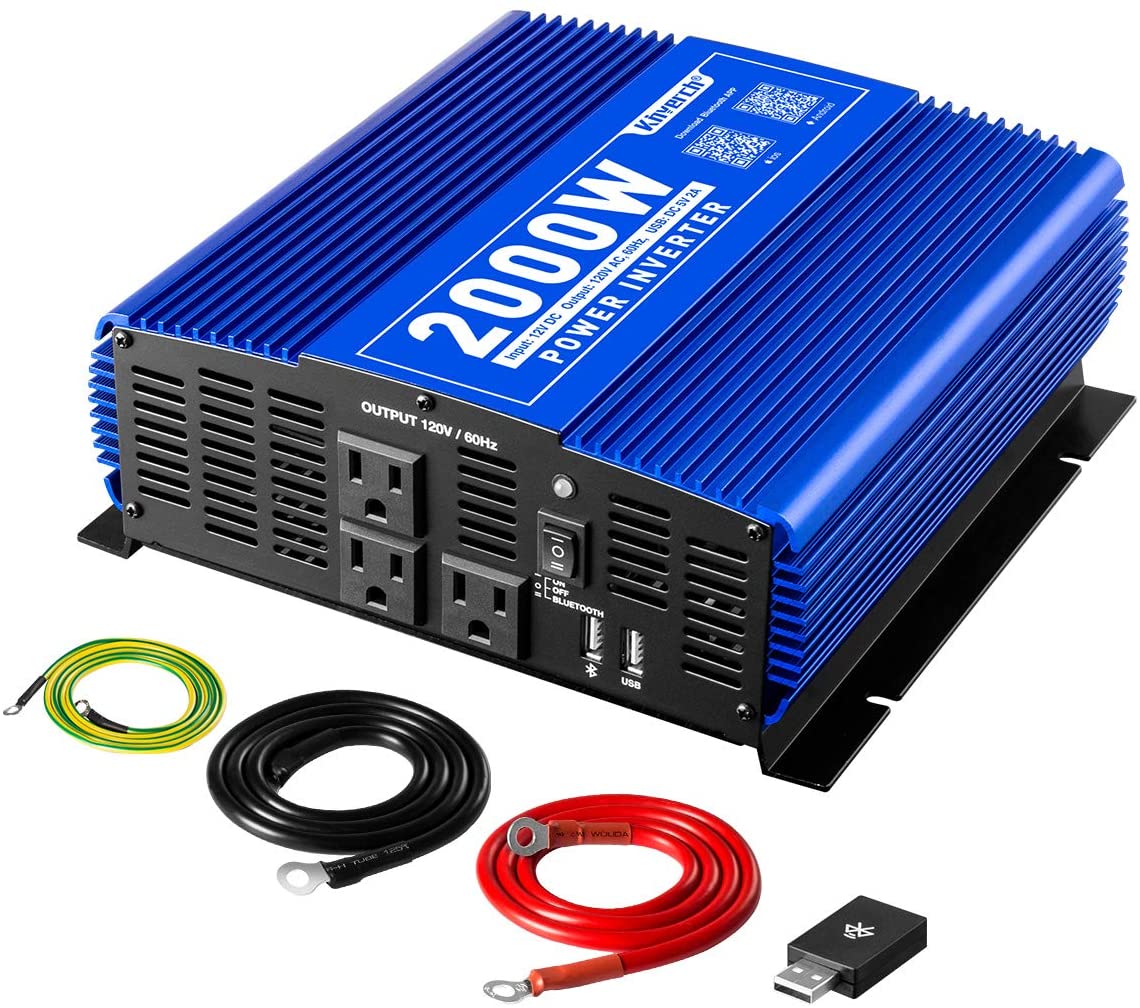 After the Krieger 2000W inverter, I decided to add this Kinverch 2000W inverter in the highly protected 2000w inverter reviews. The main thing in this Kinverch inverter is Bluetooth App Remote Control. Most importantly, this inverter comes in various sizes such as 500W, 750W, 2000W, 3000W and 5000W. You can choose a size based upon your needs.
2000W output: the inverter delivers 2000 watts continuous power and 4000W peak power. It does a great job of current conversion because it greatly converts the battery current into useable current. I will say that the 2000-watt power is sufficient for charging many devices when you are on a road trip.
Perfect for powering too many devices: the advanced Kinverch inverter has three AC sockets and one USB port. So, it has total four charging outlets to charge multiple devices at the same time. With these charging sockets, you will connect your preferred devices such as music devices, TVs, projectors, hair dryers, gaming machines, decorative lights, garden lights, house lights and more.
Safe design: I say the advanced inverter has a safe design because it features smart cooling fans. These fans work only when the inverter reaches at a defined temperature. So, if the system detects temperature more than 104° F, the fans will automatically start.
Pros
Silent operation
Easy to install
Wireless capability
Highly protective as it has 8 internal fuses
Well made, good quality inverter
Cons
Many users complain that it does not deliver the full 2000W output.
People have complained about the fans. One of the fans does not work properly.
High price
Considering the pros and cons, I can say that the Kinverch 2000watt inverter delivers medium level performance. It is neither too bad nor too good. Also, the price is a little high. Many users have complained about the inverter fans also. So, it has too many negatives. I will advise you to research more on this before you attempt to buy it.
Protection first: inside, you can find eight fuses that protect against over-voltage, over-heat, over-load and short circuit. Also, it has two cooling fans that are also a protective component because it helps keep the inverter cool all the times.
Bluetooth based remote control: according to Kinverch, the 2000-watt inverter is the first inverter with a wireless capability. It is really an impressive capability in this inverter that you may not find in other inverters on the market. You can use the Bluetooth remote control to check the system status. You can easily check real time information on input voltage, output voltage and other relevant information. Read more…
Tripp Lite 2000W Power Inverter, Medium-Duty Power Inverter (Pinv2000)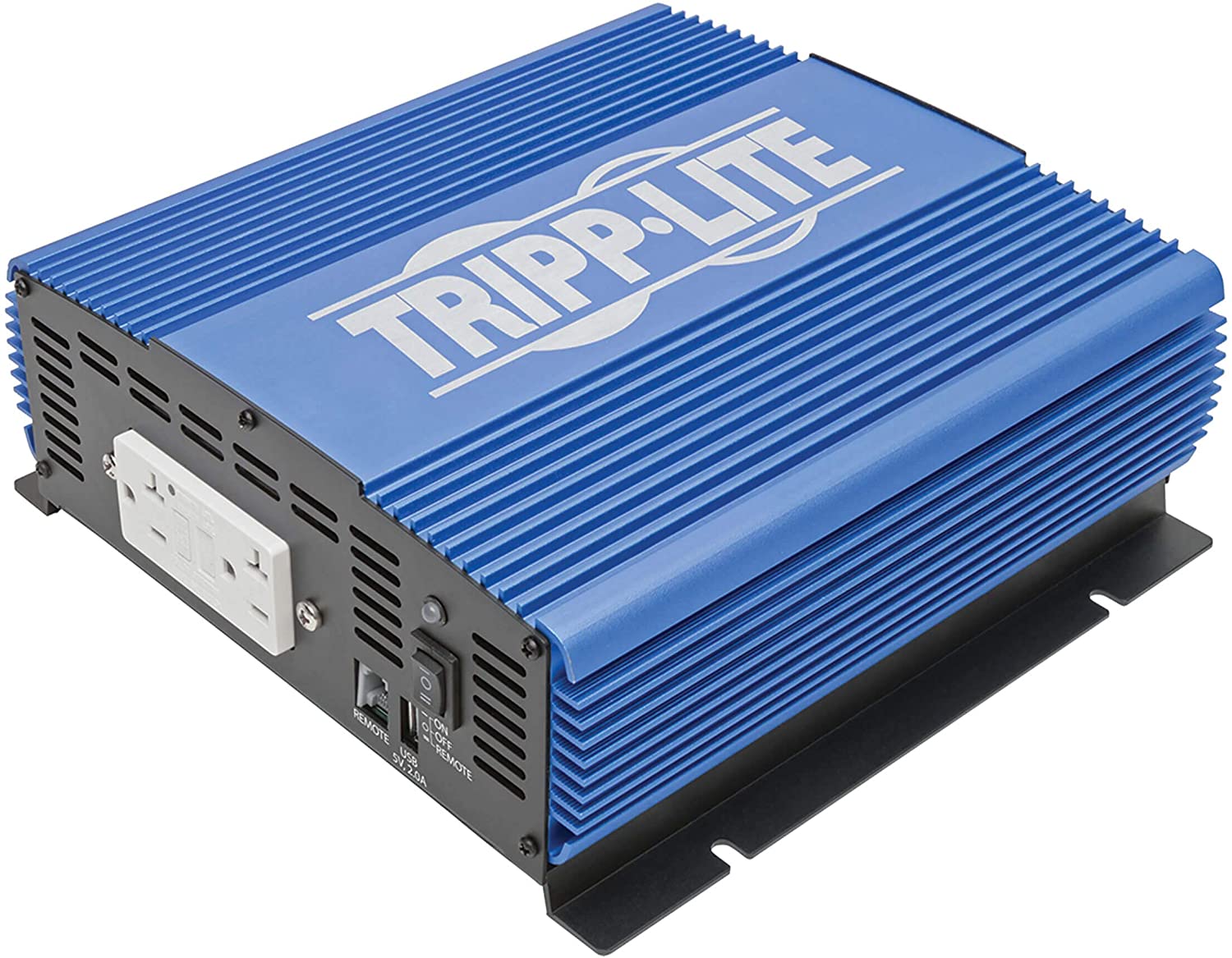 In the highly protected 2000W inverter reviews, next item is Tripp Lite 2000W power inverter. Previously, you read on Kinverch and Krieger power inverters.
Based on the capacity, the maker says that it is a medium duty power inverter that has four connection sockets such as two USB ports and 2 110V AC outlets.
DC to AC conversion: basically, the Tripp Lite inverter converts 12V DC battery power into 110V AC power. You can connect it to any 12V batteries. The batteries may be in your vehicles, homes or offices. Or, you can buy a good quality 12V battery as well.
2000W continuous and 4000W peak power: you can use the 2000W output to run several devices and appliances in your homes, vehicles and offices. The 2000-watt inverter is great for the outdoor uses. You can power camping equipment, industrial tools, official gadgets and much more.
Multiple connection ports: for the universal compatibility, the power inverter features dual NEMA 5-15R outlets. You can use these outlets to supply electricity to your desired devices. The current converter also has USB ports to charge the USB based devices such as tablets, mobile phones and others.
Battery connection: to connect with a 12V battery, it comes with 2 feet red & black cables. These cables are also good for batteries in vehicles or anywhere else.
Portable inverter: the inverter is perfect for a portable use. So, you ca easily use the Tripp Lite 2000 watts inverter for trucks, industrial uses, remote job sites to fulfill remote power needs. If you use this high power inverter, your equipment and appliances at job sites will remain operational.
Pros
A must-have inverter for the outdoor uses
Perfect for heavy vehicles
Good to power small appliances
Robust, well made inverter
Wired remote control
High capacity GFCI outlets
It comes with all of the cables for easy connection.
The robust inverter is good for high load.
Low Price
Highly protective
Cons
The fans are a little loud, but acceptable.
In short, the Tripp Lite 2000W inverter comes at a low price, is good for high load. The inverter is capable to power up too many appliances and devices. For the safety, it has multiple protection features that do the work very well. Most importantly, it has numerous happy users that have written positive reviews on Amazon. I will give it a strong buy rating.
Safety capabilities: the Tripp Lite power inverter is controllable via an on/off button. So, during the abnormal voltage, this feature is very helpful. To get rid of over temperature, it has cooling fans that start at certain level of temperature to provide sufficient cooling to the system. It alerts with an alarm sound if it detects voltage abnormality. With this highly protected inverter, the connected devices are always safe because a shutdown will occur when it detects an abnormal output voltage. So, this Tripp Lite inverter is the best inverter in the highly protected inverter reviews.
Remote control capability: the inverter comes with a remote control, which is easy to install in a vehicle. Upon successful installation, you will be able to control the inverter from your vehicle's dashboard. This is really an amazing capability in the Tripp Lite power inverter.
2-year warranty: to remove fears from your mind, Tripp Lite offers a 2-year warranty. Which means the inverter is protected for two years for any defects occur in the unit. In my view, the two-year warranty is not bad. Also, a friendly customer service is always ready to assist you, in case you got a question or you have any troubles with the inverter, you can contact the customer care service.
Solid enough: the high quality inverter is solid enough because it has an aluminum exterior. It can be very defensive during the travel hours. The solid inverter will also withstand some sorts of bumps, heavy touches and other similar things.
Accessories included: the package contains a robust 2000W inverter, a wired remote panel with 20-feet cable, battery cables, a ground cable and a user book. With all these accessories, you will not face any problems to install the inverter anywhere you want. Read more…
Tripp Lite 2000W Power Industrial Inverter 12VDC to 120VAC, 1 Year Warranty (PV2000FC)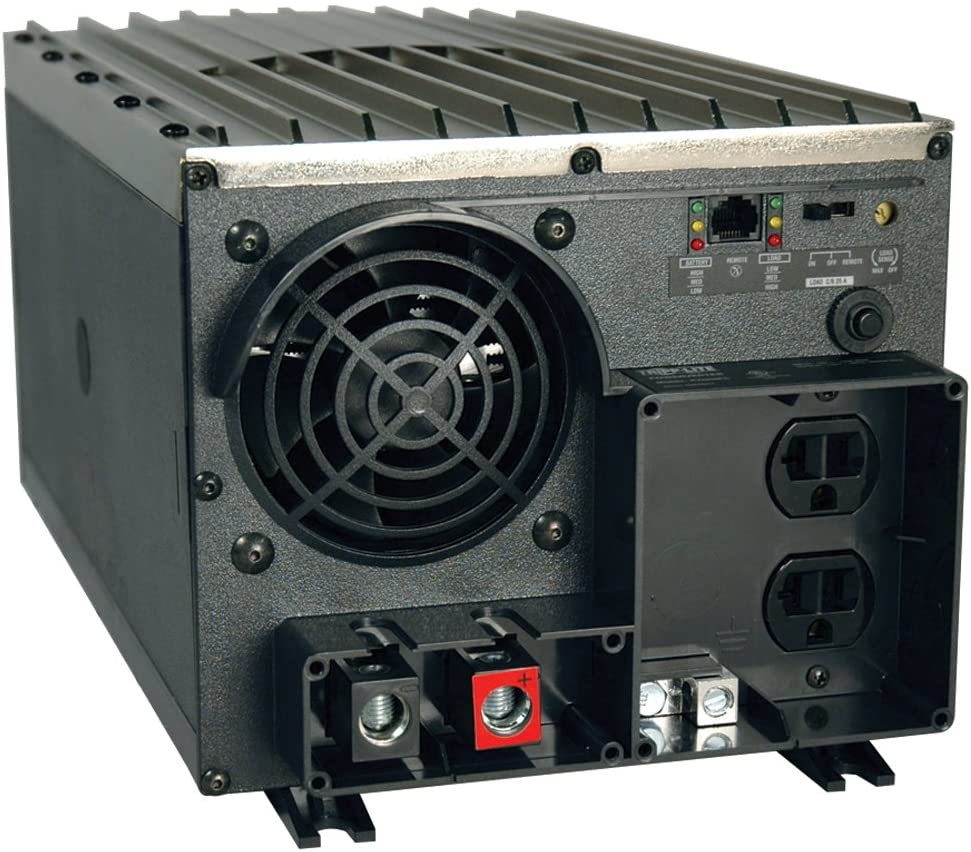 You have already read on Krieger, Kinverch and Tripp Lite 2000W inverters in the highly protective 2000W inverter reviews. The next inverter is also from Tripp Lite. But, it is totally apart from the crowd. It has a unique design that looks robust. It is a good industrial and vehicle inverter. The 12V to 120V inverter has multiple outlets.
Heavy-duty: the Tripp Lite inverter is good for the heavy-duty uses because it supplies industrial strength power to tackle most of the challenges.
Powerful enough: the 2000-watt inverter has 4000-watt peak power. I see too many inverters come with the same parameter; they have peak power that is double than continuous power. In fact, the extended peak power is very helpful in the situations where a heavy appliance require some extra start-up power.
Two AC outlets: the heavy-duty 2000W inverter has two AC outlets. These outlets are rugged enough, and they are resistant to moisture. On the other hand, the inverter has polycarbonate exterior that makes it solid enough. It will easily withstand normal bumps, drops and other similar things. So, such powerful inverters are perfect to use in vehicles, on job sites etc.
DC fuses: the Tripp Lite inverter features DC fuses, which make the unit very protective. They safeguard the inverter and connected devices from overload and other faults.
Warranty: you get one-year warranty on this Tripp Lite industrial strength inverter. However, I feel that the one-year warranty is not enough; it should be more. So, please look for an option if the manufacturer offers an extended warranty that you can buy by paying some extra money.
Pros
No doubts to its heavy-duty capability
Nice, well-built inverter
Remote switch interface
Old school large transfer that can last for a long times, if handled correctly.
Good price; you pay for what you get.
You can use this inverter for industrial uses, power tools and heavy appliances.
Cons
Modified sine wave inverter, but it can power most of the devices and appliances.
Tripp Lite PV2000FC inverter's pros and cons are in front of you. You can judge it by reading the pros and cons. The large size inverter has no problems to power heavy appliances, power tools, industrial equipment, office appliances and many others. I checked users' reviews and I found that its users are very happy. I highly recommend this powerful inverter to anyone who needs it. Of course, you may have to pay a little more than what you pay for a Chinese inverter but it can be a good investment. The old school inverter will surely be helpful.
OverPower mode: the Tripp Lite PV2000FC is a 2000W inverter. But, in the OverPower mode, it delivers 3000W power for one hour. This capability is very useful and unique that you may not find in most high price power inverters. I appreciate this feature. Many tools, appliances require extended power frequently. So for these appliances, this OverPower mode is very helpful. And, it is really a good capability in this industrial strength inverter. Read more…
Thor Manufacturing 2000 Watt Modified Sine Wave Power Inverter with USB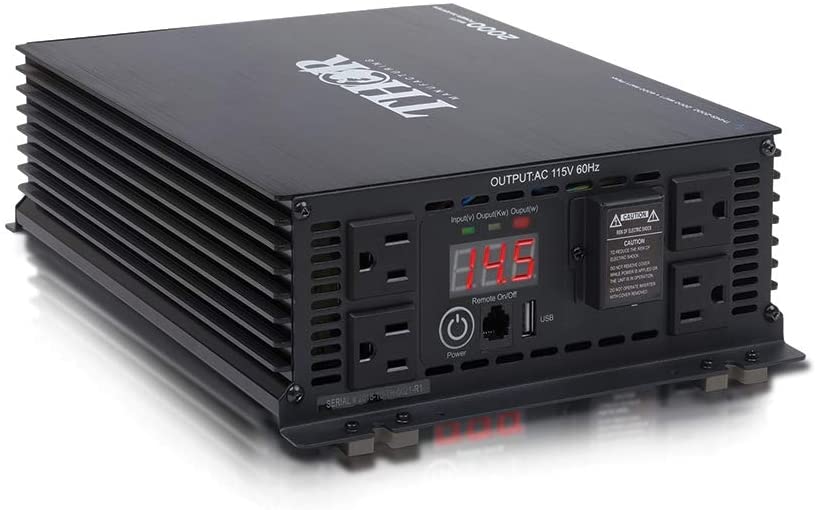 I made this Thor Manufacturing 2000W inverter a last candidate of Highly Protective 2000W Inverter Reviews. Well, this Thor Manufacturing brand seems less established than Tripp Lite, Krieger, Kinverch but users have liked it. In case, you do not believe, please read reviews on Amazon and other selling platforms.
2000W output current: just like other 2000-watt inverters, it offers 2000-watt continuous power and 4000-watt peak power. You already knew about the peak power that is the extra power in an inverter for few seconds.
Connection sockets: the Thor Manufacturing 2000W inverter offers four AC outlets and USB 2.1 connection port. The AC outlets are of 2-3 prong type. It converts the 12V DC battery power into the useable AC 120V power. You can use this AC 120V power to charge your devices and to power your home and kitchen appliances.
Do not depend on a generator: as soon as you purchase this Thor Manufacturing 2000W inverter, you do not have to depend on the generator power because it is a good power generator itself. On the other hand, the 2000-watt output is enough to run most of the appliances and electronic devices. You can power your laptops, mobile phones, microwaves, fridges and many others.
Available in many sizes: this Thor Manufacturing inverter is available in many sizes such as 1000W, 1500W, 2000W, 3000W and 5000W. You can choose a size based on your power consumption requirements. This 2000W model is a mid-size unit that is used in most homes, offices, RVs, boats etc.
Pros
Most of the users are happy with the purchase because they got what they wanted.
Easy to install
Sturdier than others on the market
Remote control
Excellent quality
Four AC 120V sockets and a USB port
Lightweight and portable
Good price
Perfect for trucks, boats, homes, renewable energy applications
Cons
You may experience a little sound from the fans.
The pros and cons of Thor Manufacturing 2000W inverter have been mentioned. In case, you want to buy this inverter, the pros and cons will answer most of your questions. Hence, it is advised to read the list of pros and cons. I can say that it is a solid inverter that is also lightweight and portable. The price is not too high; it comes at an affordable price.
Specification: 120V output voltage, 60Hz frequency, modified sine wave form, 10.5V battery low voltage shutdown, type 2-3 prong AC outlets, 10.5 to 16.5 DC input, 2000-watt regular power and 4000-watt peak power. Read more…
Conclusion – Highly Protective 2000W Inverter Reviews
In short, I tried writing Highly Protective 2000W Inverter Review that is based on my research. I spent good amount of time to research these power inverters reading users' comments, reviews in various forums and on shopping websites.
All the inverters on this page have 2000 watts output power. These inverters can be used for varied requirements. You can use these 2000W inverters to run power tools, heavy appliances and many others. Also, you can use these inverters in vehicles, offices, homes, on job sites, for industrial uses and many others.
To give you the best 2000W inverters, I had to check with too many manufacturers. As a result, I selected some of the power inverters from popular brands and some of the inverters from less established brands. That is all in the highly protective 2000W inverter reviews. If you have questions, suggestions or complaints, please do let me know via your comments.