The power inverter comes from WZRELB, which is a popular inverter manufacturer. It makes numerous high-class inverters in almost all wattages. In case, you require a reliable 1500-watt inverter, please check WZRELB 1500W Continuous or 3000W Peak Sine Wave Inverter.
WZRELB 1500W Power Inverter has received fabulous recommendations by its users all over the world. Well, there are many positives attached with this 120V car power inverter. Firstly, it is fully protected from any sort of voltage fluctuation or short circuit. Secondly, it carries an integrated cooling fan, which runs noiselessly and provides required cooling. Thirdly, it lets you see the power usage because it features an advanced LED display for DC and AC voltage. Lastly, it has high-grade copper inductance that is good for reliable pure sine wave current.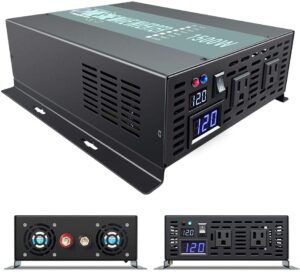 WZRELB 1500W Power Inverter Performance
Based on users' reviews on Amazon, the sine wave inverter delivers unbelievable performance. You can easily hook up with a 12V battery and enjoy the magical capacity of this WZRELB inverter. You can connect numerous devices with this power inverter. You can easily connect a TV, small fridge, media player, computers etc.
Additionally, WZRELB pure sine wave power inverter is solidly built. It also alarms you when your battery goes low so that you will do the arrangement. With the purchase of this inverter, you also get 2 X high-grade cables (positive and negative) for a seamless connection. Numerous customers at Amazon are happy with this power inverter, which meets varied power supply demand.
Pure Sine Wave Inverter for Complex Electronic Devices & Outdoor Usages
As mentioned earlier, the WZRELB inverter is good for seamless connection with the household devices. Since, it delivers 1500W output, so you can easily connect equipment, which requires substantial power load. Consequently, you can run a small fridge, PC and other household items that require good amount of electricity. Additionally, the power inverter is also good for small devices such as charging mobile phones, laptops, music players etc.
According to the existing users, this is a rich-quality product from a trusted brand. This WZRELB inverter is very robust, which will surely be helpful for the outdoor uses. However, one needs to install it well with an appropriate battery.
The Performance
According to a user at Amazon, he was able to run a 1350W microwave without any problems. However, you need an appropriate battery and good-quality cable for the load-intensive appliance. Additionally, it outputs reliable AC current, which is 120V AC. However, it is recommended to connect a 12V battery extended with a 5 feet cable.
The 120V Car Power Inverter can be a good companion in the power failure situation. It will surely perform its best to give you hours of electricity when power outage happens. You can also buy this inverter for the emergency power backup. Additionally, you don't have to worry of the performance because this review is written based on users' reviews. Overall, this is a good quality inverter from a dependable manufacturer.
Precautions
Grid power and reverse connection is not permitted.
Please avoid excess load.
You need to turn on the inverter first before turning on your devices. Please turn off your devices first then turn off the inverter.
When it flushes red light, it means the input voltages is high.
Please use high-class cables or use the cables given by the manufacturer.
It has a built-in fuse for the safety purposes.
Precautions of WZRELB 1500W Power Inverter are listed above, please follow the list of precautions to safeguard your inverter, battery and connected devices. Mainly, you need to protect your inverter from overload because overload is not only harmful to the inverter, but also harmful to the connected appliance. The inverter features safety lights and alarms, which are very helpful to notify the users about the status of the inverter.
Pros
Reliable
Easy to setup
Competitive price
Good for running small fridges and bunch of other devices
Solidly built
Low voltage alarm
It works as described!
Cons
It lacks a wattage meter.
As per the list of advantages, the WZRELB 1500W Power Inverter looks a promising product, which is made for the performance. It has all the characteristics to survive in toughest situations. Additionally, it is a solid unit, which is good for the outdoor uses. You can connect various household devices including small refrigerators, laptops, microwaves, fans and many others. The price is also very appropriate. According to an Amazon user, the power inverter doesn't have a watt meter, which may create a little inconvenience as well. Other than this, all things look fine.
The Finishing Words
Overall, WZRELB 1500W Power Inverter is a buyable product without a single doubt. The product has already countless happy users. If you won't believe me, please check ratings and reviews on Amazon.com about this product. This outdoor power inverter is solidly built, which is good to last years after years. Additionally, you can easily connect many devices from small to large size devices for a seamless power supply. Such high-grade power inverters have high demand on the market because they solve too many problems related to electricity availability.