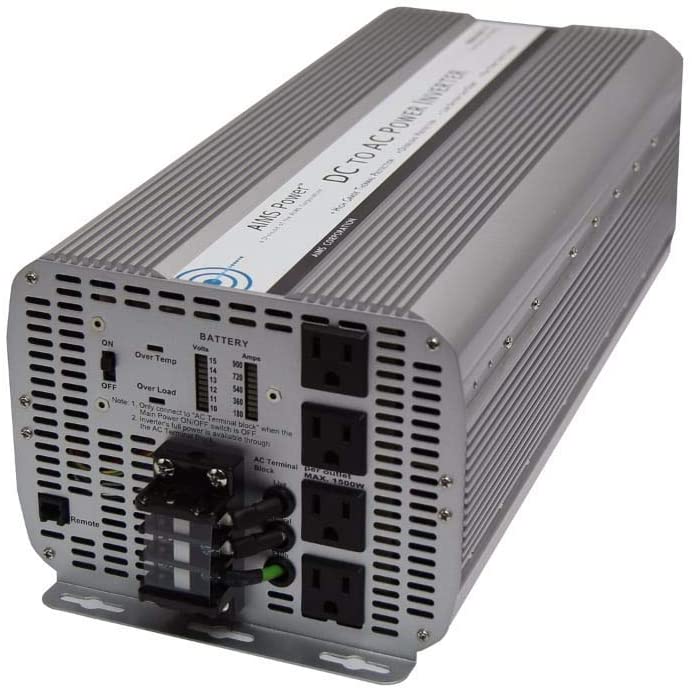 AIMS is considered one of the popular brands for a wide range and solid inverters. If you aim to buy a heavy-duty power inverter, please look at this 8000W power inverter by AIMS. The AIMS 8000W power inverter has 16000W surge power. It comes included with everything you need to start converting DC power to AC power.
This AIMS power converter converts 12V DC power to 110V AC power. The converter power is modified sine wave power. Well, it is the fact that pure sine wave is superior to modified sine wave but a modified sine wave inverter is also good for most of the appliances. However, some sensitive electronics require pure sine wave power only.
Well, the manufacturer claims that it is a lighter, smaller and more efficient power inverter that is perfect to run heavy appliances used in homes, offices and it is perfect to meet the emergency power supply. To operate this power inverter, you need to use two sets of 4/0 cables. These cables are needed if you want to use the total rated output. If you do not want to give it the full load then other battery cables may work.
The AIMS 8000 watts power inverter has an LCD meter that is good for monitoring input and output voltage and other protection related things. The high protection AIMS power inverter has over-temperature indicator that notifies you of the overheat in the system. The AIMS 12V power inverter is fully protected against over-temperature, over-load, short circuits and other electrical faults.
Some key features of this AIMS power inverter are thermal fan, auto reset recovery from the faults, wired remote on/off switch, slotted mounting plate, over-load LED indicator and AC direct connect terminal block.
Such powerful inverters are perfect for a solar system, RVs, large homes, offices, small factories and vehicles. The robust 8000 watts power inverter comes from the trusted AIMS brand so buy with confidence because AIMS has passed more than two decades manufacturing high-grade inverters. Most of the AIMS inverters sell in the USA through many sales channels including online market places such as Amazon, Walmart, eBay and others. Read more…