AIMS Power is one of the reputed inverter brands. It has numerous high quality power inverters that cell on competitive prices. If you are looking to purchase a 1500W power inverter, I will suggest AIMS Power PWRIC1500W as well. The AIMS 1500W inverter has many features that you may not find in power inverters from other brands.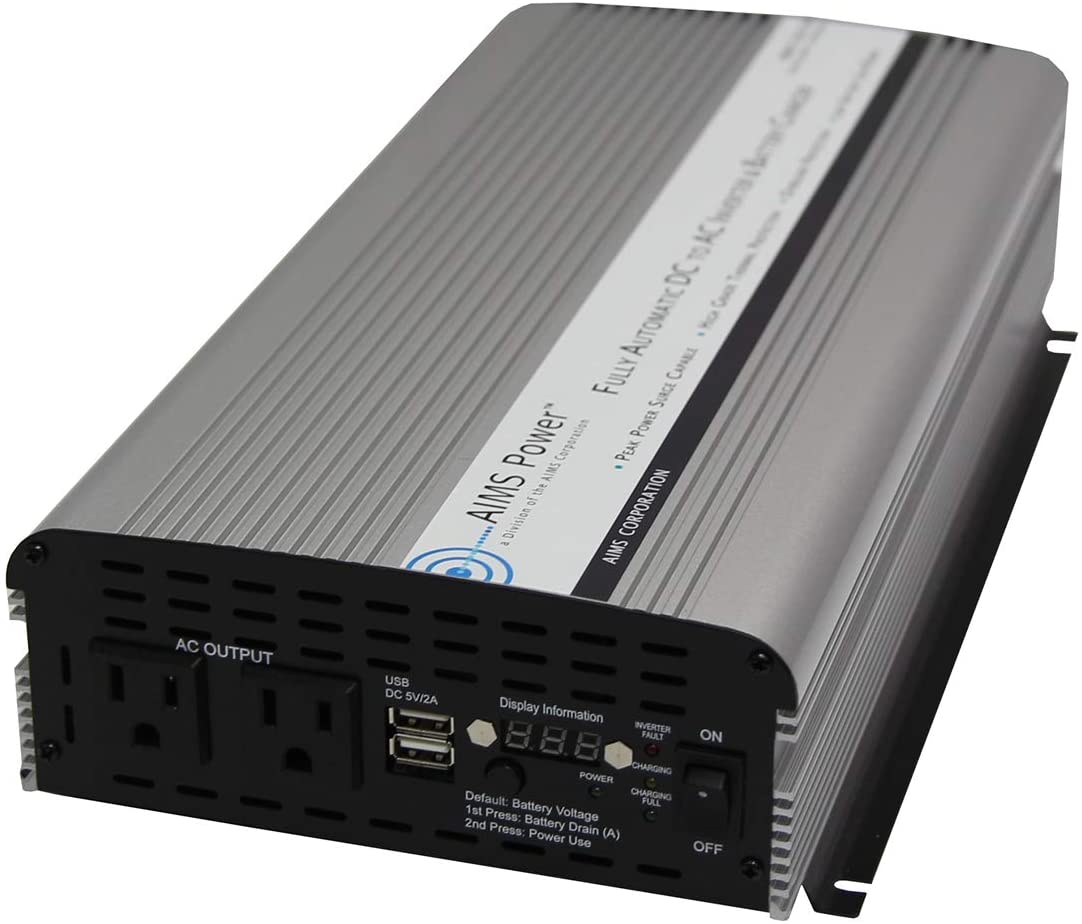 Impressively, AIMS 1500W power inverter has battery-charging function that means if household power goes; the inverter will switch to the battery power. You appliances will continuously run without any interruptions. The power inverter needs to be connected with a 12V battery to use its output that is 120V.
The AIMS 120V power inverter has green and red LED indicators. Where green means ready and red means fault. AIMS 12V power inverter comes included with AC power for the shore power connection. The 1500W unit is durable aluminum case that is helpful to keep the internal system cool sufficiently.
Highlights
AIMS brand
PWRIC1500W model number
1500 watts output
3000 watts peak power
Transfer switch
Dual AC receptacle
Protection against overload, overvoltage and short-circuits
Cooling fan
Internal fuse based protection
Pre-slotted mounting plate
Aluminum body
Weight 7 lbs.
85-90% efficiency
Size: 15.5-inch length, 7.75-inch width and 3.25-inch height
AIMS Power 1500W power inverter is full of good features like cooling fan, built-in fuses, aluminum case, high efficiency, dual 110V AC outlets and more.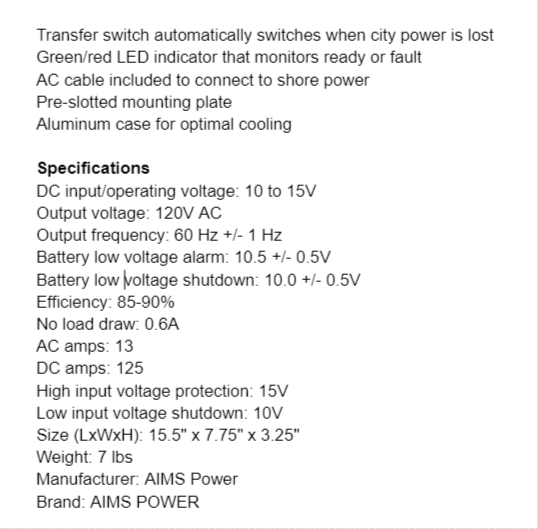 Pros
It has not only inverter function, but also AC input function with transfer switch.
Dedicated charging circuit
Perfect for most of the home appliances
Pure sine wave output
Very responsive seller at Amazon
Cons
The cooling fan is a bit noisy.
The pros and cons on the AIMS 1500W Power Inverter are written above. These pros and cons will be very helpful to understand the product from a user's view. Such powerful units are perfect for home appliances under 1500w capacity. On the downside, the cooling fan is a bit noisy.
Conclusion of AIMS Power 1500W Power Inverter Review
In short, the modified sine wave inverter works good with a suitable size battery. It may not perform well with an underside battery. As per some users, the inverter is big enough so consider this thing before you purchase it. Also, please let me tell you that it looks solid from the outside but it is not very solid internally. I hope the AIMS Power 1500W Inverter Review was helpful to you.