The BMK 200W inverter has received tremendous positives on numerous selling platforms. Before you commit to buy this BMK inverter, please check its ratings on Amazon. I'm sure you will not get disappointed. Since, the BMK inverter has already countless happy customers, so I decided to recommend it here at InverterReview.com website.
The 200W inverter has numerous advanced features. It features two 110V AC outlets, 4 USB ports (6.2A), LCD display, and separate on/off switch for AC outlets, voltage meter, 15A fuses, and noiseless cooling fan.
Multiple USB ports & AC 110V Outlets
The BMK 200W inverter does the great job of current conversion. It converts DC 12V battery current into AC 110V. It has dual AC 110V outlets to charge those devices that require connection via 110V AC plug. You can also charge small electronic devices using the USB ports. The USB ports output 6.2A current, which is good for charging devices at a fast speed.
In fact, there are many uses of the multiple USB ports. The 4 USB ports will be very helpful to charge up to 4 USB based devices simultaneously. The 2 x 110V AC outlets can be used to power those appliances that can be connected via the 110V AC sockets. However, please ensure that the connected devices shouldn't consume more than 200W powers.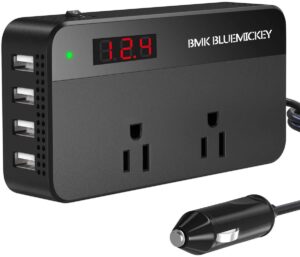 The Safety Capability
The BMK 200W inverter comes with built-in smart chip, which detects the connected devices. After the successful device detection, it will start supplying 6.2A output current to charge the connected devices.
According to BMK, the 110V inverter is fully safe because it is very protective against all the electrical causes. Therefore, the inverter is protective to under & over voltage, short circuit, undercharging and overload. To fight with all these problems, the unit has 15A built-in fuse, which automatically protects not only the unit itself, but also the connected devices.
 Advanced LCD Display
The advanced LCD of this car inverter shows battery voltage and USB current. Thus, the LCD display not only shows relevant notifications, but also informs you for the safety related things. By knowing the battery voltage and output current, you will be able to know if everything is fine or not.
Complaint – please be careful because an Amazon customer received the inverter with damaged LCD. If similar thing happens, please contact the manufacturer.
Additionally, the inverter comes with a built-in switch, which is good for controlling the car electric plug for the safety purposes.
Smart Cooling Fan
The integrated cooling fan in this BMK inverter runs noiselessly. The cooling fan is programmed to run automatically. The fan runs faster when the inverter gets warmer. Well, the manufacturer calls it smart cooling fan but I don't think so. To me, it is a normal cooling fan because most of the inverters have cooling fan with the same conditions.
Like several other inverters on the market, this BMK 200W inverter also features an LED indicator. The main task of this LED indicator is to show the working status. It indicates with two colors such as green and red. Green color means operation and red color means shutdown.
Specifications
10.3 oz weight
3 x 1.3 x 5.9 inches size
110V AC output
60-cm cable length
6.2A USB current
The BMK power inverter looks good with the above-mentioned specifications. It has 6.2A USB ports, which look impressive to me. The 3 x 1.3 x 5.9 inches dimensions make it a portable unit. It is a lightweight inverter because it weighs just 10.3 oz.
BMK 200-Watt Inverter FAQs
Q: will this inverter run a 20-volt power tool?
A: yes, as long as the device takes less than 200W. According to some users' comments, their fuses were blown at 15A. It means their devices drew more power than 200W.
Q: will it work with a mini fridge?
A: it is advised to check how much power your mini fridges require. If it requires more than 200-watt, you will not be able to run a mini fridge. You can calculate wattage using this formula: Watts = amps x voltage.
Q: how much power does a laptop require?
A: if it is not a gaming laptop then a normal laptop requires 20-50W power.
Q: my inverter didn't come with a manual; I plugged it but not working, why?
A: perhaps you didn't activate the inverter. You can find a small power switch on the end to activate the unit. Also, please make sure that you have plugged the unit to a good outlet. In some cases, the 12v lighter plug needs some twists to work properly.
Q: will this BMK 200W inverter power a hair straightener?
A: no, a hair straightener requires approx. 1500W power. It is not possible to power a hair straightener.
The list of FAQs contains some relevant questions. I'm sure some of you may have any questions related to operation of this BMK power inverter. In case, you got a question, try scanning the list of FAQs. I'm sure it will answer most of your questions.
Pros
Highly popular on Amazon
Low price
Good protection capability
Stylish and lightweight
Based on advanced technology
Silent operation
No heating issues
Good for charging laptops, phones, iPads etc.
Small size
Cons
Fuse blown according to some customers on Amazon
It gives foul smell when running.
The pros and cons say that the BMK 200W inverter is a good unit. It is lightweight, stylish and has several connection ports. Using the 4 USB ports and 2 AC 110V outlets, you can run several devices simultaneously. However, please make sure that the connected devices don't take more than 200W power.
Conclusion
To conclude, I will say the BMK 200W inverter looks good from all sides. A portable unit weighs approx. 10 oz. The charging device has many happy customers according to reviews posted on Amazon website. From the protection side, the inverter looks promising because it comes with built-in fuses and adopts advanced technology that not only safeguards the inverter itself, but also protects the connected devices.