Cantonape 800W inverter looks sturdy and heavy-duty from outside. I checked users' reviews on Amazon. It has received tremendous reviews not only on Amazon but also on other selling platforms. According to the reviews, the Cantonape inverter is sturdy, powerful and protective.
The car & home inverter comes with various excellent features, which will surely deliver ease-of-use and the needed power. According to the manufacturer, it has 800-watt continuous power with more than 90% efficiency.
USB and 110V AC Output
The Cantonape 800-watt inverter delivers modified sine wave power, which is good to power small to medium size appliances. For the connection with your desired devices, the inverter features 2 x AC 110V sockets and dual USB. The USB delivers 3.1A charging output, which is perfect for charging laptops, computers and other USB enabled devices.
Cantonape modified sine wave inverter comes with high efficiency. The manufacturer claims that it has more than 90% efficiency. With such high efficiency, you will be able to run several devices simultaneously. Further, the 110V inverter delivers 2000W peak power, which is good for those appliances that require start-up power for few seconds.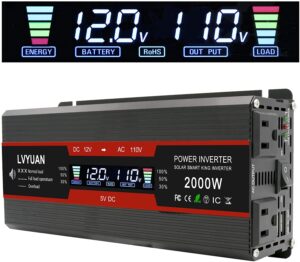 User Friendly Design
The inverter has a strong aluminum body, which is preventive to the external impacts. The aluminum case is also helpful in easy cooling. You can find 2 pieces of battery clips and 24-inch cigarette lighter plug, which are located at the appropriate place for the user friendliness. The built-in cooling fan is also at an appropriate place to provide required cooling to the entire system inside the inverter.
The middle-size Cantonape 800W inverter is designed very well so that it can fit almost any vehicle. On the other hand, it is good to use at home to power your home appliances.
The Protective Features
Cantonape claims that this inverter comes with multi-protection capability. According to the manufacturer, the inverter has 40A fuses, which are built-in and replaceable fuses. I'm sure these fuses will protect not only the inverter, but also the connected devices. Consequently, the 800-watt inverter is protective to:
Over heat
Overload
Short circuit
Reverse polarity
Under/over voltage
Current fluctuation and
Other electrical faults
You can see the Cantonape 800W inverter is fully protective to all common issues that usually occur in a power inverter. Additionally, the Cantonape 800-watt inverter is protected with one-year of warranty for the peace of mind.
LCD Display
This multi-protection power inverter has an intelligent LCD display. On the LCD display, you will be able to read status of input/output voltage, battery power and load capacity. Thus, with the help of the intelligent LCD display, you will be alerted if anything wrong is to happen. This way, you keep your battery and connected devices safe.
Important Details
More than 90% efficiency
Size: 7.9 x 4.5 x 2.4 inches
Weight: 2.43 pounds
Protection: short circuit, reverse polarity, under/over voltage and overload
Package contents: Cantonape 800W inverter, cigarette lighter plug, user manual and alligator clips
USB output: 5V DC, 3.1A
Continuous power: 800W
Peak power: 200W
Based on the details provided above, the Contonape 800W inverter looks impressive. The 800-watt power is good to run several devices at the same time. The 3.1A USB ports are perfect for charging laptops and other devices. The inverter has built-in fuses to protect against any electrical faults and overload.
Cantonape 800W Inverter FAQs
Q: can I run a rice cooker using this inverter?
A: if the rice cooker takes less than 800W power, you will be able to run the rice cooker.
Q: is this a good inverter for a home amplifier system?
A: no, this is not a good inverter for a home amplifier system. An amplifier system needs clean power so it is better to look for a pure sine wave inverter. This is a modified sine wave inverter.
Q: can I mount this inverter on the bottom side of a boat battery compartment?
A: yes, you can but please make sure the inverter needs air movement for the cooling fan. If the place has good air movement, you can install there.
Q: is this a good inverter for a 1500-watt space heater?
A: no, it only delivers 800W power so you will not be able to run your 1500W space heater.
The FAQs contains genuine questions and answers. These FAQs are related to operation, capacity and fittings. In case, you have a question, please read the list of FAQs. It may answer some of your questions.
Pros
Robust
Well made
Perfect for vehicles and homes
Slick LCD screen
Clean design
Low battery and over voltage alarm
Cons
According to a customer, it doesn't deliver full 2000W output.
A little noisy
Heating problem according to a customer
The list of pros and cons are very useful because they show overall picture of the product. In case of this Cantonape 800W inverter, it has too many pros and few cons. Therefore, this is a good inverter to buy. The price seems appropriate, has clean design and strong exterior. From safety point of views, the Cantonape inverter looks good because it has various protective elements, cooling fan and alarm to keep you informed about battery status and over voltage.
 Conclusion
To conclude, the Cantonape 800W inverter delivers good performance according to many reviews on Amazon. However, apart from countless happy customers, the inverter has received some complaints from its previous customers. I'm not sure if these complaints are user-specific or they are indeed genuine problems. I will advise reading reviews on Amazon before you take the buying decision. Overall, the inverter looks impressive from all sides such as price, output power, connectivity options, design, safety capabilities etc.