In case, you are looking for a popular inverter generator, please check Champion 3400W Inverter Generator. The generator runs on duel fuels such as gasoline and propane. Which means you will use either gasoline or propane to operate this high capacity generator.
The Champion generator has a medium-size fuel tank that holds up to 0.6 quarts oil. It features an oil sensor that stops the unit if it senses low oil. Since, it comes with a low-oil sensor, so it becomes very convenient.
Electronic stuffs – the unit has an electronic start capability, which is powered with an ignition switch (3 position). Also, the generator comes with a battery, which is helpful for starting the unit effortlessly. The Champion 3400W generator features a control panel, which helps in controlling the generator very easily.
Low Noise level – according to the product description, the generator has 59 dBA noise level at 23 feet distance, which can be acceptable. I see some generators have noise rating higher than this. Well, up to 80 dBA noise is acceptable, so the 59 dBA noise level of this generator is very good. Such generators are perfect for RV, homes, tailgating etc.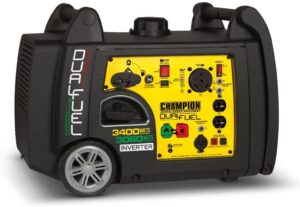 High Performance 3400-watt Output
The Champion 3400W Inverter Generator delivers 3400 watts starting power and 3100 watts running power. On gasoline, the generator runs for 7.5 hours. Additionally, it delivers clean electricity that is good for sensitive electronic devices.
Output sockets – duel fuel portable generator features a 30A 120V socket for RVs, dual 120V 20A household sockets that supply clean electricity. It also features dual 12V DC USB ports. Using all these connectivity options, you will be able to run several devices simultaneously.
Specifications of Champion 3400W Generator
3400 starting wattage
3100 running wattage
1.6-gallon fuel tank
4-stroke 192cc OVH engine
Up to 7.5-hour runtime on gasoline
Up to 14.5-hour runtime on propane
25.1 x 17.3 x 18.3 inches dimensions
Included components: USB adapter, battery, oil funnel and propane hose
3-year warranty and lifetime technical support
From the specification list, the Champion generator looks capacitive. It delivers 3100W running wattage, up to 14.5-hour runtime on propane. The unit comes included with all the required accessories, so you don't have to buy them separately. Moreover, a 3-year of warranty and lifetime technical support is also included.
FAQs – Champion RV Generator
Q: does the Champion 3400W generator come with an LP hose?
A: yes, it comes with the hose.
Q: do the battery and starter make it a heavyweight generator?
A: yes, at some extents. However, without the battery, the generator will not run.
Q: is this generator good for powering a 13500 btu AC?
A: yes. According to many customers, they didn't get any problems running their 13500 btu AC.
Q: can I use natural gas to run this generator?
A: for this requirement, you need to buy the upgraded generator, which runs on gas, lpg and gasoline.
Q: is the engine made in America?
A: according to the manufacture, the engine is designed in America but assembled in China.
Q: can I also use my RV battery to start this generator?
A: yes, any 12V battery will work.
In fact, the FAQs are very helpful to understand the product deeply. In case, you got any questions related to this Champion 3400W generator, please refer to the list of FAQs. The list may contain answers of your questions. The FAQs cover some of the general questions of this dual fuel generator. These questions are related to its capacity, fuel requirement, manufacturing place and accessories.
Existing Customers Thoughts on Champion 3400W Generator Inverter
One – this customer bought this Champion generator from Amazon. He says that he bought this generator at the half price of a comparable Honda. It took 5 days for the delivery. The generator comes ready to start instantly with less setup. According to him, one needs to connect the included battery, add 20 ounces of oil for the initial 5-hour break and it is good to go. He purchased the bottle of 20-ounce oil from HomeDepot.
Further, he says that the generator is full of useful features. However, he customized the generator according to his requirement and added an hour meter. He purchased an hour meter from Decooler Inductive at a low price, which is very easy to install with the generator without cutting anything.
Two – according to this customer, he purchased this Champion generator after exploring various generators on the market. The generator runs quietly and it comes at the half price compared to Honda generators.
Also, the user says that Champion 3400W Inverter Generator has impressive power because it runs his 30 feet travel trailer including a 13,500 BTU AC. To run these appliances successfully, the user has to follow the guidelines provided by Champion tech support. He didn't get any issue to connect this Champion generator to the trailer's propane system.
Three – this Amazon customer tagged it as an awesome generator. It is surprisingly silent. The customer is able to power his 13.5 rooftop AC on his RV without any problems. However, he only ran the generator on propane. Further, he says that the generator came with a broken battery cable. For the replacement, he had to contact Champion. The manufacturer quickly sent a replacement panel and a complimentary generator cover. He expressed his happiness on the fast customer service.
Four – according to this customer, he required a 3000W inverter and wanted to buy Honda models. He says that Honda is also good but priced higher than other generators on the market. That's why, he bought Champion 3400W inverter at the half price of a Honda generator. The customer purchased this dual fuel Champion generator after a ton of research. He says that the dual fuel capability in this generator is awesome.
Pros
Smooth and noiseless performance
Appropriate price
Countless happy users on Amazon
Good for RVs, home use
It can power an AC.
Lightweight
Lifetime free customer service
3-year warranty
It can run on propane as well as gasoline.
Wheels for portability
Cons
Some accessories are flimsy.
A little heavy
Conclusion
In short, Champion 3400W generator inverter is awesome. It has many happy customers on different shopping websites. According to the reviews posted on these selling platforms, the generator is really a good buy at the current price. In fact, many customers said that it comes at the half price of a Honda generator.
It is rich in features and capability, has the dual fuel capability. The Champion generator can be started via an electric switch or rope pull as well. Amazingly, the Champion's customer service team is pretty quick and responsive if you got any problems. It is highly recommended to buy because it comes at a competitive price.