Newpowa may not be a popular power inverter brand but it makes good inverters. One of them is Newpoa 1200W power inverter that comes with many features including USB 2.4A outlet and four AC outlets. Most importantly, it is a pure sine wave inverter, which is an ETL certificate holder too. Please keep reading the Newpowa inverter review to find out the truth.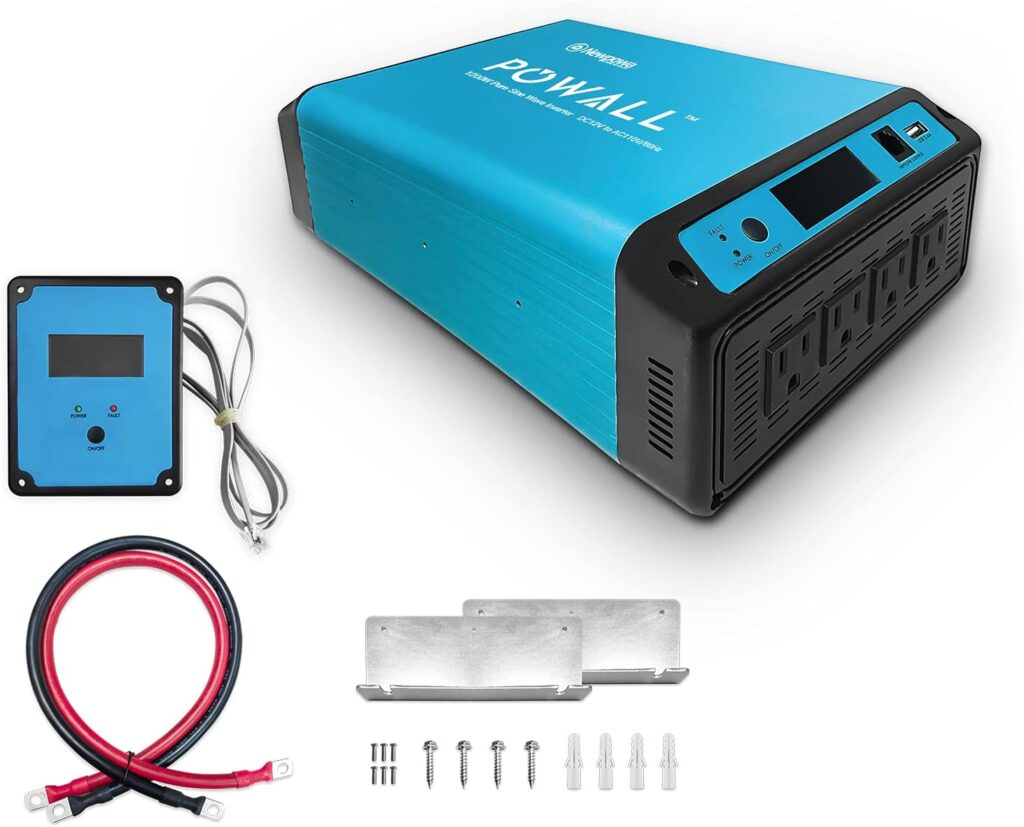 One thing more is that it is an affordably priced inverter so if you are looking to buy a budget power inverter, the Newpowa 12V power inverter is the best power inverter in my analysis. And, the 12v to 110v power inverter features dual cooling fans. The cooling fans are very helpful for the heat removal to maintain the appropriate temperature and these fans run silently without creating a disturbance.
Key Features & Specifications – Newpowa 1200W
| Product name | Newpowa 1200w power inverter |
| --- | --- |
| Output wattage | 1200W |
| Output voltage | 110V |
| Input voltage | 12V |
| Item weight | 9.7 lbs |
| AC 110V outlets | 4 |
| USB charging port | 1 (5V, 2.4A) |
| Certification | ETL certified |
| Color | Blue & black |
| Built-in fuses | 8 x 25a |
| Cooling fan | Yes (high speed dual cooling fan) |
| LCD display | Yes |
| Type of current | Pure sine wave |
| Availability | View on Amazon |
A list of features and specifications are mentioned in the list above. Please refer to the spec list to know its features and specifications. The Newpowa inverter looks good from the features and specs point of views. It has almost all the features including a display panel, built-in fuses, USB charging port, cooling fans and more.
1200W Pure Sine Wave Power Inverter with USB Charging Port and 4 AC Outlets
You already know the benefit of a pure sine wave power inverter. These power converters are very good for the clean electricity supply with very low harmonic distortion as the voltage fluctuation is smoothen greatly. Of course, modified sine wave power invert is also very good but it can't be better than a pure sine wave inverter. More importantly, you are going to buy it at a super affordable price, believe me!
And, when it comes to the charging outlets, you will be able to charge various devices effortlessly because it is a feature-rich power inverter. It features an On/Off button, four 110V AC outlets (60 Hz, up to 15 amps), and a USB port.
Therefore, the 1200w Newpow inverter is a great way to convert DC (Direct Current) to AC (Alternating Current). With this powerful pure sine wave power inverter, you can easily run small as well as large electronics and home appliances such has household heaters, televisions, air conditioners and many power tools as well.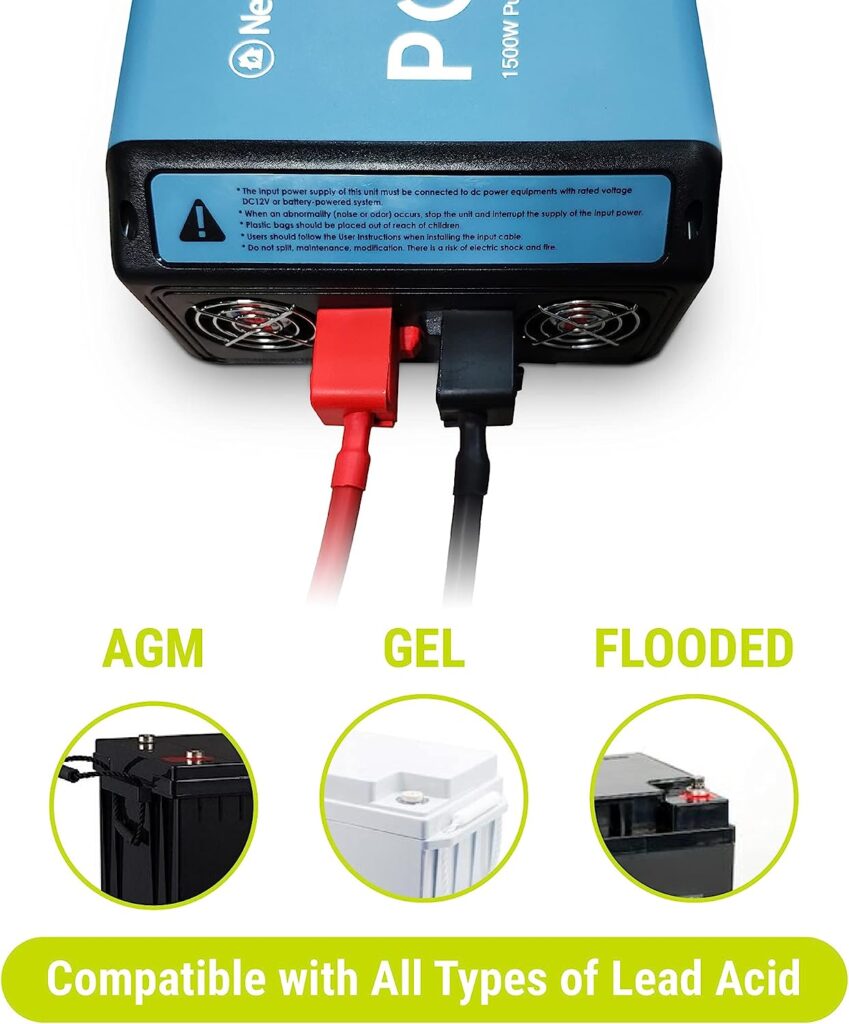 The Newpowa power inverter is very safe too because multiple protections are used including AC overload, over temperature, battery protection and short circuit protection too. And, it supports various battery types like AGM, Flooded, GEL and other lead acid batteries.
Pros
Very good for running appliances like coffee makers, induction cooker, camper refrigerator and more
Users loved the digital readout.
Solid and lightweight
Low fan noise
Good quality cables included
Readable and clear control panel
Good quality and performance
Cons
Some users were unable to find a matching wired remote to operate it remotely.
It doesn't come with a remote control.
Reading pros and cons of a product helps a lot in knowing the overall performance. The Newpowa 1200W power inverter has many pros like low fan noise, good quality and performance, clearly readable control panel, optional remote control panel and it is a solid and lightweight product. On the downside, some users are unable to find the compatible remote control so they wished it would come with a remote control too.
Conclusion – Newpowa 1200W Power Inverter Review
In short, the Newpowa power inverter is a feature-rich inverter. It has four AC 110V outlets, one USB 2.4 charging port to charge small devices. Using this 1200W power converter, you can easily run home appliances and power tools. Most importantly, it is a budget power inverter with a wide range of safety capabilities and advanced features. Please make sure that it does not come with a remote control so you have to buy it separately. Also, Newpowa seems like a new inverter brand because it lacks too many reviews and ratings on various selling platform. However, it is a good product from the performance point of view.