If you are looking to buy a 4000W power inverter, please read the VOLFVERT inverter review. As per my research, it is a highly popular power inverter that is priced well. The VOLFVERT 4000W inverter can be a multi-purpose unit as you can use it in your home, RV, car and with a solar system as well. For the operational ease, it comes included with a wireless remote controller too, so you can operate the inverter remotely.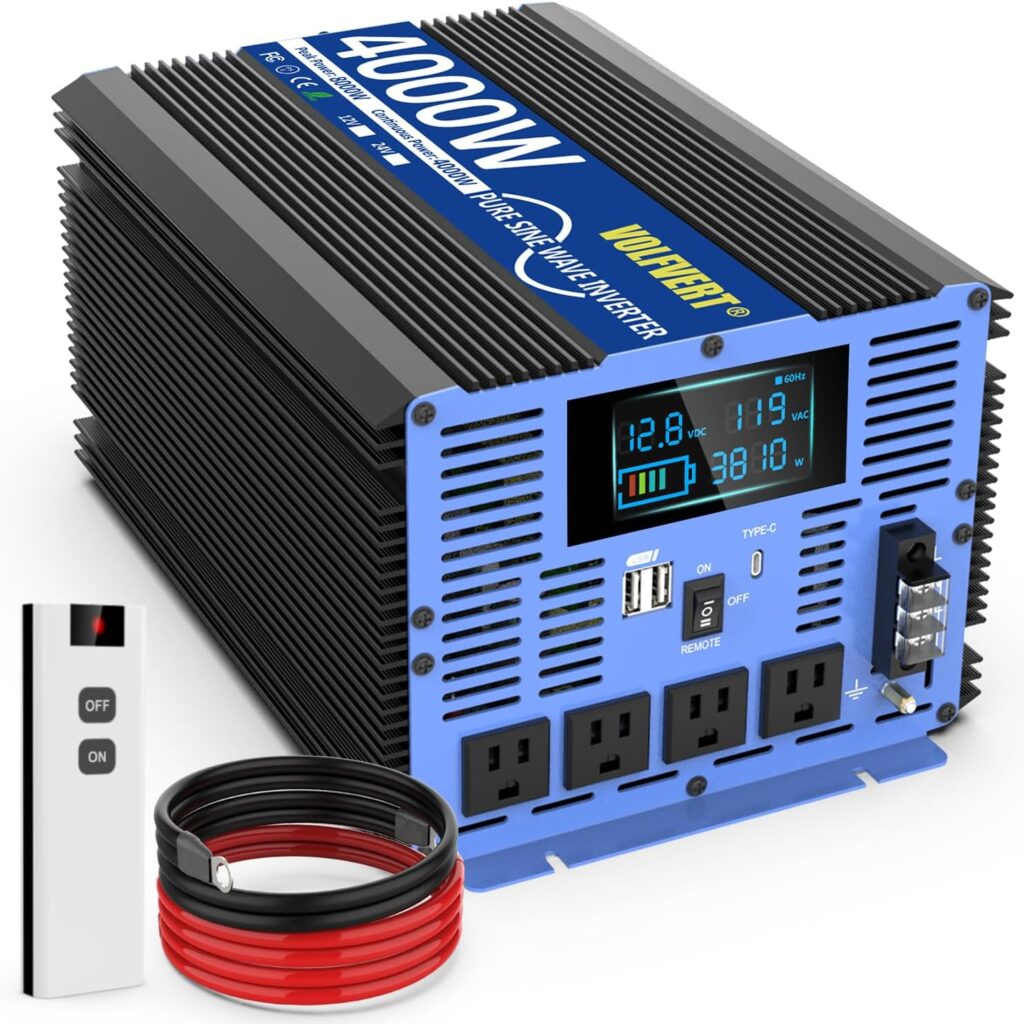 There are many good reasons to buy it, please keep reading the VOLFVERT inverter review to know the ins and outs.
First, it is a good power inverter from the safety point of views as it is capable to deliver smooth power to the connected devices. It is safe because it has a good heat removal capacity, and it runs silently. There are many things, which are helpful to make it a safe power inverter. It has a built-in cooling fan, which is powerful enough for the purpose. It has thick aluminum housing, which is also very helpful to make it a safe power inverter.
Second, the VOLFVERT inverter is good for the heavy duty jobs because it is capable to run most of the household and industrial appliances. The VOLFVERT 4000W power inverter is very good with the precision or sensitive electronics. Of course, it is good for the heavy equipment too.
Lastly, it has a wide range of connection ports like AC terminal blocks, four AC outlets, one type-c port and two USB ports. Therefore, it is the best power inverter for travelers, household electronics and the emergency power needs.
Great for RVs & Emergency Power Needs
In a review, a customer wrote that it packed a punch. He liked the VOLFVERT inverter to use in summer because in his area, there was the highest possibility of the power outages. He said that it worked well during the rainy and storm days that happened in his area.
Actually, he needed a power inverter for the back-up power in the emergency situations.
About the size of the inverter, he said that it was very big and heavy, so he had to lift and setup it very carefully. He advised to use the right screws so that it would not break. As per this user, the VOLFVERT 4000W inverter is very good for big cars, trucks or hummers.
He successfully connected this inverter with a battery, and he said that it had mounting screws to install this inverter in a car on a permanent basis. Please note that the metal parts are a bit thin but they would work for the purpose. You would be able to screw it but some marks may be seen on the metal paint. As per this user, it works well for RVs. Overall, it is a decent quality power inverter but it is a bit heavier than expected.
Key Features – VOLFVERT 4000W Power Inverter
4000W output power
8000W serge power
120V output voltage
DC 12V input voltage
Less than 3% distortion rate
60Hz output frequency
90% efficiency
14.33 lbs weight
6 total power outlets including dual USB ports
Pure sine wave waveform
Wireless remote controller
Accessories: two cables (3.5ft, 5AWG), one earth wire, one wrench, four fuses and 100ft wireless remote
Upgraded LCD display
Powerful built-in cooling fan
Sturdy and thick aluminum housing
High performance capacitors
High frequency transformers
The key features are written above. Please read the features of the VOLFVERT pure sine wave inverter to understand its actual capability. To me, it looks like a solid power inverter. It is god that it is not a modified sine wave inverter; it is a pure sine wave inverter so you will be able to power sensitive electronics too. It has a sturdy and thick aluminum body, which is good for the overall strength and the heat removal.
PROS
It is good for big cars, trucks and other vehicles.
Pure sine wave output
Great for the emergency power needs
The fans run quietly.
Good company and good customer service
It is quite durable as some users have been using it for more than one year.
The display is accurate and easy to understand.
A well-built product undoubtedly
Low idle power consumption
It handles the load as advertised.
High serge power
CONS
It is very big and heavy.
It gets warm a little.
Very basic remote
The VOLFVERT inverter review has a section of pros and cons. These pros and cons are written above. I am able to see that it is a powerful inverter as most of its users are happy. It is a great pure sine wave inverter, which is fine with most electronics. Many users said that it was a well-built unit and ran smoothly.  Such powerful inverters are great for vehicles, emergency power needs, household appliances and more. The good thing is that it handles the load well and the serge power is also very good. On the down side, it is a bit heavier and bigger than expected, and it gets warm a bit. That's it in the VOLFVERT inverter review.