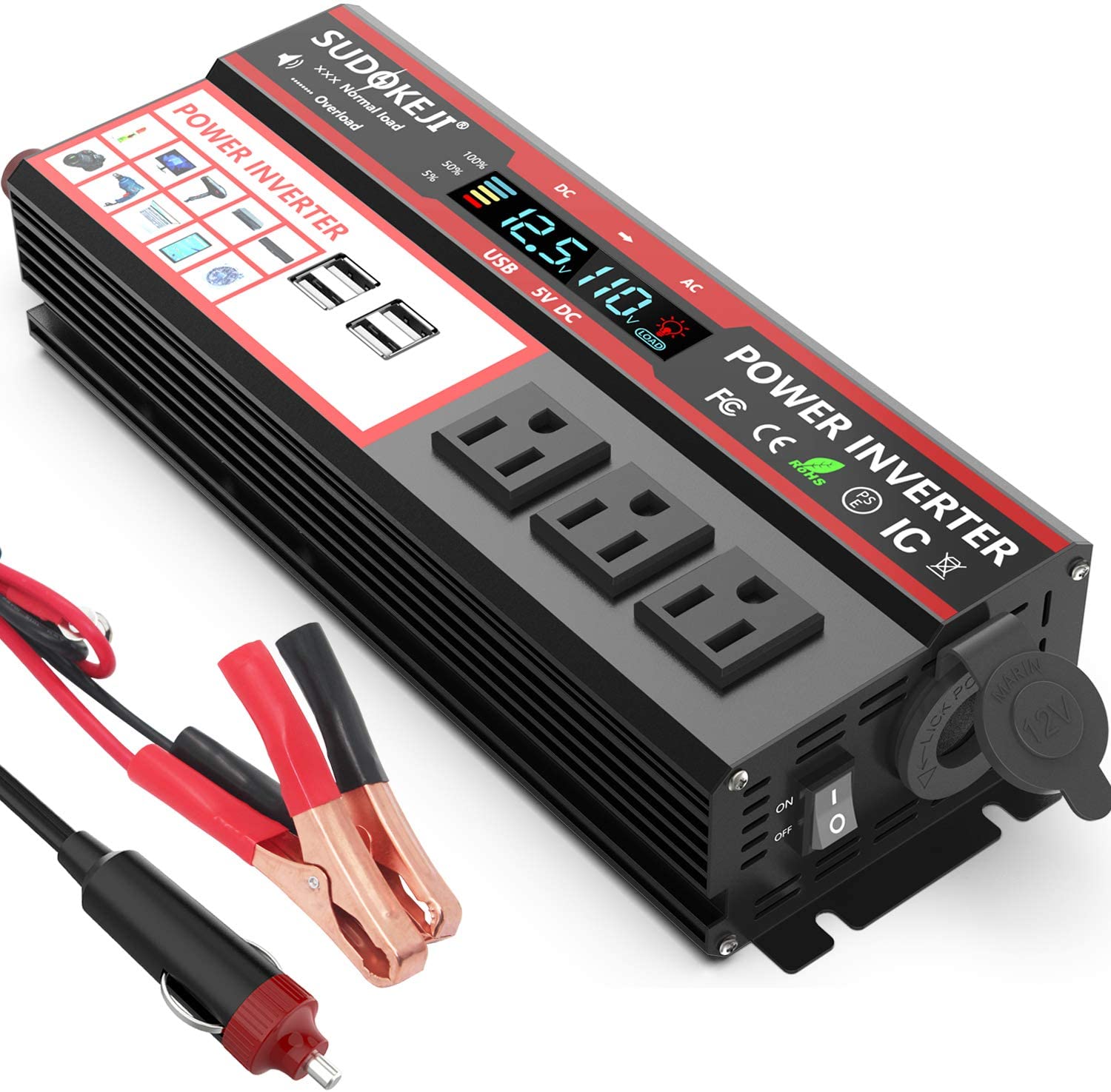 In case, you are hunting an affordable power inverter, you can check Sudokeji 1000W power inverter. The 12V power inverter comes from a less popular brand but it has impressive features that you get in a small price from Amazon.
The 12-volt power inverter is manufactured in different sizes such as 500-watt and 1000-watt in red and black colors. You can choose a size and color based upon your requirements.
The low-price inverter from Sudokeji has three 110V AC outlets and four USB ports. Since it allows too many connections so, it is perfect for many applications. You can use it in homes, offices, vehicles and many others.
With the featured AC and USB outlets, you will be able power televisions, table fans, fridges, gaming machines, lights, laptops, tablets, cell phones and a bunch of other devices. In short, you can power any devices that require less than 1000W input power.
The Sudokeji power inverter has all the protection features that should be available in a good performance inverter. The 1000W power inverter has 2 built-in fuses (these fuses are replaceable). It also features a temperature management fan that maintains the inverter temperature to protect it from over-temperature. Apart from the intelligent inverter fan, the inverter has gotten a safe charging design, which is very helpful to provide protection to not only the connected appliances, but also the inverter itself. As a result, it saves from short circuit, over-heating, over-load and over-voltage.
According to Sudokejo – the manufacturer, the inverter has an LCD smart digital display. This LCD panel shows live data related to input and output power. With the useful information, the inverter remains safe all the times because it notifies you before the problem is going to happen.
The Sudokejo 1000W power inverter comes included with two battery clips, one 12-volt car cigarette lighter, a user manual and 24-hour customer service. With all these inclusions, you will not face any difficulties to operate this Sudokejo power inverter. Read more…