On this page, you will read Xantrex inverter reviews. When I started writing about these Xantrex inverters, many questions came in my mind. As a result, I had to look for answers of questions such as product origin, prices, performances, users' ratings and so on.
According to my research, these Xantrex inverters are made in China and designed in Canada and USA. In fact, I found two office addresses mentioned on the contact us page of the Xantrex website. These two offices are in Canada and USA.
The prices of these inverters look very good to me. I will say that the customers have to pay reasonable prices to buy these inverters. Additionally, I will give average ratings to these inverters for the performance because they have received more than 4-star out of 5-star ratings on Amazon.
Xantrex Technology Inc, 806-1210 Inverter Prowatt SW 1000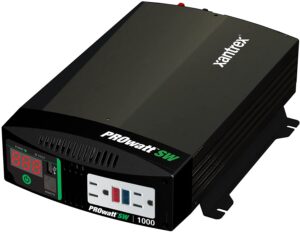 In the Xantrex inverter reviews, please read about this Xantrex 806-1210 1000W inverter. Most users are happy with the performance of this Prowatt SW 1000 inverter. This is the reason; I kept it on the top. The price seems reasonable to me because their competitors charge more.
This inverter is available in different sizes based on the output wattage. Currently, Prowatt SW is available in 600, 1000 and 2000 watts. These inverters have double serge capacity that means a 1000-watt inverter has 2000-watt serge power.
Some important features are digital display, USB ports and many protection capabilities. On the digital display, you will be able to see input and output voltage. To charge USB-enabled devices, you can use the built-in USB port. And, for the protection, you do not have to worry because the inverter is highly protective against low-voltage, over-voltage and short circuit. The inverter will shut down when it detects over-temperature or over-load. Read more…
Pros – Prowatt SW 1000
Silent operation
You receive output voltage as advertised.
Compact size
Delivers good peak power
Digital display to check input and output power
Idle power consumption is very low.
People are using it with their solar panels also.
Great for running home and kitchen appliances
Cons – Prowatt SW 1000
The positive and negative terminals need to be tighten very well.
Users have suggested getting high quality cables to connect the batteries.
With this Xantrex Prowatt SW 1000 Inverter, you may face issues with the flimsy cables and the terminals. Other than these, you will not find any more problems. The pure sine wave inverter is powerful enough to supply power to connected home and kitchen appliances. Most importantly, Xantrex has decades of experience in producing such powerful inverters.
Xantrex Freedom SW3012 12V 3000W Inverter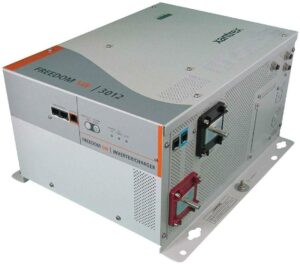 After Prowatt SW 1000, please check Freedom SW3012 3000W inverter by Xantrex.  This power inverter is stronger, more durable and flexible than the previous one. The 3000 watts inverter has 150A charger and it is compatible with a generator.
Control from Android devices: in fact, according to the product description, the Freedom SW3012 inverter can be controlled from a tablet or a mobile phone. Personally, I feel this is a must-have advanced capability in this 3000-watt inverter. I liked this capability.
Power an air conditioner: the 3000-watt power inverter has double serge power, so it is a perfect unit to power an AC. The inverter has the capability to survive in toughest conditions. It will serve your extra power needs.
Demanding features: the Freedom SW 3000W inverter has many advanced features that you may not find in its competitors. I am sure you will appreciate its advanced features such as parallel stacking, series stacking, temperature compensated charging, pure sine wave output, integrated transfer switch and conformal coated circuit boards. Read more…
Pros – Freedom SW3012
Silent and seamless operation
Good for powering heavy appliances in homes, kitchens, offices and somewhere else
Easy to install
For countless users, everything worked properly.
Dual input and output
Controllable from a mobile phone or tablet
Cons – Freedom SW3012
Some complained that it delivered over current on the AC output.
A customer complained that he was given a refurbished inverter, so he had to face many problems.
That is all about Xantrex Freedom SW 3000W Inverter. I just covered some of the important features and capabilities. From the list of pros and cons, the Xantrex 3000W inverter looks very solid, performance oriented unit. However, this is a large 3000-watt inverter, which is an advanced and powerful unit so you have to pay accordingly. I can say it comes at a price that is neither too low nor too high.
Xantrex Prowatt SW2000 2000W True Sine Wave Inverter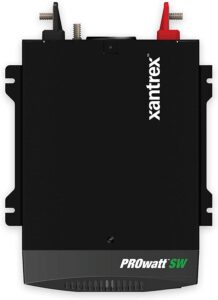 Previously, you read on Xantrex Freedom SW 3000W inverter in the best Xantrex inverter reviews. Now, please check Prowatt SW2000. The pure sine wave inverter has its own pros and cons. It stands out from the crowd for the features and capabilities it offers.
A compact 2000w inverter: the perfectly sized inverter offers 2000 watts output. Of course, you receive pure sine wave current. The 12V inverter is widely used to charge mobile phones, tablets, laptops and other appliances. Also, one will not complain about the seamless output it delivers.
Perfect for any type of loads: Prowatt SW2000 is capable to deliver high quality output, so it is perfect to handle any loads such as single, intermittent or multiple loads.
Various applications: the 2000W pure sine wave inverter can power most of the home and kitchen appliances. So, you will be able to run fridges, sensitive electronics, microwaves, stoves, DIY tools. Additionally, you will easily use it in your vehicles: RVs, trucks as well as boats.
AC & USB outlets: the Xantrex 2000W inverter provides the ease of use because it has dual GFCI outlets and USB port. With these sockets, you will not face any connection related issues. It is very good to power modern devices.
Digital display: on the LCD display, you will be able to see input and output current and other system related information.
2x serge power: the 2000W inverter has 4000w serge power. Which means the Prowatt SW inverter is capable to provide appropriate electricity to those appliances that require serge power. In short, the inverter is ready to handle any type of load. Read more…
Features at a Glance
Digital display shows DC & AC voltage
Tow AC 110V outlets and USB port
Strong terminals for reliable battery connection
Ignition lockout on/off remote switch
10.5V DC low voltage shutdown
15.5V DC over voltage safety
From the list of features, I can say that it has all the safety features that are required in an inverter. it has GFCI sockets, low and over voltage protection, strong terminals and an LCD panel.
Pros – Prowatt SW2000
Good customer service
People are powering an air conditioner in their RVs without any issues.
Perfect for solar panels and RVs
Easy to install
Solid inverter
Pure sine wave output
Cons – Prowatt SW2000
You need to buy an ANL-250AMP fuse separately.
Cheap GFCI outlets
Before you buy this Xantrex 2000-watt power inverter, please give a look at the pros and cons that are mentioned here. I see the inverter has many pros that will give benefits to the users. It also has some cons but they do not weigh much, you can solve these problems by spending few bucks more. Overall, this is a good quality inverter. People are using it in their RVs, with solar panels, in homes and it may have other applications as well.
Xantrex Freedom XC 2000 817-2080 Power Inverter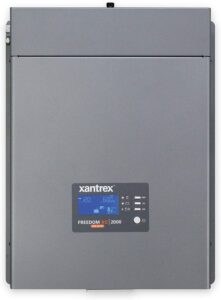 Xantrex is a popular inverter brand that makes numerous power inverters that are used for varied purposes. Now I am going to include Xantrex Freedom XC 2000-watt inverter in the best Xantrex inverter reviews.
The 12V Xantrex inverter is available in two sizes such as 1000W and 2000W. Of course, you can elect one based upon your requirements. The 1000-watt inverter has 50A charger, while the 2000-watt inverter has 80A charger.
Serge power: the solid Xantrex inverter has double serge power. Which means if the inverter has 1000W regular power then the serge power will be 2000W. According to Xantrex, the serge power is only for 2 seconds, while other inverters on the market have serge power up to 10 seconds. So, I can say that it should increase the time of serge power.
True sine wave output: for the AC output, the inverter delivers true sine wave power, which is considered ideal power quality to run sensitive electronics.
Ignition support: the Xantrex Freedom XC has ignition control. What is ignition control in an inverter? Well, ignition control is based on 12V DC signal. In fact, it is a great feature to get rid of battery drain. So, you need to switch off the inverter when you find that the ignition key is turned off.
10V to 18V DC input range: the Freedom XC 2000 offers wide input voltage range, which is good to work with high voltage alternators. You often find high voltage alternators in many vehicles these days.
Other features: AC voltage from 85V to 110V, built-in 30A AC transfer relay, lithium-ion battery support, battery equalization, controllable from Android devices and so on. Read more…
Pros – Freedom XC 2000 817-2080
Easy to install
Delivers output wattage as rated
Multi-stage charger
Easy to read display
True sine wave output
Many advanced features related to remote access, safety etc.
Cons – Freedom XC 2000 817-2080
It requires compatible wires. Thinner wires will not work.
The instructions are a little hard to follow.
That is all on Xantrex Freedom XC 2000 817-2080 Power Inverter. Personally, I liked the inverter because it is good from many sides such as performance, protection, power conservation capability, remote access and many others.
Xantrex 806-1206 Inverter PROwatt SW 600W 12V True-Sine Wave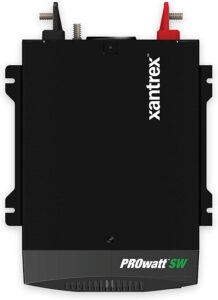 The main purpose of writing the best Xantrex inverter reviews is to show you those Xantrex inverters, which are really the best inverters. So, I am going to include Xantrex 600W inverter, which also comes from the ProWatt SW series.
According to the Xantrex inverter brand, Xantrex 806-1206 is compact, easy-to-use, easy-to-install, and safe and delivers quality power. That is being said, the inverter looks promising from all aspects.
The small and lightweight Xantrex inverter delivers pure sine wave power. I am sure you already know that pure sine wave is the best power quality that is good for sensitive electronics.
This inverter is compatible with 12V batteries. After successful connection with your battery, you will be able to receive clean pure sine wave output to power your devices. Most importantly, the clean power coming from this inverter is perfect for all loads such as single or multiple loads. With this high quality output, you will not have any issues powering your home and kitchen appliances. I will say Xantrex ProWatt SW is perfect for vehicles, boats, solar panels and many others.
Also, the Prowatt SW 600W inverter is highly safe to use. You can undoubtedly use it for multiple purposes. It is a UL-458 approved unit, which fulfills CSA and FCC conditions. For the safety of connected equipment and inverter itself, the Prowatt SW inverter generates fault signals. These fault signals are indicators of voltage abnormality, short circuits, load abnormality etc. Read more…
Pros – Prowatt SW 600W
Good quality, good output; delivers the power as claimed
Many people are using this Xantrex inverter for powering their kitchen appliances. It is also good for a solar system.
Heavy-duty terminals
Optional On/Off remote control panel
USB port for charging USB-powered devices
Optional 15A in-line transfer relays to use shore power.
Cons – Prowatt SW 600W
The digital display is a little difficult to understand.
Pure sine wave output does not meet the quality of radio frequency interference. It needs filtering.
Xantrex 806-1206 looks good from many sides. It supplies full rated output as many users have confirmed. The price is reasonable. Xantrex is a popular name for a wide range of high quality power inverters. As a result, you get solid inverters that perform very well. The Prowatt SW 600W inverter is used for many applications. Some people are using it as a part of their solar system. Some are using it power their kitchen and home appliances.
Moreover, you will not find any issues for the installations because you do not need too many tools for the setup. Also, the required bolts, nuts and other components are included. For the installation, you have to use the DC connectors, which are found at the backside of the unit. The Xantrex Prowatt SW 600W inverter is suitable for countless usages. Such powerful inverters are good for solar applications, vehicles, running home and kitchen appliances and so on.
Conclusion – Best Xantrex Inverter Reviews
According to the best Xantrex inverter reviews, these inverters are robust, lightweight and compact. The prices vary depending on the model you choose. However, on this page, you will find all types of Xantrex inverters. Which means, you will be able to find a low-price as well as a high-price inverter from Xantrex.
The information provided above is directly from users' reviews. These reviews were written on Amazon and other internet websites.
Commonly, all the Xantrex inverters output pure sine wave current, which is considered not only reliable, but also clean power to charge sensitive electronics.
Additionally, Xantrex has decades of experience in making high-performance inverters. Their inverters beat inverters from highly popular brands. These power inverters are uniquely designed, which are heavy-duty, robust, affordable and they can be used for serious projects as well.