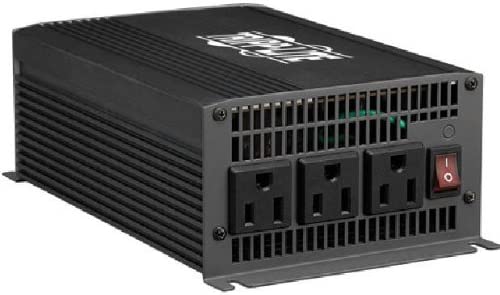 Tripp Lite is an inverter manufacturer that manufactures compact size power inverters. You can check Tripp Lite PV700HF compact power inverter. It has 700W output power and it is a great DC to AC converter.
The price of this Tripp Lite power inverter looks reasonable and it has secured average ratings on Amazon and other shopping platforms. Buying this Tripp Lite 700W power inverter at the current price can be a good design if one needs a compact size power inverter.
Tripp Lite compact 700 watts power inverter has 10.2 x 6.5 x 3.8 inches dimensions and 2.5 pounds weight. It features three AC outlets. Via these three 110V AC outlets, the power is supplied to appliances. It supports 120V output voltage.
According to the manufacturer, the Tripp Lite 700W RMS power inverter has 1400W maximum power. I think the 1400W is the peak power that is used as startup power by the appliances. You can use the 120V power inverter to run numerous appliances. You just have to make sure that they do not take more than the 700W rated power, otherwise the inverter may not work. Alternatively, in the worst condition, it may damage the connected devices or the inverter itself.
From the outside, it looks very sturdy. According to the manufacturer, the ultra-compact Tripp Lite 700W power inverter has extruded aluminum case. Because of the aluminum case, the power inverter can survive in tough environments as well.
If you wish to use your car battery for the 110V AC power, this reliable Tripp Lite 700W power inverter can be the best power converter for you. Of course, you will be able to power all those appliances that are commonly used in houses, offices and vehicles. With the help of this 700W power inverter, you will be able to power notebook, computers, portable lighting devices, power tools, mini fridges and many others.
According to the Tripp Lite inverter manufacturer, the 700 watt power inverter is an ideal solution for recreational vehicles, commercial vehicles, ambulance and remote sites and many other appliances that require clean and reliable AC 110V power.
Well, the main task of the Tripp Lite 12V power inverter is to convert battery power to household AC power. Therefore, it does the great job of the DC to AC power conversion. After it is connected to a 12V battery, you can start supplying the output power to your appliances such as small electronics, office equipment, construction job site, power tools, medical devices and entertainment devices. The good thing about this DC to AC inverter is that it does not require fuel and it does not produce noises unlike the portable generator. For the usage convenience, to run several devices at the same time, PV700HF power inverter features three AC outlets. You can use these AC outlets to supply power to the desired appliances.
Additionally, Tripp Lite brand claims that their inverters are very easy to install because they have simple installation requirement. The Tripp Lite 700-watt power inverter has built-in mounting slots for the easy installation. Therefore, you can easily install it on any horizontal surface without making too much effort.
Features & Specifications
700-watt output power
12V DC input power
DC 12V to AC 110V converter
Three AC outlets
10.2 x 6.5 x 3.8 inches product dimensions
2.5 pounds weight
120V output power
Ultra-compact and lightweight
Aluminum housing
Protective against electrical issues
Perfect for RVs, Trucks and remote worksites
Built-in mounting brackets
ISO 9001 certified manufacturer
Tripp Lite is an American brand
Pros
Reasonable price
The inverter delivers good performance
GFCI AC outlets
Low power consumption in the idle mode
Cons