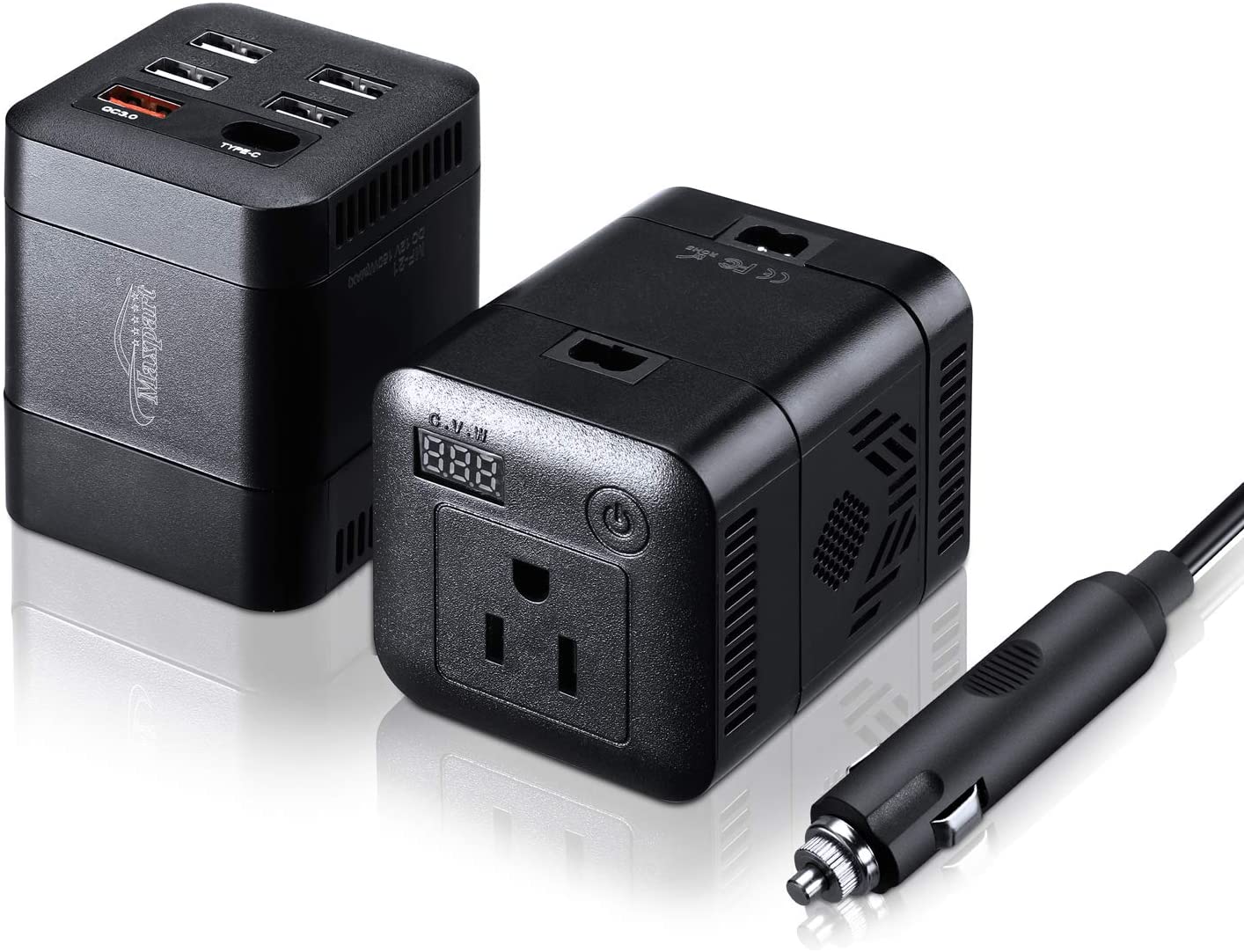 For a portable power inverter requirement, the Twing power inverter can be the best product. It comes in a small size that makes it portable and lightweight. The Twin 150W power inverter delivers 150W power that you can use to charge your devices. The Twing power inverter features safety chip that has the capability know the amount of current being supplied to the connected devices and it protects the devices from common electrical faults. According to the manufacturer, the Twing 150W power converter has more than 90% output conversion rate. With this capability, the modified sine wave inverter becomes more productive than its competitors do. The widely applicable power inverter has many advanced USB ports such as Type-C port, 2.4A USB ports and QC3.0 quick charge port. The full feature power inverter has all the features that facilitate easy operation. It has cigarette lighter port, ventilation holes, 110V AC electric sockets and power On/Off switch.
For many applications and mobile power needs, the Twing power inverter 150W is very good. Using this power inverter, you will be able to charge your cellphones, laptops, tablets, vacuum cleaners, shaver, car refrigerators and other small devices. Please make sure that the connected appliances do not have input power requirement more than 150W.
The 150W high power inverter delivers 110V output for all those devices that require 110V input power. First, it converts the DC power to AC power then it transfers the converted power to the connected devices. It has an 110V AC outlet and three USB advanced ports including a Type-C port to meet varied power consumption needs.
On the other hand, the Twing power inverter is highly safe to use because it is highly protected against electrical faults. You do not have to worry of common electrical faults such as short circuits, over-current, over-heat, over-load and other similar problems. It has the cooling fan to deal with the inverter heat so it maintains the inverter temperature to safeguard the inverter and connected devices.
Additionally, you can benefit from its ultra-portable profile because the portable power inverter measures 3 x 2.2 x 2.2 inches. The space saving unit is easy to store, easy to carry and easy to use. It is a lightweight inverter too because it weighs just 1.1 pounds. You should must buy such powerful power inverter that can also be a good mobile power adapter for the emergencies.
According to the Twing inverter manufacturer, their all inverters are certified from CE, FCC and ROSH so you do not have to worry of anything. Additionally, you get a long 2-year warranty with the purchase of this little high power inverter. Well, a dedicated customer service is always available to help you in case you get any problems.
Features & Specifications
150W output power
110V AC voltage
One AC 110V outlet
3 USB ports including a Type-C port
Widely applicable
Built-in cooling fan
Portable size (3 x 2.2 x 2.2 inches)
Lightweight (1.1-pound weight)
All round protection against short circuits, over heat, over load and over voltage
24-month warranty
Comes with additional replacement fuses
Cigarette lighter ports
QC3.0 quick-charge port
Ventilation holes to pass internal air
Pros
Good for charging small devices
For many customers, it worked amazingly
All the times, the power inverter stays cool
Simple, compact and easy to operate
2-year warranty
Cons
Many customers complained about the rated power of this power inverter.