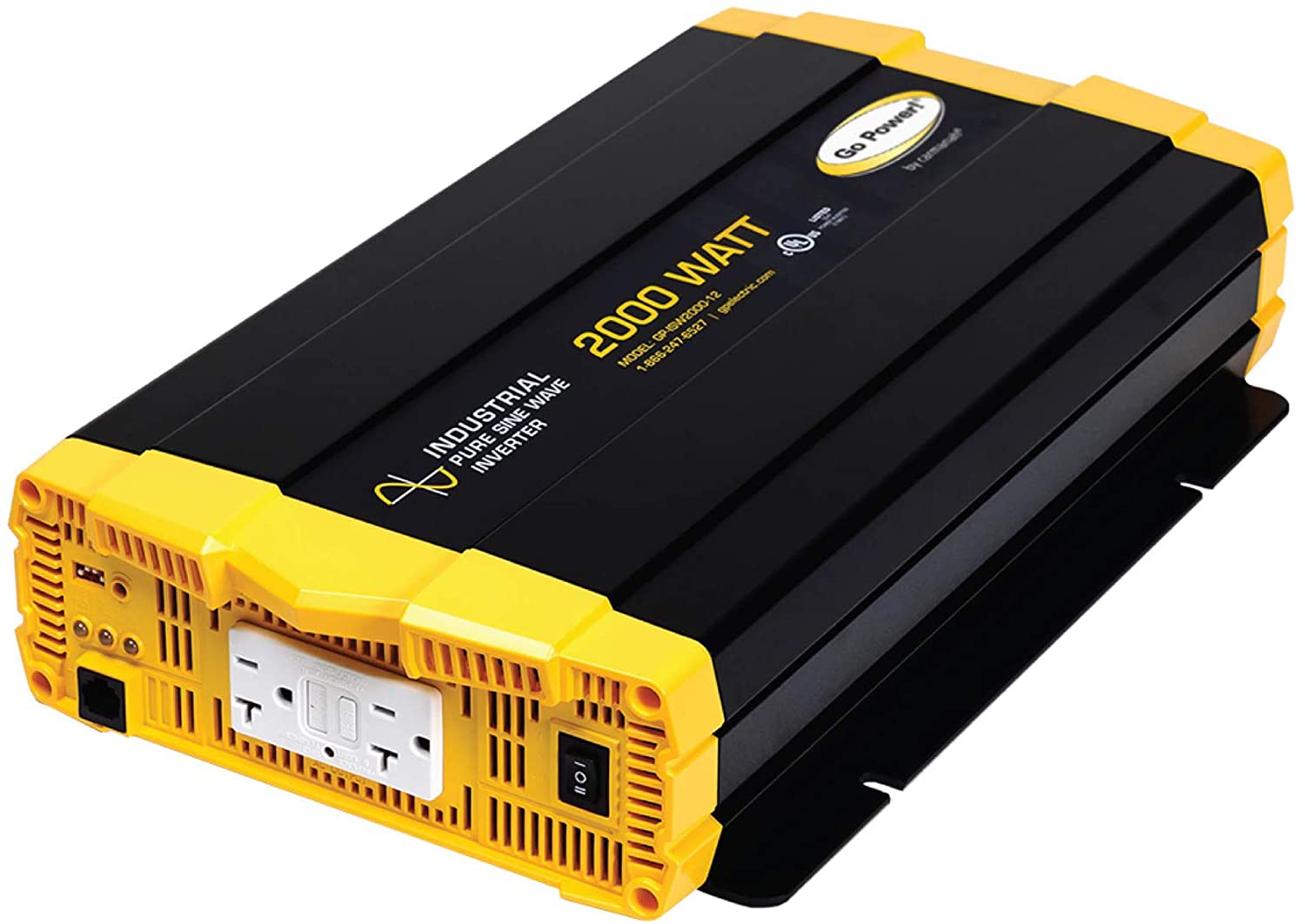 Go Power is a highly popular inverter brand. It makes good inverters from small to large. If you are looking to buy a pure sine wave power inverter, please check Go Power GP-ISW2000-12. The 2000W DC to AC converter has 4000W surge power and I tis an UL458 listed product.
The Go Power 2000W power inverter is an industrial-grade charging tool that is highly safe to use in many robust environments. Apart from being highly safe, it comes in an attractive slim design that fits in small spaces. The 12V 2000W inverter features two GFCI outlets; each outlet has 20A capacity. You can use these 110V outlets to supply power to your devices, home appliances, industrial tools and many other appliances.
It is a pure sine wave power inverter so it is in high demand because a pure sine wave inverter is preferred over a modified sine wave inverter. To use this GoPower inverter, you need a 12V battery after that you will be able to convert the battery power to 110V AC power to run your appliances. According to GoPower 2000W power inverter runs continuously on load up to 2000 watts. However, you should use a battery that delivers power for a long time if you intend to use this inverter for a long time. The GoPower 12V power inverter is also protected with a 2-year warranty.
For the inverter and battery connection, you need to purchase GP-DC-KIT4 separately. After the successful inverter and battery connection, you can start running your appliances. Please note that you do not load more than its rated 2000W power. Further, it has surge power that is 200% of its continuous power. If the surge power is used then 3500W is for 5 seconds and 4000W for one second. For operational and installation instruction, please refer to the instruction guide. I am sure you will find it easy for the installation and installation.
Highlights
2000-watt continuous power / 4000-watt surge power
Two GFCI outlets
Battery cables are not included
Converts 12V DC to 110V AC
Two years warranty
Slim design
Portable size
UL458 listed product
Highly safe to use
Pros
More powerful than popular inverters
Built like a tank
Delivers output power as claimed by the manufacturer
Two years warranty
Two GFCI outlets
Pure sine wave output
Stable and reliable operation
Cons
A little hard to install
Cables and other accessories are not included
The inverter fan is a little noisy