Ampeak 1100W power inverter review is based on comments and reviews supplied by its users on various selling platforms. In this review article, I will try to give as much information as possible, please keep reading.
Before I write key aspects of this product, please let me give you an overview on this power inverter, which will surely help you understand this product without reading the whole article.
Ampeak 1100W power inverter is a modified sine wave unit that converts 12V DC to 110V AC. Of course, most of the inverters are mainly 12V units because the users of these 12V inverters are more than 24V or 48v power inverters.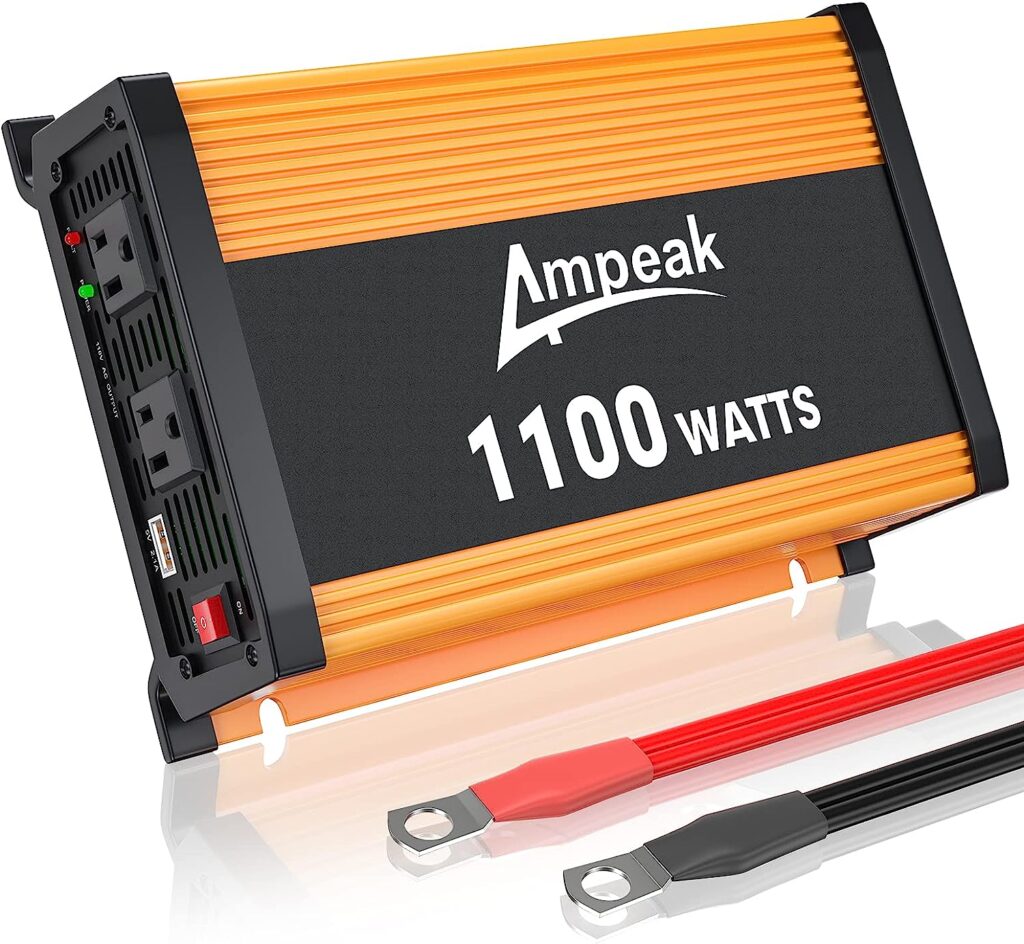 More importantly, it is an ETL approved inverter, so you are going to buy a certified product where quality and safety are ensured. The Ampeak power converter features both AC 110V outlets and USB outlets, so you will be able to run multiple devices.
Included components – the Ampeak 1100W inverter comes with 2 x O-ring terminal cables, 1 x screwdriver, a user manual and an 18-month warranty. You also get a 24-hour customer service when you have a question or you encountered a problem in the unit.
Key Features & Specifications of Ampeak 1100W
| Product name | Ampeak 1100W power inverter |
| --- | --- |
| Output wattage | 1100W |
| Input voltage | 12V |
| Output voltage | 110V |
| Waveform | Modified sine wave |
| Total outlets | 3 (1 x 110V AC outlet and 2 x USB ports) |
| Color | Orange |
| Certification | ETL approved |
| LED display | Yes |
| Warranty | 18 months |
| Included components | 2 x O-ring terminal cables and 1 x screwdriver |
| Item dimensions | 11.02 x 6.3 x 2.36 inches |
| Item weight | 2.26 pounds |
| Availability | Check on Amazon |
A list of specifications is written. The Ampeak 1100W power inverter has 3 outlets such as 110V AC outlet and two USB ports. It is a modified sine wave power converter, has LED display and other appropriate indicators. This product is protected against an 18-month warranty and is an ETL approved product.
Widely Applicable Ampeak Inverter Is Full of Features
The Ampeak 1100W power converter has 2200watt peak electricity, so it is very good to run a wide range of devices. You can easily run kitchen appliances, power tools, televisions and other electronics. The 12V Ampeak inverter is also very good for the emergency power needs, so if you face an electricity scarcity during the power outage, the Ampeak 110W inverter can be the best electricity generator that aptly converts your battery DC electricity to usable 110V AC electricity.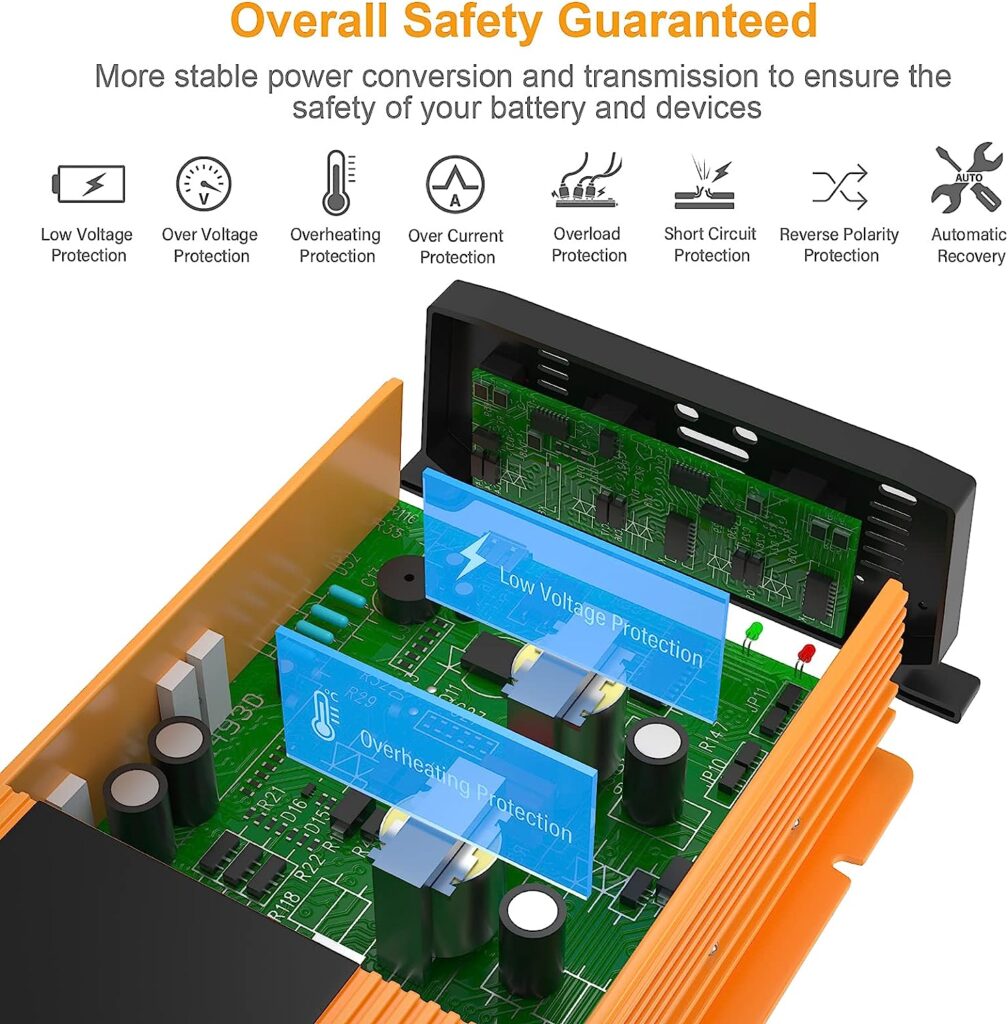 For the connection convenience and implications, the Ampeak 1100W power inverter features a 2.1A USB port and two 110V AC outlets. You will be able to directly connect this Ampeak inverter to your vehicle battery for the emergency power needs. Of course, it comes with all the connection cables and clamps for an easy connection.
Safety features – If I talk of its safety features, the Ampeak 1100W power inverter has almost all safety features to ensure a safe and reliable operation. To power appliances safely and stably, it has a soft start capability which can greatly reduce the start-up current shock. For overload and over-current protection, the 12V inverter has 4 x built-in fuses; these are powerful 40A fuses. For the temperature related issues, the Ampeak inverter features dual cooling fans to control the internal temperature.  The 1100W inverter is highly safe to use as it greatly prevents low-voltage, over-voltage, overload, short circuit and over heat.
Multiple applications – the Ampeak power inverter 1100W can be used for multiple applications. It is good for all your device charging needs. It is also a good converter to use in a vehicle, or use it in your homes as well as for the outdoor electricity needs. In fact, inverters are very useful in the emergency situations, so it can be a great electricity generator for hurricane, power outage, storm and more.
Pros
It runs quietly.
Quality product
Good price
Cons
A user warned that it is not good for a solar panel application.
Many users complained that it failed to output the rated power.
Fuses are not replaceable.
From the list of pros and cons, the Ampeak power inverter does not look a good inverter as many users are unhappy with this product. Only good things are the low price and a stylish look of the product. Many users complained about its load capacity as it failed to deliver the rated power. Please research more on this product before you buy it.
Conclusion – Ampeak 1100W Power Inverter Review
In short, Ampeak 1100W power inverter has disappointed many users because it does not bear the rated load. Of course, you will be able to run small devices under 100W input capacity but for more than 100W load, it may not be a good inverter. I will advise to check inverters from other popular brands like Bestek etc.