Numerous inverter brands are in the market. One of them is Samlex, which makes powerful and performative power inverters.
In case, you want a power inverter to power small devices, Samlex 120W pure sine wave power inverter can be the best unit for you.
The good thing about this Samlex 120W power inverter is the good performance and the high ratings on various selling platforms. Apart from the impressive performance, the 12V Samlex power inverter sells at an affordable price.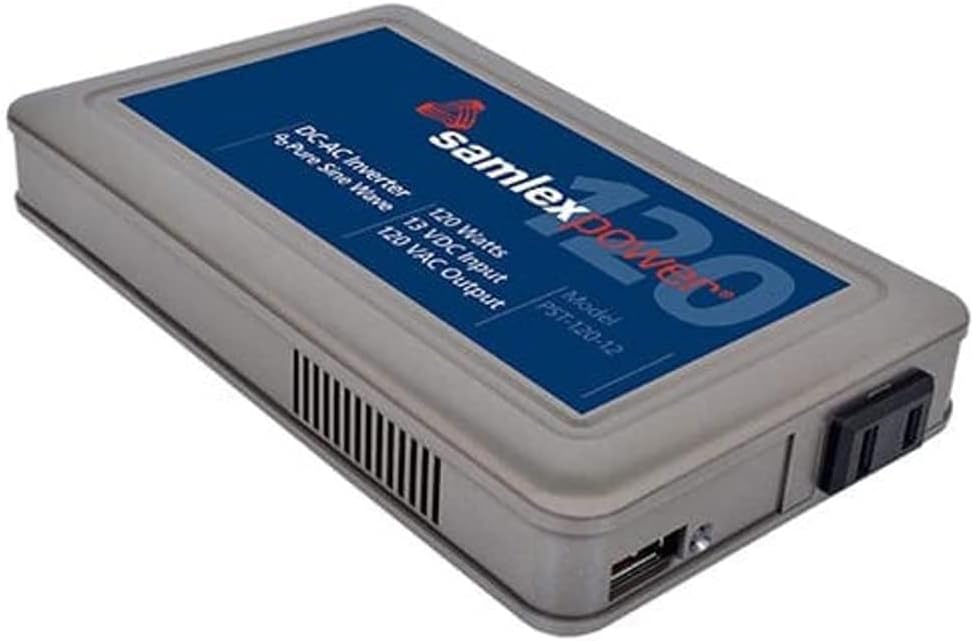 As mentioned earlier, the 120W power generator is very good for small devices with a USB port. It has one USB port and a 2-prong socket to supply the output power because it is a low-wattage power generator, which is mainly made to charge small devices on the go.
Key Features & Specifications of Samlex Power Inverter
| Product name | Samlex PST-120-12 |
| --- | --- |
| Input voltage | 12v |
| Output voltage | 120v |
| Output wattage | 120w |
| Waveform | Pure sine wave |
| Brand name | Samlex |
| Model number | PST-120-12 |
| USB port | Yes (5v USB port) |
| Temperature control fan | Yes (Runs quietly) |
| LED indicators | Yes |
| Alarm | Yes (Low battery and shut down alarms) |
| Color | Black |
| Country of origin | Taiwan |
| Item dimensions | 9.7 x 1.6 x 2.5 inches |
| Price | View on Amazon |
Key features and specifications of a product help a lot to understand whether the product is for specific requirement or not. Therefore, key features and specifications are written in the above table. From the spec table, I can say that it is good for powering small devices as it has just 120w output capacity. It converts the 12v battery power to 120V AC power to run various devices. It has all the features that are required for a comfort operation. The unit has LED indicators, safety alarms, connection sockets that you can use to run your appliances.
Great Portable Power Inverter – 120 Watts Output Power
Many users of this Samlex power inverter say that it is a fantastic product that runs quietly. It gives you clean 120v electricity and it does not have the annoying heat issue. The inverter fan runs very quietly.
The limitation is that it does not have a 3-pin socket; it has a 2-prong socket. However, you can buy a converter cord to use with this current conversion device.

If you are looking to buy a small size power inverter then the Samlex 120w inverter is for you. You can go with it anywhere you want because it is a lightweight and small-size inverter. Please do not forget the product name, which is Samlex PST 120-12. Users are using this power inverter happily with zero problems. As long as you consume less than the rated 120W power, this power converter will surely work for a long time.
More importantly, you are going to buy this product from a responsive company. If you encounter any problem, you will be assisted in a good manner. I read some reviews where a user mentioned that he was able to get a replacement cable after 3 years of use.
As per the product creator, it is a high efficiency DC to AC power converter as it greatly converts the 12V DC power to 120V AC power in pure sine wave electricity quality. The unit has a slim design that facilitates easy handling and it can be the best portable power inverter for the frequent travelers. It features a USB charging port to charge all those electronics that have a USB port. More importantly, it is highly safe to use because it has several protection features including overload protection, short circuit, low battery alarm, replaceable uses and others. More importantly, it is an ETL certified product, which is approved for use in hospitals and with many appliances that require clean electricity. Impressively, Samlex 12V power inverter comes with a cigarette lighter plug too.
Pros
Many users have been using it for years without a problem.
Slim design
Portable and small size
USB port to charge small devices
Good for charging electric razor, laptops, toothbrush and other small devices
A highly dependable product
Many users say that it is better than average power inverters.
Responsive customer service
Cons
A user didn't receive the power cord.
It has just two output sockets including a USB port.
Pros and cons on Samlex 120w power converter have been mentioned. It is a reliable product undoubtedly because most of the users are happy with the purchase. More importantly, the product is backed by a responsive customer service, so if you get a problem, you will be assisted very well. It is a slim design power inverter that is traveler friendly as it is in a small size. On the down side, as per a user, it didn't come with a power cord so the user had to purchase the power cord separately. And, it has limited output sockets.
Conclusion – Samlex 120W Inverter
At the end of Samlex 12v to 120V converter, I would say that it is one of the best power inverters in a slim design. It is highly portable and delivers reliable performance. The output comes from this unit is pure sine wave so it is perfect to use with all those devices that accept only clean electricity. Of course, you will not be able to run heavy appliances using this power inverter but it is perfect for charging small devices.