Dokio is a brand name that makes solar panels. Their solar panels are liked by people because the panels deliver good performance. You can see DOKIO 110W portable solar panel. People buy this solar panel because it is think (0.5 inch) and the weight is just 6lb. The dimensions are also favorable to make it a portable solar panel because it measures 21 by 20 by 1 inches. Therefore, the Dokio 110W solar panel is very convenient to take it from one place to other place.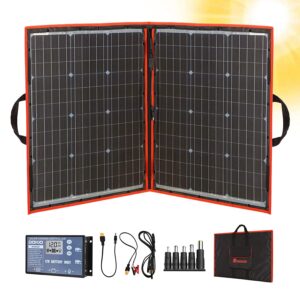 Good for Outdoor Activities – the foldable solar panel features a long cable (3m). Therefore, the controller can be placed 3M away from the solar panel. According to the manufacturer, the Dokio solar panel is very good for many power stations such as Goal, Jackery, Zero, Paxcess, Ecoflow and others. It can directly be connected to batteries such as LiFePo4, AGM and others.
Good Conversion Capability – Dokio 110-watt solar panel is made of several monocrystalline cells. These solar cells are highly efficient to attract sunlight. Well, the small size of this solar panel will not give any negative affect for getting maximized current.
Complete Kit – the solar panel is highly protective to common electrical faults such as short circuit, reverse current, overcharging etc. The panel features USB ports (5V 2A) that can be used to charge USB devices.
Highlights
Monocrystalline silicon solar cells
CE and ISO certified
Approx. 20% higher efficiency than others
Protection against overload, overcurrent, short circuit and overcharging
Accessories: 10A controller, 9.8ft cable (XT60 to alligator clip), 5xDC conversion adapters
Pros
Customers are happy with the purchase. The solar panel keeps their battery charged all the times.
Many say that it is good for the price.
Highly protective
CE and ISO certified
Foldable panel is smaller than others are.
Cons
The connection cables are very thin.
It should read to its customers in better packaging.
The controller is not waterproof.
Many customers complained that they only get approx. 70 watts in full sun.
Conclusion
To conclude, the Dokio 110W solar panel comes with many advantages that may not be found in ordinary solar panels. This panel is foldable, portable and highly protective against short circuits and other faults. More importantly, it features two USB ports that allow direct device connection. Such panels are perfect for emergency power backup, RVs, travelers and many other purposes.