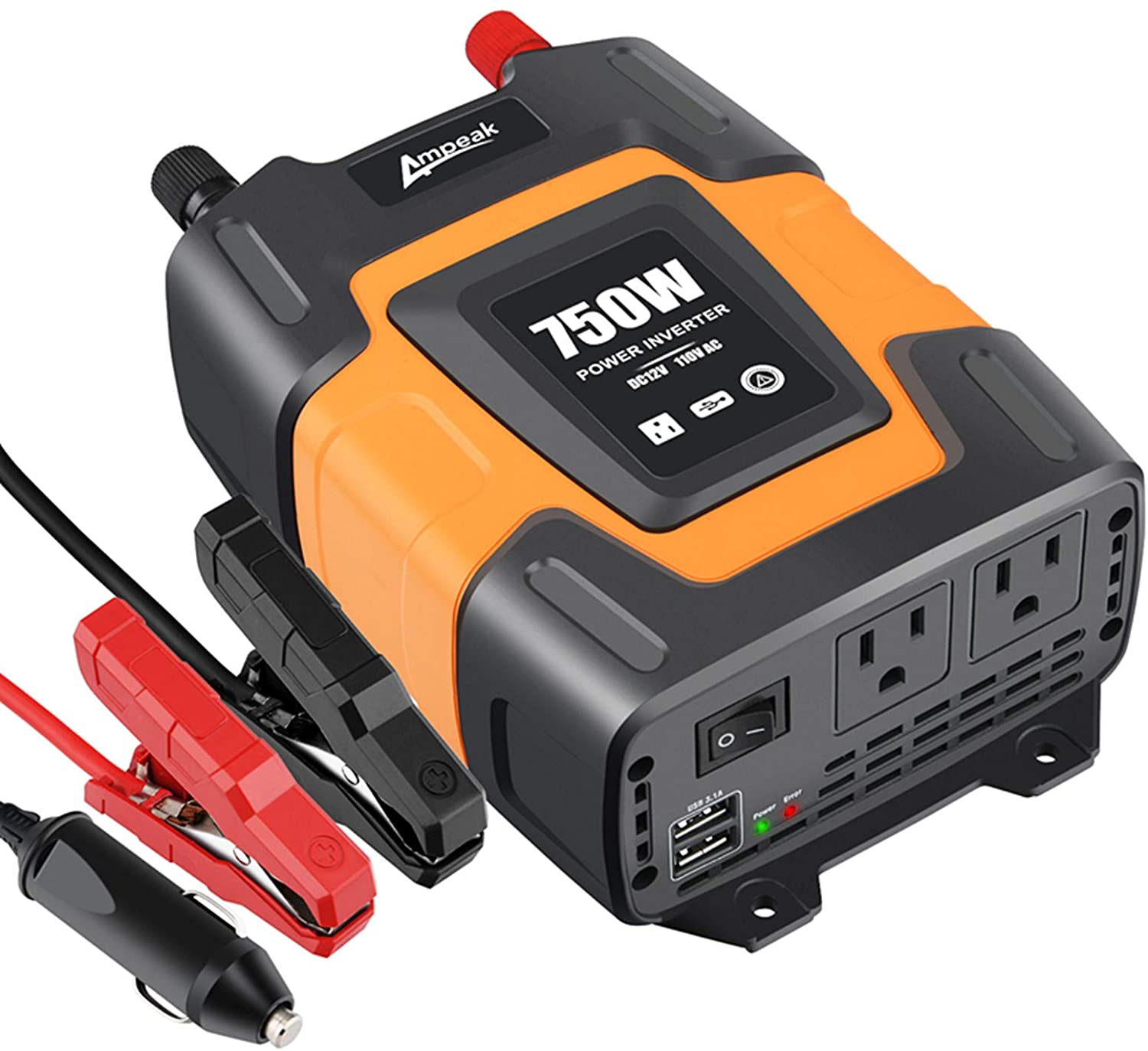 Ampeak offers uniquely designed inverters. In case, you need to buy a good power inverter, please check Ampeak 750W power inverter. The 750W inverter is highly popular on Amazon. It is also an affordable product. This inverter is available in many wattages such as 100W, 400W and 750W. Of course, for the higher wattage inverter, you need to pay a little high. Well, depending upon your budget and power requirement, you can choose a size. I will recommend buying this 750W inverter because it can be used for multiple purposes. You can use it in vehicles, homes, camping and somewhere use because the 750W is sufficient power to power your kitchen appliances and personal gadgets.
This Ampeak 750-watt power inverter comes in a portable size that measures 7-inch by 5.2-inch by 2.8-inch (LWH). According to the manufacturer, the 12V DC to 110V AC power converter weighs just 3 pounds.
Well, the manufacturer calls it the powerful and practical inverter. The powerful inverter has 750-watt continuous power and 1500W peak power. It does a good job of converting DC power the AC power. This Ampeak power inverter has two USB ports of 3.1A capability. It has dual 110-volt AC outlets. You can use these connection sockets to charge your laptops, cell phones, digital cameras and other devices.
The Ampeak 750W power inverter is protective from all sides. It greatly protects the connected appliances as well as the inverter itself. The power inverter has three replaceable fuses of 35A capacity. It also features a cooling fan that gets rid of overheating issues. The inverter has auto shutdown capability when it detects unusual voltage, short circuit and high temperature.
In case, you are looking to find a uniquely designed power inverter, I am sure you will love the design of this power inverter. The unique design makes it look impressive that is loved by all. Apart from the unique design, it has a user-friendly design too. It allows operation termination according to the uses. You can say that it has a user-friendly switch that helps control the inverter based on the usage. You will be able to see the operational information with the help of the LED indicators. It also has an audible alarm that lets you know about the bad thing happening in the inverter.
Additionally, the 750W power inverter comes included with the alligator cables that you need for the battery connection. Also, it has the cigarette lighter plug that is helpful for the car battery connection when you are in a car. So, being in your car, you will be able to operate your desired devices such as laptops, mobile phones and other favorite gadgets.
Well, most of the parts of this Ampeak power inverter are made of ABS materials. You should know that ABS material is very helpful to make the product safe and durable. One thing more, the manufacturer (Ampeak) says that all their products are ETL certified. So, you do not have to worry of safety related things. These inverters are highly safe to use in homes, vehicles or somewhere else. In case, you stuck technically, a 24-hour customer service team is always available to help you out. For the peace of mind, the power inverter comes included with an 18-month warranty. Read more…