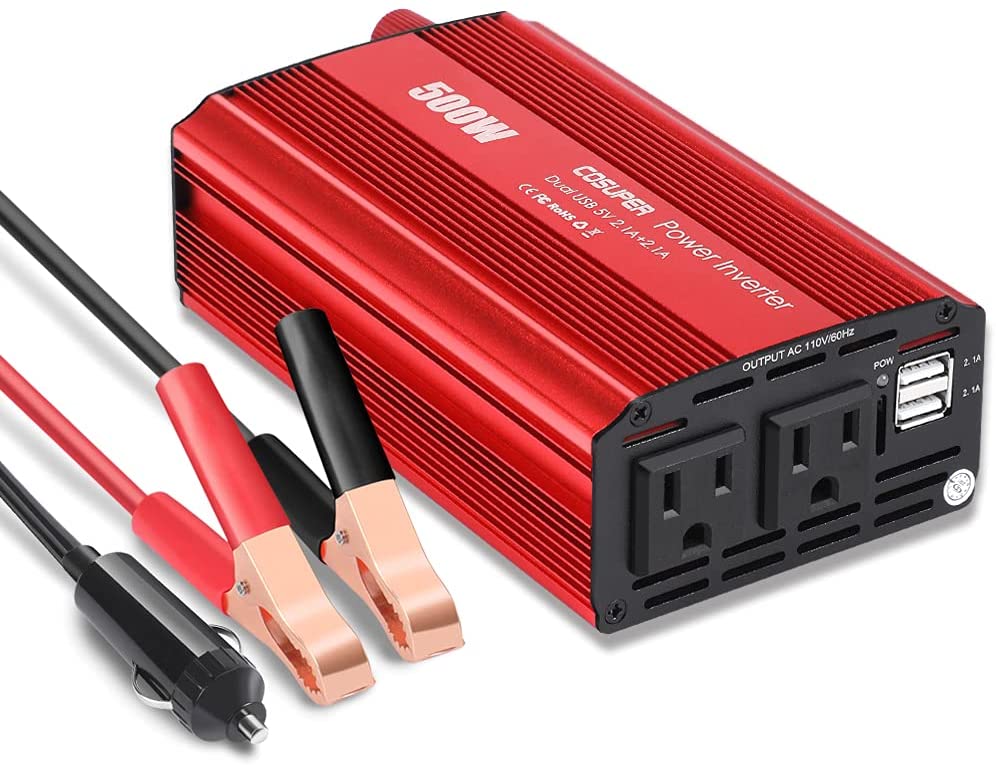 Soyond may not be as popular as BESTEK, AIMS and other popular inverter brands but it makes solid and low-price power converters. Most of the Soyond power inverters are 12V to 110V inverters that are good for varied applications. If you are searching a good 500W power inverter, you can consider Soyond 500W power inverter as well. The reason of suggesting this power inverter is the upgraded model of Soyond 500W power inverter. In the upgraded version, many improvements have been done, so it is highly recommended to buy.
The 12V Soyond power inverter features dual USB charging ports (2.1A) and dual 110V AC outlets. Using these power outlets, you can supply power to your home appliances, small gadgets and other USB and AC power devices.
DC 12V to AC 110V Soyond Inverter features a silent cooling fan that runs on variable speeds. The cooling fan is a great way to keep the inverter's internal system cool because it runs conditionally, usually on high load or on high temperature. The inverter is designed in a way that makes it highly secure and the fan noise is greatly reduced. As a result, the Soyond 500 watts power inverter is highly safe from over-heating and other temperature issues.
The 110V Soyond power inverter delivers 500W rated power and 1000W serge power. It has AC outlets and USB ports that you can use to connect several devices at the same time. Please make serge that the overall power consumption does not exceed its rated 500W output power.
For the battery connection, the Soyond power inverter comes included with a cigarette lighter plug and alligator battery clips, you can use these plugs and battery clips for the car battery connection. Such convenient and easy to install power inverters are ideal for camping, road trips, long hour driving and various outdoor activities.
The Soyond power inverter 500W has multiple protection mechanisms. Thus, it greatly protects your devices, battery and the power inverter itself. It provides protection against short circuits, voltage fluctuations, over inverter temperature, overload and many others. In operation, if you stuck somewhere, please do not hesitate to connect the Soyond customer service team.
Important features and specifications
12V inverter input power
DC to AC power conversion
500W output power
Smart cooling fan
Dual USB ports and dual 110V AC outlets
Cigarette lighter plug and alligator battery clips
Great for emergency power backup, vehicles, homes and DIY
Multi-protection mechanism
Available in different colors and sizes
Pros
Soyond power inverter is shipped timely and promptly to its customers.
Perfect for vehicles, power failure, household appliances
Low price
For many customers, it worked as expected.
Cons
Cables are short.
A little noisy