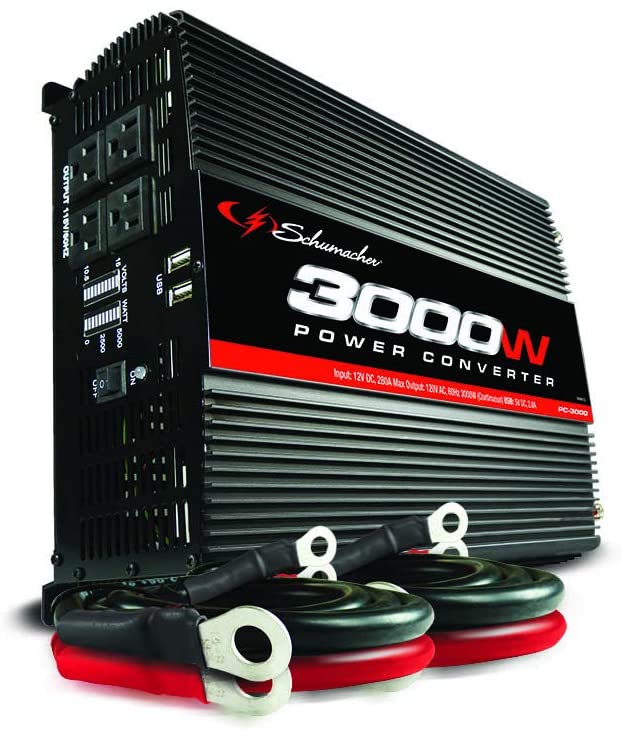 In case, you want to buy a reliable power inverter, please check Schumacher DC to AC power inverter. The 3000W power inverter is available in many sizes such as 1000W, 1500W, 2000W and 3000W. Please choose a suitable size depending on your power usage requirements.
The Schumacher 3000W power inverter is perfect for powering heavy appliances because it delivers 3000W continuous and 6000W peak power. You can also use it in vehicles, just connect it with the 12V DC vehicle battery then this power inverter will give you 120V AC household electricity.
Like popular 12V power inverter, the Schumacher 12V inverter comes with many advanced features and capabilities. It has a low-battery alarm, high-speed cooling fan, dual USB ports, NEMA 5-15 USA AC outlets and many other protection features. So, the Schumacher 120V power inverter is highly safe to use in any environments. It has overheat protection, surge protection, short circuit protection, over-heat protection and many other protection capabilities.
The Schumacher 12V power inverter is very simple to use because it has an easy-to-understand control and on/off switch. It also features an LED light indicator that lets you know when the inverter is in the operation mode and it is converting DC to AC power.
Such powerful Schumacher power inverters are perfect for many applications because you will be able to run your AC 110V appliances and USB-based devices. You just need to connect it with a 12V battery then you will be able to use the AC output. Such professional-grade power converters are perfect for vehicles, travelers and people involved in outdoor businesses.
The easy-to-use Schumacher power inverter is very easy to install, you just need to connect to a 12V battery using the battery cables. Upon successful inverter and battery connection, you will be able to use the ON/OFF switch and LED indicator to monitor the power usage. You can use these 110V power inverters for running heavy appliances because it features four NEMA USA-based AC outlets and two 5V USB ports. The 5V/2A USB ports can detect devices automatically and deliver a fast-charging performance. Further, the power inverter is thermally controlled because it features two cooling fans for the constant cooling. Additionally, it is surge protected to protect against voltage irregularity.
Best features and specifications
Four NEMA AC 120V outlets
Two USB 2A ports
Two high-speed cooling fans
Surge protection
Easy to use
Battery cables with ring terminals
Perfect for power tools, emergency power backup, vehicles, homes and offices
Made in China
Schumacher brand
PC-3000 model number
Ground wire, battery cables and owner's manual included
12V DC to 110V AC power converter
LED light indicator
3000W rated power and 6000W peak power
Available in multiple sizes
Pros
Accessories included
User manual included
A well-made from outside
Two cooling fans
Looks solid
Cons
Failed to deliver rated power as per many customers
Does not last for a long time