The price of this Landnor 2000W inverter is very good but Landnor seems a new brand in the inverter market. Therefore, I am not so confident to this product. Please keep reading Landnor 2000W Inverter Review to know more about it. Please know that the review will be based on its features and what its users have said about it.
Since Landnor is a new inverter brand, so it does not have many varieties. It has just two: 1000W and 2000W inverters.
Since these Landnor inverters are very affordable, so you may try them.
Of course, the Landnor inverter has almost all the features, which are found in a normal inverter. It has 3 AC outlets, two USB ports, AC terminal block, and car battery connection capability. So, it can be used in your car, home to charge a wide range of appliances.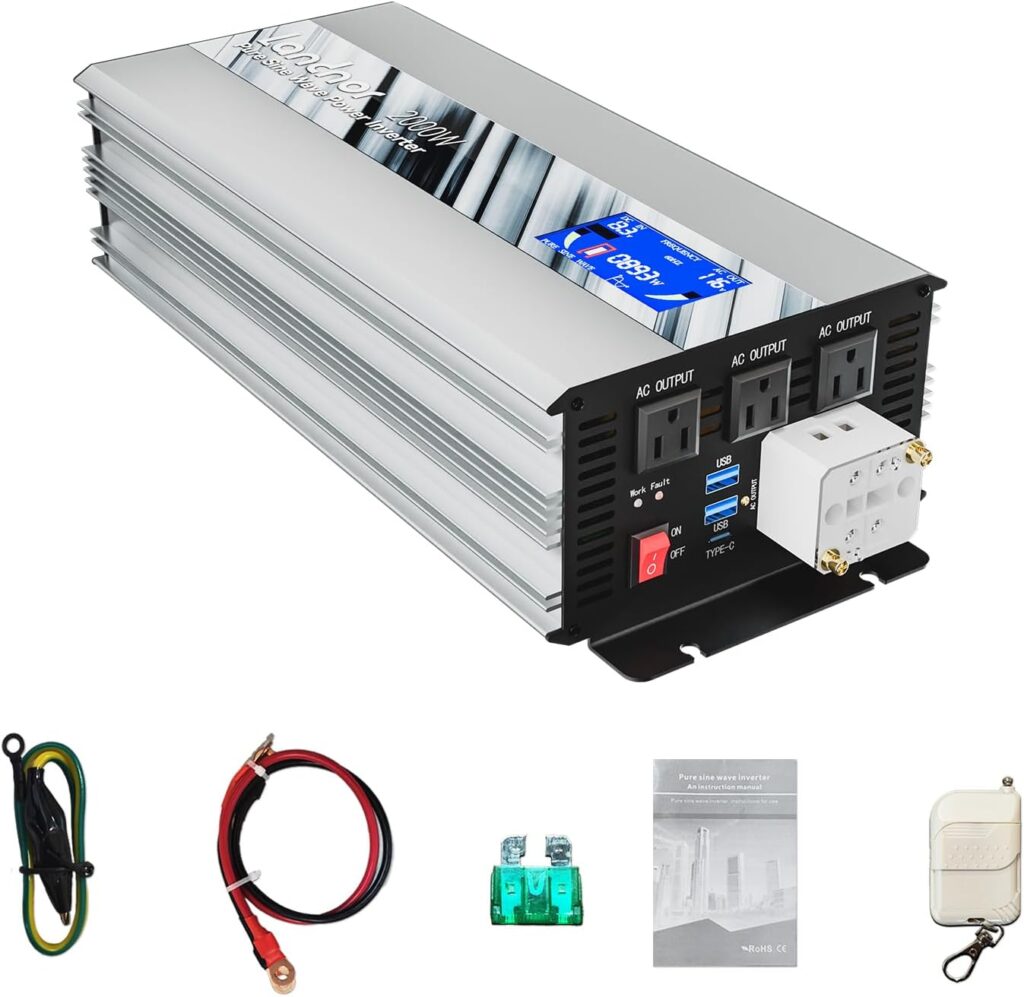 Pure sine wave electricity generation – the Landnor 2000W inverter is a pure sine wave unit, so it may work with any device you connect to it because it is capable to provide clean power to the connected devices.
4000W peak power – the 2000W inverter delivers 4000W peak power for few seconds to run those large appliances that require a bit extra startup power for few seconds.
Many standard features – the Landnor inverter has many good features including smart-chip protection, 92% nominal efficiency and 6500 RPM cooling fan.
Average Quality Inverter – Landnor 2000W
A user said that the user manual is not written well: a bit difficult to understand because it was a Chinese to English translation. He didn't find all the specification in the manual. As per the information provided by this customer, the display reading is not accurate. Further, he said that the output wattage was close to the rated wattage. In short, as per this user, the Landnor 2000W inverter was a good value for the money.
Another user said that it was very powerful and simple to install. He was able to run a 1500-watt heater successfully. He suggested checking the power source to get the required energy, and the power cable should be very good.  It features a remote controller, which gave much convenience for the operation related things. So, it was a great inverter for this user for their work related requirements.
Highlights of Landnor 2000W Inverter
2000w continuous power
4000w peak power
12v input voltage
110v output voltage
3 x 110V AC outlets
Dual USB ports
Type-C port
Compatible with multiple battery types like GEL, LI, AGM, SLA, FLD, CAL & USER
Optimized for 12V DC system
LCD display
Pure sine wave output
6500 RPM quiet cooling fans
Smart chip protection
92% nominal efficiency
Landnor brand name
10.98 pounds weight
17.6 x 8.9 x 6.5 inches product dimensions
Wenzhou Renshang manufacturer
Made in China
I listed all the important features and capability, so that you won't have a problem in taking the buying decision. Most of the features look impressive to me. The 2000W inverter is good for running most of the household and car appliances. The Landnor inverter is quite efficient and protective to the electrical faults, temperature issues and load issues. It has 6500 RPM cooling fans, which work conditionally based on the temperature. For the connection related things, it has many AC outlets and USB ports including a USB-C port.
PROS
It delivers close to the rated output power.
Easy to read display
It has several AC outlets and USB ports.
A well built unit with good finish.
Pure sine wave output
It has a remote controller, which is quite helpful for most users.
Very good price
Super handy remote control
Very easy to use
CONS
The user manual is a bit difficult to understand, it lacks important spec information too.
It is a bit heavier than expected.
The Landnor 2000W inverter is quite good. It has many impressive features like a handy remote controller, digital display, smart-chip protection feature, cooling fans and more. I see it is a good inverter, which is very easy to use. Most of the users are quite happy with the unit. More importantly, it sells at a competitive price if you buy it from Amazon. On the downside, the inverter is a bit heavier than expected, and the user manual needs improvement. By purchasing this Landnor 2000W inverter, you will surely get the value for the price, so go for it! It is highly recommended from my side.