If you are looking to buy the latest solar water pump, please read GAIZERL Solar Bird Bath Fountain Pump Review. It is a 4-watt solar water pump that has nice features including colorful LED lights, 8 nozzles, a powerful battery and many other great features. Such products are great for decorating a garden, swimming pool, bird baths, ponds and various outdoor decorations.
This product is available in two varieties such as 60 LED lights and 30 LED lights. You can go with either one as per your requirements and the budget. Of course, the 60 LED lights style would cost you more than the 30 LED lights style.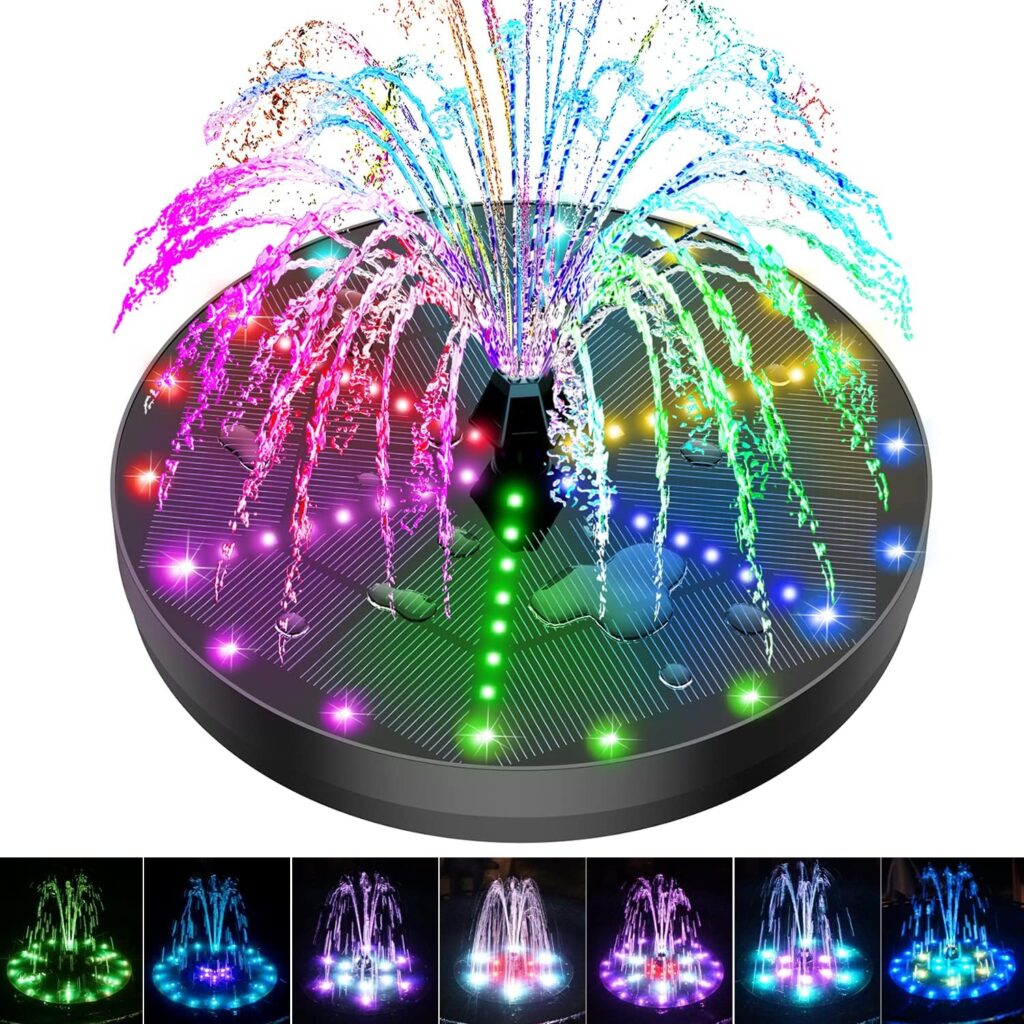 The GAIZERL solar water pump is an eco-friendly product, which is powered by a powerful battery charged from the solar energy as a 4W solar panel is included with the package.
Most of the people go with the 30 LED lights model despite not much price difference between the 60 LED lights model and 30 LED lights model.
In the product description, it was written that the product is made of plastic material. I am not sure about the type of plastic used as there was not much information about that. Also, I am not sure about which part is made of plastic material.
Regardless of the material used to make the GAIZERL solar water pump, it would let you enjoy the fantastic lights in night. The manufacturer says that it is a great product to create millions of colors and beautiful scenes at night. Of course, it is a great decorative item which will bring you a fantastic lighting experience.
Water Shortage Protection & Easy to Install
Most solar water pumps come with the water shortage protection, so this one has the water shortage protection too. The mechanism is based on water level senses, so when the water level goes below certain water level, the water pump will automatically shut off.  Therefore, you need to keep sufficient water in the bird bath to get rid of the water shortage and accidental shut off. The manufacturer says that this product is based on the double protection mechanisms to increase the overall life of the product. To overcome debris accumulation and other similar things, the water pump has three filter sponges.
And, it is very simple to install as you don't have to go through an assembly process. You just need to keep the fountain in water. It will start working within few seconds. Of course, it should be in a proper sunlight area so that it would attract solar energy to start working. The included battery is charged from the solar energy. Overall, it is a great product! The manufacturer says that it is a paradise for birds in summer, and it winks at night in your garden.
A Bit Larger & Heavier
A user wrote a review on Amazon just after two days of the use. He said that it was working as expected. However, for him, it was a bit heavier and larger than he had used one previously. As per his experience, the LED lights worked fine at night, and the LED lights were very attractive and beautiful. As long as the battery is charged, the water fountain works well. He said that he used such products throughout the year except the freezing weather. As per his expectations, these products have approx. 1.5 years life span.
Another reviewer tagged his review as a cool addition. As per this user, the main problem was to maintain at least 2.5-inch water for it to work. As long as it has sufficient water and the battery is charged, it would surely show the magic. This user had a lift in the middle so he needed to fill the water daily.  Further, since it is a black color product, it is not very pleasing during the day. He said that the pump worked great and the color at night was great addition to his patio.
Highlights – GAIZERL Solar Bird Bath Fountain Pump
4W solar panel
7 nozzles
4 fixers
Colorful LED lights
Perfect for swimming pool, garden, pond, bird bath, outdoor decoration
Water shortage protection
Easy installation, no assembly required
1.39 pounds weight
8.35 x 8.23 x 1.81 inches product dimensions
GAIZERL brand name
SP23F1 model number
Battery operated product
Included components: 3 filter sponges, 4 plastic pipes, 7 nozzles, 1 solar fountain pump, 1 user manual
Some of the key features and capabilities are written above, which would be helpful to know the GAIZERL solar water pump very well. It comes with all the required accessories including nozzles, plastic pipes, fountain pump, user manual and more. It is a battery operated product so it would work in night also unlike other solar water pumps that only work in day.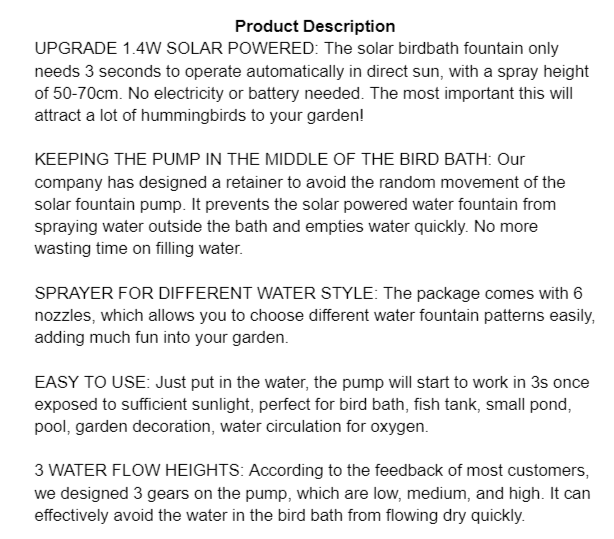 PROS
Everything works as expected.
LED lights work great at night.
It is very attractive and entertaining.
The pump works well.
It may work even in the cloudy day.
Very powerful
Varieties of colors and nozzles to choose from
LED lights work for more than 6 hours till the battery discharged.
A long lasting product, as some users have been using it for more than 2 years.
Great customer service
Powerful 4000mAh battery
Automatic shut off feature based on the water level
CONS
A bit larger, heavier than expected
It may require a regular maintenance.
The pros and cons of the GAIZERL soar fountain are extracted from various users' reviews. If you are the future buyer of this product, it would be a great buy for you because it is a great product to decorate your surroundings, outdoor areas, and patio. During the day, it is good to attract birds. Of course, it has various functionalities so it would be very useful as per your preferences. It is a long lasting product, which is also a battery operated product. The 4W solar panel is quite good that attract solar energy even on the cloudy days.