If you are looking to buy a super low price solar powered water pump, please read Biling Solar Water Fountain Pump Review. I am sure it would be a good product if you are looking to buy a budget water pump.
The manufacturer says that it is a high-grade water pump that runs from solar energy. The water pump comes with a rotatable solar panel (180° rotatable) to get the maximum energy from sun. Also, it is a quite durable product that has more than 10,000 hours of operational life.
Of course, the entire system runs on a powerful motor; the motor is designed well. It is a brushless motor, which can last for a long time.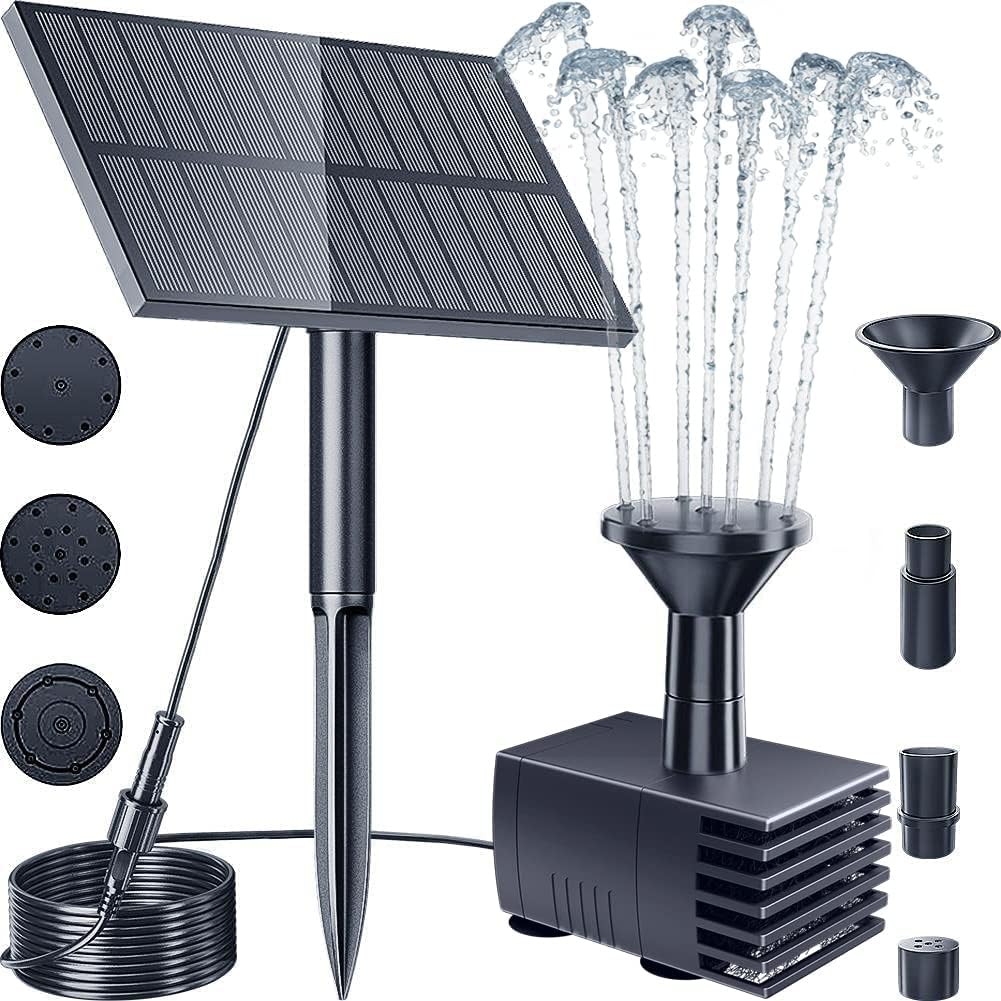 For the installation simplification, the water pump is designed in a small size but has high performance. You can easily screw it on the wall or ground. You will not require a tool when you want to detach it because it is very easy to remove from the wall or ground; and it is quite easy to clean as well.  Of course, the Biling solar powered water pump is a great product for the garden decoration, bird bath and many other purposes. Impressively, it is a good product to invite beautiful birds in your surroundings, which gets the energy from sun, so no need to pay the monthly electricity bill.
Four Types of Spray Heads
Biling Solar Water Fountain Pump features 4 nozzles, so it has 4 types of spray heads. Each head has its own unique water flow style and height.
The Water pump will start working within seconds as soon as the solar panel gets the sunlight. Please know that the height of water is totally dependent on the intensity of the sunlight.
More importantly, you are going to buy a solar water pump, which is an environment friendly product because it runs on the green energy. Moreover, it is a great life-saver product for birds as it gives the word the needed water to drink and bath.
Of course, it is not limited to the bird bath usage; it is also great for fish tank, small pond, garden decoration, pool and more.
On a precaution note, I will like to tell that the water pump needs sufficient water to run properly, so please keep cleaning the solar water pump.
And, you don't have to worry much as it comes with a 30-day money-back guarantee and 1-year replacement guarantee. Therefore, if you get a problem within one year, you are in a safe hand. Please know that this Biling solar powered pump does not come with tubing.
Great Product But Needs Enough Sunlight
As per a user comment, this Biling brand solar pump works when there is enough direct sunlight hitting the solar panel. As per his experience, a sunny day is not enough.
Therefore, the user went for a solar pump that runs on a backup battery power too. He also bought the tubing and other required accessories for approx double the price of this unit. He said that before buying this product, he researched well on YouTube but he was wrong. For him, the battery powered solar pump worked well.
For another user, it was a cute solar pump that worked well. Actually, for the $10, he didn't expect much but he was wrong. He said that it was a great little bird bath fountain that doesn't push out too much water but it was sufficient for the bird baths. However, he wished it had a battery feature so that it would work even in the cloudy days.  At the end, he said that for the money, it was a great little pump.
Good for Attracting Birds
The Biling solar pump is a great way to attract the birds. A user said that it was not a large fountain pump; he was yet able to attract several birds in his pond. Actually, it was installed on some rocks and the surface of the water. The user had a shallow end pond for the birds. He installed it in 3 inches of water and covered it with small rocks. The solar pump was able to move the water sufficiently for the birds finding the pond. He saw that when the water was still, the birds were not able to find the pond. Within one week, it was able to attract several birds like doves, jays, nuthatches and many others.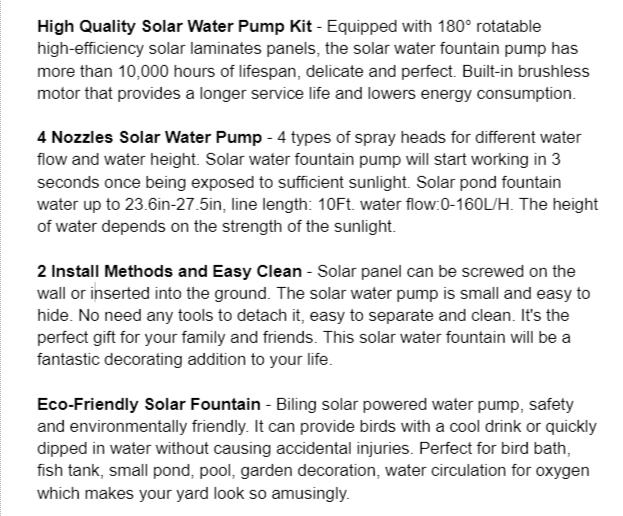 Highlights – Biling Solar Powered Pump
3.2 x 5.4 inches solar panel size
1.4 x 2.2 x 1.2 inches water pump size
5.5V / 2W solar panel capacity
4.5V to 10V DC input (Brushless pump)
27.5 inches max water height
4 types of spray styles
Package: 4 x nozzles, 1 x user manual, 1 x pouch of fittings, 1 x solar power mountain pump
Black color
Plastic material
160 liters / hour maximum flow rate
Made in China
Applications: fish pond, swimming pool, water jar and birdbath bowl
If you are interested in buying this Biling water pump kit, reading the product highlights would be beneficial. I tried listing all those highlights and features that would give you a complete overview of the product. Of course, it is a feature-rich product, which comes at a low price.
PROS
This is a cute little bird bath fountain.
Great customer service
Supported with one-year replacement guarantee
It is very good to attract birds.
It gives a sufficient water flow for the birds.
CONS
It is not operated on a battery.
Needs enough sunlight to run properly
It is not as powerful as advertised.
The tubing is not included in the package.
The Biling solar water fountain pump has both pros and cons. Of course, it is a good product for the bird bath. It gives sufficient water to attract the birds, and the product comes with a one-year replacement warranty. Please make sure that you put the solar panel in the place where enough sunlight is available. Of course, it needs enough sunlight to work well. This product is supported with a great customer service, so if you have a question, please contact the customer service team to get the answer. Please know that this product is not operated on a battery as it runs on the solar energy only, when the sunlight is present, it would work, otherwise it won't work. Some users have complained that this product didn't come with the tubing. I hope Biling Solar Water Fountain Pump Review was helpful to you.