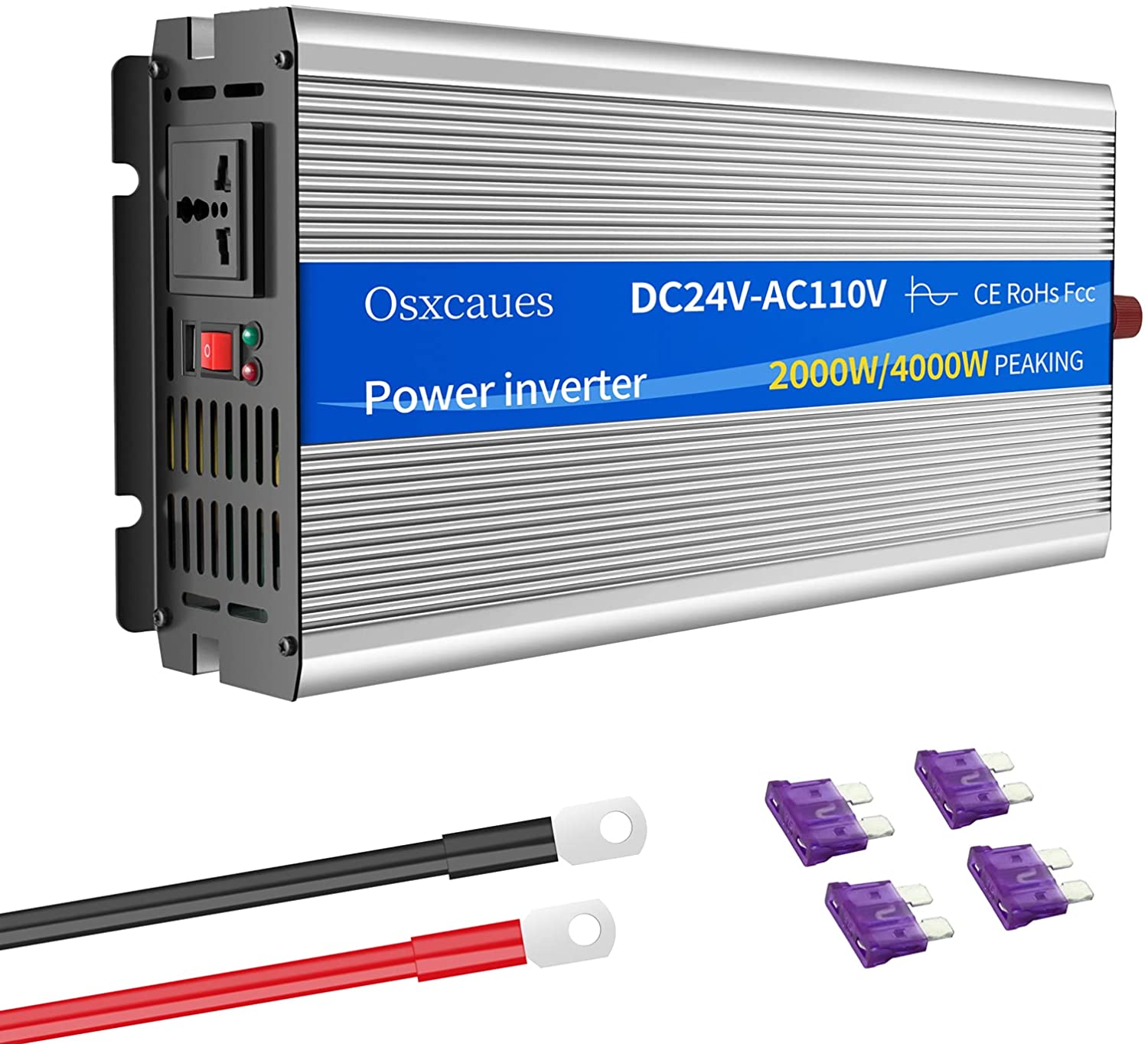 OSXCAUES is a brand name that makes power inverter. This inverter brand looks like a new brand to me. However, their power inverters look very impressive, solidly built.
In case, you prefer to buy a power inverter from a new manufacturer, you can go with this OSXCAUES 2000 watts inverter. I am saying so because some people want to buy products from a new brand because they are cheap and most of the times these new brands have good quality products.
So, OSXCAUES 2000W power inverter is an affordable unit that sells on Amazon and other internet websites. Well, I noticed many good reasons of buying this new brand inverter. The first thing is the low price. Second thing is the good power quality because it is a pure sine wave inverter. Third thing is availability in 12V and 24V input power.
In case, you want to buy a 12V power inverter from OSXCAUES, you can buy a 12V power inverter as well. This manufacturer has both 12V and 24V power inverters. However, this review is on the 24V power inverter.
This pure sine wave power inverter offers 2000 watts continuous and 4000 watts peak power. It greatly converts 24V battery power to 110V AC power. To consume the converted 110V power, the OSXCAUES inverter has one 110V AC outlet and one 2A USB port. Most power inverters come with at least two 110V AC outlets and two USB ports but this one comes with one AC outlet and one USB port. So, I will say that this is the major drawback in this power inverter.
The multi-protect 24V power converter is based on soft start technology and it has many safety features to keep the connected devices safe all the times. As a result, the power inverter protects these devices from over-voltage, over-loads, short-circuits, over-heat and reverse polarity.
OSXCAUES 2000 watts power inverter can be used for multiple purposes. In fact, the manufacturer says that this power inverter is wide applications. The inverter has many uses because it delivers 2000W pure sine wave power. The 2000-watt power is sufficient to tackle most of the power requirements in emergencies, vehicles and camping. In fact, it is not limited to 2-3 places, you can carry it anywhere you go and use it according to your power requirements.
From the outside, the inverter is very solid because it has aluminum housing that makes it robust and protective. Such strong inverters will not be damaged from bumps, drops and other outer influences. It has a protective design so it delivers reliable performance even in varied situations. Read more…