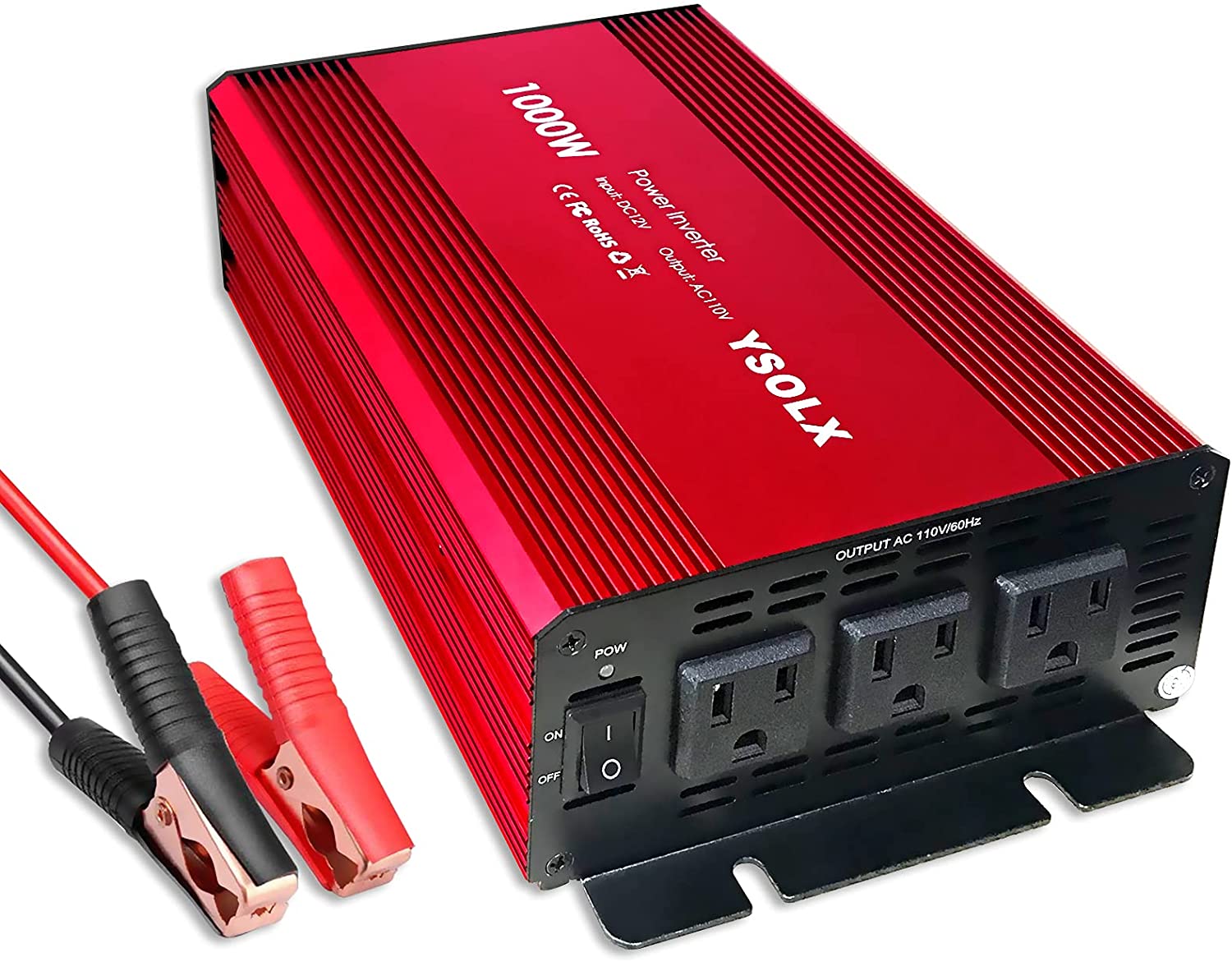 YSOLX seems a new inverter brand. In case, you want to try it, please read more about its features and capabilities before you purchase this power converter. The YSOLX 12V power inverter has all the features and capabilities that are often found in high-price popular brand power inverters.
The YSOLX 1000W power inverter has both 110V AC and 120V AC outlets. Using these AC outlets, you can connect your home appliances, office appliances and any devices that require 110V/120V AC input power. 12V DC to 110V AC power converter delivers 1000W continuous and 2000W peak power. You can use this power inverter in your vehicles such as cars, RVs, trucks and solar system as well. For a long lasting performance, please make sure that your devices do not draw more than its rated 1000W power.
Such solid and portable power inverters are perfect for cars because you can easily connect this 12V power inverter to your 12V car battery. The 120V YSOLX power inverter comes included with battery clamps and other installation accessories. After successful inverter configuration, you will be able to run those appliances that are in your car. It can be the best friend of travelers because it is a 1000W power inverter.
With YSOLX 1000W power inverter, all the connected devices are highly safe. Which means, the battery, the inverter and the appliances that are linked to this 12V inverter are highly safe because it is a highly protective power inverter. The DC to AC power converter has low-battery automatic shutdown capability that prevents excessive battery usage and at the same time, it ensures that that car battery has enough power to start the car. In its protection features, you can consider the cooling fan and four built-in fuses. The fuse has 40A capacity. With the cooling fan and built-in fuse, the power inverter can greatly protect your appliances. Moreover, the YSOLX 1000W power inverter has a safe charging design to deal with all the electrical issues such as over-voltage, low-voltage, over-load, short circuits and reverse polarity.
Please know that the YSOLX inverter manufacturer warns not to power certain appliances such as hair dryers, electric heaters, curling irons and coffee makers. So, please avoid powering the devices that are not prohibited by the manufacturer.
Features and specifications
12V DC input voltage
110v/120v output power
Modified sine wave output
Battery clamp and user manual included
YSOLX 1000W power inverter
Perfect for emergency power backup, homes, vehicles etc.
Advanced safety features: cooling fan, fuses and safe charging design
Solid and portable power inverter
Automatic low-battery shutdown feature
40A four fuses
18-month warranty and customer service
Pros
Highly protective
18-month warranty
Three AC outlets
Safe charging design
1000W output power
Cons
YSOLX is a new inverter manufacturer.